(Albany, US) DelveInsight has launched a new report on Soft Tissue Sarcoma Epidemiology
DelveInsight's Soft Tissue Sarcoma Epidemiology Forecast to 2030 report delivers an in-depth understanding of the disease, historical and forecasted Soft Tissue Sarcoma epidemiology in the 7MM, i.e., the United States, EU5 (Germany, Spain, Italy, France, and the United Kingdom), and Japan.
Soft-tissue sarcoma are rare neoplasms that can develop in supporting or connective tissue, such as the muscle, nerves, tendons, blood vessels and fatty and fibrous tissues. They commonly affect the arms, legs, and trunk. They also appear in the stomach and intestines (GIST) as well as behind the abdomen (retroperitoneal sarcomas) and the female reproductive system (gynecological sarcomas).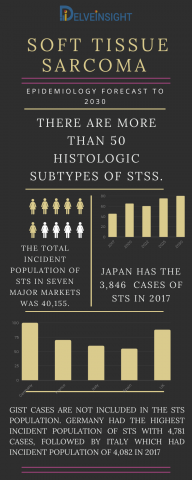 Click here for free sample page:- https://www.delveinsight.com/sample-request/soft-tissue-sarcoma-epidemiology-forecast
Soft Tissue Sarcoma Epidemiology
STSs encompass a very heterogeneous group of tumors with diverse pathological and clinical overlapping characteristics. The stages of STS range from stages I to IV. As a rule, the lower the number, the less cancer has spread. The SEER database, however, groups cancers into localized, regional, and distant stages: The cancer is limited to the part of the body where it started. Regional: Cancer has spread to nearby structures or nearby lymph nodes. Distant: Cancer has spread to distant parts of the body such as the lungs.
Key facts of the report
According to DelveInsight's, in 2017, the total incident population of STS in seven major markets was 40,155.
GIST cases are not included in the STS population. Germany had the highest incident population of STS with 4,781 cases, followed by Italy which had incident population of 4,082 in 2017.
Among all the seven major market, the United States accounts for highest number of cases of STS.
Japan has the 3846 cases of STS in 2017
Among the 7MM, in 2017, the lowest incident population of STS were recorded in Spain
Table of content
1. Key Insights
2. Executive Summary of Soft-Tissue Sarcoma (STS)
3. Soft-Tissue Sarcomas (STS) Epidemiology Overview at a Glance
4. Soft-Tissue Sarcomas (STS): Disease Background and Overview
5. Epidemiology and Patient Population
6. Case Reports
7. Country Wise-Epidemiology of Soft Tissue Sarcoma (STS)
8. Appendix
9. DelveInsight Capabilities
10. Disclaimer
11. About DelveInsight
Related Reports
Soft Tissue Sarcoma Market Insight, Epidemiology and Market Forecast -2030
Soft Tissue Neoplasms – Pipeline Insights, 2020
Media Contact
Company Name: DelveInsight Business Research LLP
Contact Person: Yash Bhardwaj
Email: Send Email
Phone: +919650213330
Address:304 S. Jones Blvd #2432
City: Las Vegas
State: NV
Country: United States
Website: https://www.delveinsight.com/