E-Z Care Side Turner: A device Designed to Help In Turning and Positioning of Patient And Also Give Efficiency To The Caregivers.
United States – 23rd July, 2020 – Royal Creations, a home, and healthcare solution brand known for the creation of different collections of healthcare solutions and supplies that are useful in daily life for home and health care services enthusiastically announce the release of a new healthcare product named the E-Z Care Side Turner. The product helps to increase efficiency and productivity in patient care and it also helps to reduce the risk of injury to caregivers in providing total care, such as bathing, incontinent care, wound care, back rubs, changing linen, positioning, while maintaining patient privacy and dignity.
The product has since been released and made available for purchase online through www.royalcreationsonline.com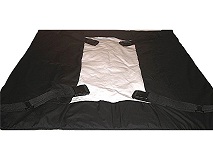 E-Z Care Side Turner is a patient turning and positioning device designed to enable the caregiver to safely and effectively turn and maintain a patient in a side-lying position while maintaining patient privacy and comfort. The device is made of cotton/ polyester fabric front and back, with durable quilted cotton inside lining for patient comfort. It has pull handles for rolling the patient onto his side. Also, industrial-strength detachable webbing straps to maximize safety, quick-release buckles for easy application and removal of the device.
The device is available in 2 sizes: Standard 40″x40″ and XL 40″x43″ which make it suitable for different situation and patient conditions. The design is incorporated with zipping away center back opening which has an adequate amount of space to easily provide patient care. The back opening has a removable cotton soaker pad that can be easily zipped out for washing and an extra soaker pads are available with sewn-in zippers to increase its durability. E-Z Care Side Turner beautifully crafted and designed to decreases the risk of staff injuries and workmen complain associated with strain injuries. It also reduces the risk of a breakdown in the patient's skin and also facilitates the frequent turning and positioning of the patient.

"We are very excited about the launch of this unique and creatively designed product as part of our effort in bringing solutions to home and healthcare challenges. E-Z Care Side Turner is a product that we specially designed to help caregivers in homes and health sector enjoy their work more than usual and also give the best services to their patient", said the spokesperson for Royal Creations while describing the importance of the new product. "We are proud to say we've been creating smiles to our customers, aged individuals and patients through the availability of our products and so we decided to launch this new product to complement what we are known for and also bring satisfaction to the doorsteps of everyone," she added.
Media Contact
Company Name: Royal Creations
Contact Person: Gloria Jones
Email: Send Email
Phone: 8631273
Country: United States
Website: www.royalcreationsonline.com