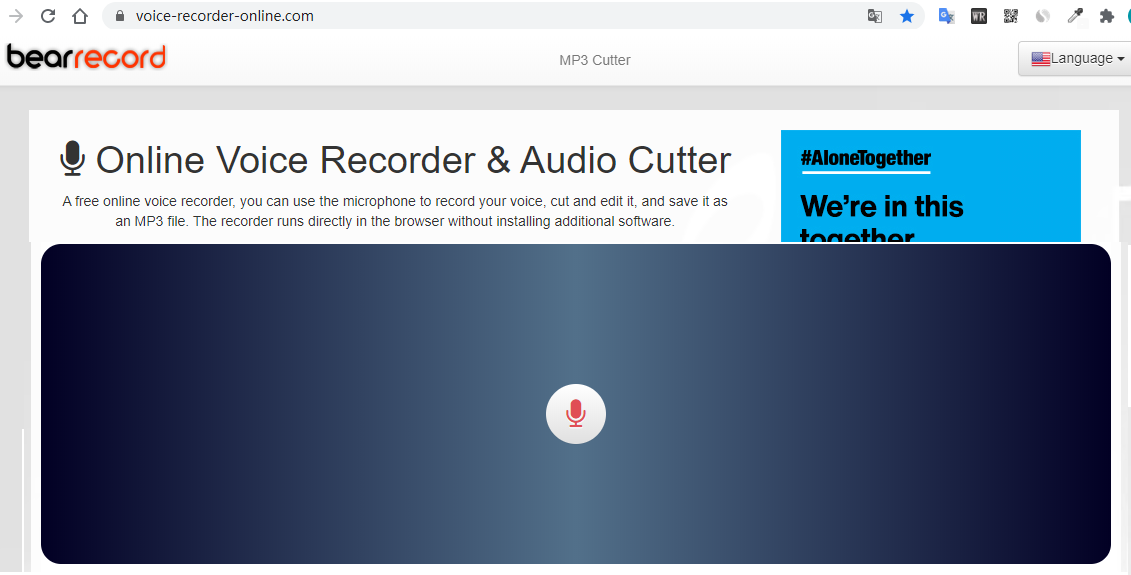 Newark, NJ – July 28, 2020 – The Online Voice Recorder & Audio Cutter by Bear Audio is the easiest tool to record and edit voice and audio online. Combining the functions of both recording and editing in popular file formats such as mp3, wav, ogg, wma or m4r for iPhones, this web based tool is faster, easy to use and requires no flash or software download either.
A voice recorder that lets users record messages quickly and then edit the audio on the spot, the Online Voice Recorder and Audio Cutter is extremely versatile to record voice or to record sound. A browser is all that is required to access the online tool and recording can be done in 3 easy steps. The tool allows setting up the audio sample rate and number of channels too.
The voice and audio recordings made with the browser can be easily edited using the MP3 cutter from the Edit tab. The audio track is automatically displayed and editing functions include cut, delete, merge, split audio, fade in, fade out audio, adjust pitch, can be undo, redo, etc. This audio recording and editing service is fast because it uses HTML5, thus not requiring lengthy file uploads or downloads. Both the file opening and processing speeds are thus faster than other web apps.
"With the online voice recorder and audio cutter, you can complete the function of recording, editing and saving sounds in one time," says Steven.
As a free web application with an integrated audio editor, the application source code is also freely available. The app is made using the standard interface of Bootstrap. At the time of recording, the app displays data such as recording time, waveform, data size and other relevant information. There are no functional or time restrictions, and this is a complete audio recording and editing app available online.
All data recorded using the Online Voice Recorder and Audio Cutter is processed on the browser's side, and is thus safe. Since HTML5 has been used, no data is required to be or uploaded to the server, and thus remains always and only with the client. All input, processing and saving of audio happens inside the user's browser.
For more information, please visit: https://voice-recorder-online.com
Media Contact
Company Name: Your Secret Power
Contact Person: Steven.Lv
Email: Send Email
Country: United States
Website: https://voice-recorder-online.com