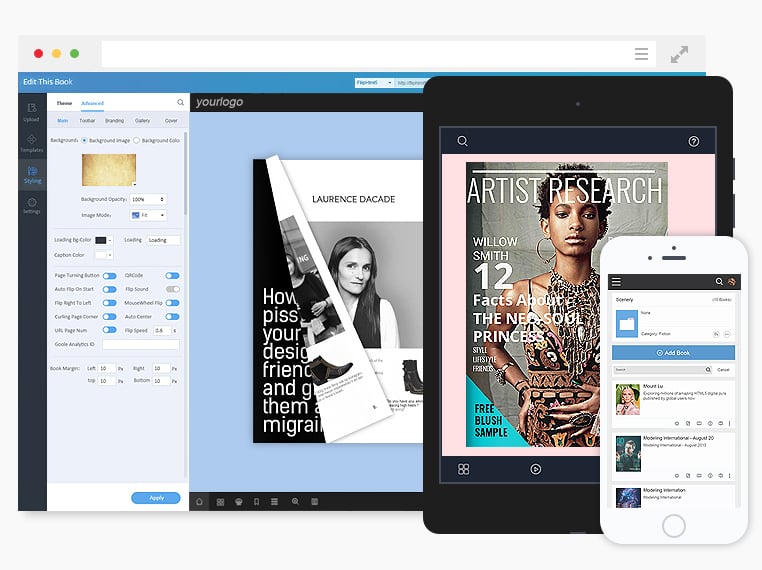 In the wake of the coronavirus pandemic and the resulting economic shutdown, teachers have turned toward distance teaching tools, such as FlipHTML5 to enrich their lessons with immersive media and boost student engagement.
FlipHTML5 is a cutting-edge distance teaching tool that makes it easier for teachers to convert, create, publish and share relevant teaching materials. Particularly during mundane and complicated lessons, when instructors often struggle to maintain student engagement and concentration, this innovative software program effectively eases the burden on teachers, and makes learning much more interactive and productive.
Teachers can use FlipHTML5's distance teaching tool to convert boring lesson plans and course curriculum into engaging and interactive online flipbooks. The software allows easy conversion of static PDF files into fun textbooks brimming with appealing videos, graphics, animations, photo sliders, and textbook audio as well.
FlipHTML5's distance teaching tool provides interactive page-flipping sound and effects while clicking, which makes the content highly attractive for young learners. Teachers can further boost engagement and capture their students' attention with immersive themes, colourful backgrounds, fun fonts and sizes. Teachers can even add background music to make the lessons genuinely more fun.
Speaking on the striking success of the software, Jackie Peng, in-charge of the Customer Service of FlipHTML5, said, "With the advent of digital learning, the process has been extremely challenging for teachers and students. Teachers can no longer identify patterns of student engagement and concentration using traditional cues that they could detect in classroom settings." Peng added, "This is primarily why a distance teaching tool like FlipHTML5 can prove highly effective at maintaining engagement and making online lessons immersive."
Apart from creating interactive textbooks with stunning visual effects, the distance teaching tool ensures students get easy access to digital textbooks. It enables teachers to share their work across various platforms like social media, email and more, or embed the digital books directly to a website. FlipHTML5 also takes into account the reading devices that are being used upon. It's flexible for students to click on a link and start to enjoy reading immediately on their phones, tablets or computers.
The powerful distance teaching tool also offers various virtual bookcases to carry published materials that teachers want to share with their students. The bookcases and home page can be personalized in accordance with the course or teacher's requirements. With a dynamic distance teaching tool like FlipHTML5, teachers can make teaching and learning a productive, fun and immersive experience!
For more information, please feel free to browse on https://fliphtml5.com/.
About FlipHTML5
FlipHTML5 has long known as a digital publishing platform that provides online creation of virtual magazines, digital catalogs, e-brochures, photo albums and more. With online education is trending, FlipHTML5 has updated and developed more features that make it increasingly popular amongst school and university instructors as a powerful distance teaching tool.
Media Contact
Company Name: FlipHTML5 Software Co., Ltd.
Contact Person: Lailie Tan
Email: Send Email
Phone: 86 020-61972665
Address:G/F, Far East Consortium Building, 23 Des Voeux Road, Central
Country: HongKong
Website: https://fliphtml5.com/