The singer, rapper and songwriter has not looked back since featuring Alias 02 on his debut single, and seems to have the world at his feet.
Aug 12, 2020 – American musician Kenneth Leslie Grays popularly known as Iamkg has taken the world by storm since the release of his debut single 'Don't worry featuring Alias 02'.
For those that have heard about, or are fans of Iamkg, the stories of his name, upbringing, journey, and lifestyle have been elusive. More so for those that haven't even heard of him at all.
Since his debut track, the record label and studio owner has cemented his reputation as a sensational up and coming artist with other hit tracks such as 'Solo Cup', 'Candy Rappers', 'The Real', 'Don't Worry', and 'Till the Hatin' Shop'. Since that album, Iamkg hasn't looked back, steadily giving the Hip Hop community something to cheer about.
Born in Detroit, Michigan on the 26th of November, 1988, Iamkg was inspired at a young age by musical influences such as Andre 3000, Lil Wayne, Michael Jackson and many more. His story-telling lyricism has blossomed into a complete talent in which he is now relishing in his career. His music is pure fire, and promises to keep listeners wanting more.
When asked which artist he would compare himself to Iamkg responded "I have a unique style, but if I had to compare myself to anyone it would have to be a mix between Russ, Kid Cudi, and Akon".
Motivated by his passion for expression Iamkg sets out to be an artist that relates to everyone by bringing people together with music. The sky promises to be the limit for Iamkg with the artist showing virtually no sign of slowing down. Iamkg set to leave his footprint in the music industry with his upcoming refreshing releases.
To listen to 'Don't worry' and other hit tracks by Iamkg, use the links below: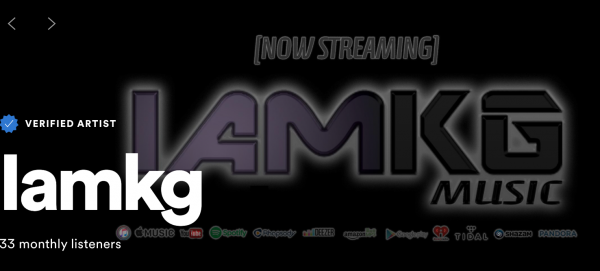 YouTube: http://youtube.com/watch?v=XGnlMxF_q8w
Apple Music: https://music.apple.com/us/playlist/iamkg/pl.u-AkAm83pH2Y2Y196
Spotify: https://open.spotify.com/artist/5BB5eRf2Zbbzcx708moHG7?si=b233Ki7VRX2z-xNG_BjqQg
SoundCloud: https://soundcloud.com/Iamkgmusicpage
Contact Information
Instagram: http://instagram.com/Iamkgmusicpage
Facebook: https://www.facebook.com/iamkgfanpage
Twitter: http://twitter.com/Iamkgmusicpage
LinkedIn: http://linkedin.com/in/iamkg/
Media Contact
Company Name: Iamkg
Contact Person: Media Relations
Email: Send Email
Phone: +13134275644
Country: United States
Website: https://distrokid.com/hyperfollow/iamkg/dont-worry-feat-alias-3