(Albany, US) DelveInsight has launched a new report on Metastatic Urothelial Carcinoma Market
DelveInsight's " Metastatic Urothelial Carcinoma Market Insights, Epidemiology, and Market Forecast-2030″ report delivers an in-depth understanding of the Metastatic Urothelial Carcinoma, historical and forecasted epidemiology as well as the Metastatic Urothelial Carcinoma market trends in the United States, EU5 (Germany, Spain, Italy, France, and United Kingdom) and Japan. The Metastatic Urothelial Carcinoma market report provides current treatment practices, emerging drugs, Metastatic Urothelial Carcinoma market share of the individual therapies, current and forecasted Metastatic Urothelial Carcinoma market Size from 2017 to 2030 segmented by seven major markets. The Report also covers current Metastatic Urothelial Carcinoma treatment practice/algorithm, market drivers, market barriers and unmet medical needs to curate best of the opportunities and assesses the underlying potential of the market.
Urothelial Carcinoma starts when cells that make up the urinary bladder becomes cancerous. Bladder neoplasms can arise from any of the four bladder wall layers. They are broadly classified as either epithelial or non-epithelial (mesenchymal), with over 95% being epithelial. Epithelial tumors with differentiation toward normal urothelium are urothelial/ urinary carcinoma (UC). Other types of bladder neoplasms, namely, squamous cell carcinoma, adenocarcinoma, small cell carcinoma and sarcoma account for 2–5% of bladder neoplasms.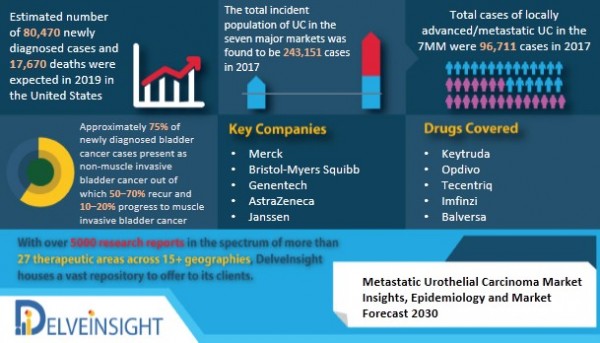 Request for free sample page: – https://www.delveinsight.com/sample-request/metastatic-urothelial-carcinoma-market
Metastatic Urothelial Carcinoma Treatment
UC, also known as transitional cell carcinoma (TCC), is characterized by cancer beginning in the Urothelial cells lining the bladder, it is one of the most common forms of bladder cancer (BC). Treatment for metastatic form of Urothelial Carcinoma (UC) can be employed in different classes of chemotherapy, immunotherapy, radiation therapy, target specific therapy, and surgical treatment. Metastatic urothelialcarcinoma has shown poor survival when treated with chemotherapy; however, due to the advancements in the treatment of new immunotherapies, more alternatives are available.
Chemotherapy majorly forms the first line of treatment mainly comprising platinum-based products. Cisplatin-based chemotherapy is a chief product in the list of chemotherapeutics. The commonly used cisplatin regimens include MVAC (methotrexate, vinblastine, doxorubicin, cisplatin) or GC (gemcitabine and cisplatin). Cisplatin is followed by Carboplatin for therapeutic regimens, such as M-CAVI (methotrexate, carboplatin, and vinblastine). Few nonplatinum regimens include gemcitabine with a taxane (either paclitaxel or docetaxel) rather than platinum. Single-agent chemotherapy also holds importance in the treatment routine, including Gemcitabine, Vinflunine, and Ifosfamide.
Metastatic Urothelial Carcinoma Market Outlook
The major class for treatment also comprise Immunotherapy that helps the patient's own immune system to recognize and destroy cancer cells. Developments in this domain have led to the development of immune checkpoint inhibitors (ICIs) targeting programmed death (PD-1/PDL-1) pathway. Immunotherapy is used in platinum ineligible or refractory cases. The market holds Atezolizumab (Tecentriq), Pembrolizumab (Keytruda), Nivolumab (Opdivo), Durvalumab (Imfinzi), and Avelumab (Bavencio) as approved products targeting PD-1/PDL-1 pathway. Merck's Keytruda has been approved for patients with locally advanced or metastatic UC who have disease progression during or following platinum-containing chemotherapy or within 12 months of neoadjuvant or adjuvant treatment with platinum-containing chemotherapy. Merck also initiated investigation of Keytruda for newly diagnosed bladder cancer but it failed in June 2020. However, Keytruda had its own victory as it become the first PD-1/L1 drug to win the FDA approval to treat non-muscle invasive bladder cancer that's unresponsive to standard Bacillus Calmette-Guerin treatment. Recently, in July 2020, FDA granted a new indication for Merck's Bavencio for the maintenance treatment of patients with locally advanced or metastatic urothelial carcinoma (UC) that has not progressed on first-line platinum-containing chemotherapy. The drug had already been approved for merkel cell carcinoma (MCC) and renal cell carcinoma (RCC). Additionally, in June 2020, Merck and Pfizer reported that the EMA has agreed to conduct a review for the Type II variation application for Bavencio (avelumab) for first-line maintenance treatment of patients with locally advanced or metastatic UC.
Metastatic Urothelial Carcinoma Report Scope
The report covers the descriptive overview of Metastatic Urothelial Carcinoma, explaining its causes, signs and symptoms, pathophysiology, diagnosis and currently available therapies
Comprehensive insight has been provided into the Metastatic Urothelial Carcinoma epidemiology and treatment in the 7MM
Additionally, an all-inclusive account of both the current and emerging therapies for Metastatic Urothelial Carcinoma are provided, along with the assessment of new therapies, which will have an impact on the current treatment landscape
A detailed review of Metastatic Urothelial Carcinoma market; historical and forecasted is included in the report, covering drug outreach in the 7MM
The report provides an edge while developing business strategies, by understanding trends shaping and driving the global Metastatic Urothelial Carcinoma market
Request for free sample page:- https://www.delveinsight.com/sample-request/metastatic-urothelial-carcinoma-market
Table of content
1. Key Insights
2. Executive Summary of Metastatic Urothelial Carcinoma
3. Competitive Intelligence Analysis for Metastatic Urothelial Carcinoma
4. Metastatic Urothelial Carcinoma: Market Overview at a Glance
5. Metastatic Urothelial Carcinoma: Disease Background and Overview
6. Patient Journey
7. Metastatic Urothelial Carcinoma Epidemiology and Patient Population
8. Treatment Algorithm, Current Treatment, and Medical Practices
9. Unmet Needs
10. Key Endpoints of Metastatic Urothelial Carcinoma Treatment
11. Marketed Products
12. Emerging Therapies
13. Metastatic Urothelial Carcinoma: Seven Major Market Analysis
14. Attribute analysis
15. 7MM: Market Outlook
16. Access and Reimbursement Overview of Metastatic Urothelial Carcinoma
17. KOL Views
18. Market Drivers
19. Market Barriers
20. Appendix
21. DelveInsight Capabilities
22. Disclaimer
23. About DelveInsight
Why should you buy this report?
The report will help in developing business strategies by understanding trends shaping and driving the Metastatic Urothelial Carcinoma market
To understand the future market competition in the Metastatic Urothelial Carcinoma market and Insightful review of the key market drivers and barriers
Organize sales and marketing efforts by identifying the best opportunities for Metastatic Urothelial Carcinoma in the US, Europe (Germany, Spain, Italy, France, and the United Kingdom) and Japan
Identification of strong upcoming players in the market will help in devising strategies that will help in getting ahead of competitors
Organize sales and marketing efforts by identifying the best opportunities for Metastatic Urothelial Carcinoma market
To understand the future market competition in the Metastatic Urothelial Carcinoma market
Related Reports
Metastatic Urothelial Carcinoma Epidemiology Forecast 2030
Metastatic Urothelial Carcinoma Pipeline Insight, 2020
Media Contact
Company Name: DelveInsight Business Research LLP
Contact Person: Yash Bhardwaj
Email: Send Email
Phone: +919650213330
Address:304 S. Jones Blvd #2432
City: Las Vegas
State: NV
Country: United States
Website: https://www.delveinsight.com/