(Albany, US) DelveInsight has launched a new report on Peanut Allergy Epidemiology
DelveInsight's 'Peanut Allergy Epidemiology Forecast to 2030′ report delivers an in-depth understanding of the disease, historical and forecasted Peanut Allergy epidemiology in the 7MM, i.e., the United States, EU5 (Germany, Spain, Italy, France, and the United Kingdom), and Japan.
Peanut Allergy is an abnormal response to a food triggered by the body's immune system. There are several types of immune response to food. A peanut allergy is an allergic reaction to peanuts which occurs when the human body mistakenly identifies peanuts as harmful substances. Peanut allergy is recognized as one of the most severe food allergies due to its prevalence, persistency, and the potential severity of the allergic reaction. Although other food allergies occurring in childhood usually resolve spontaneously with age, peanut sensitivity appears early in life and often persists indefinitely. Frequently, large quantities of peanut allergens are not needed to elicit an allergic reaction- even trace levels of peanut are capable of causing a hypersensitive reaction.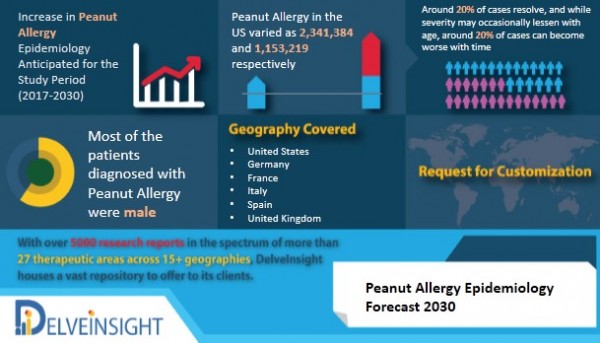 Request for free sample page: – https://www.delveinsight.com/sample-request/peanut-allergy-epidemiology-forecast
Peanut Allergy Epidemiology
Peanut Allergy vary from mild to severe, from swollen lips, shortness of breath to an anaphylactic shock, which is potentially fatal.
– Mild to moderate symptoms are: Itchy skin or hives, which can appear as small spots or large welts, an itching or tingling sensation in or around the mouth or throat, nausea, a runny or congested nose.
– The most severe allergic reaction to peanuts is anaphylaxis, a life-threatening whole-body response to an allergen. Symptoms include impaired breathing, swelling in the throat, a sudden drop in blood pressure, pale skin or blue lips, fainting and dizziness.
Peanut Allergy Key Facts
The prevalence has increased steadily over the past decade, mostly in the Western world. As per DelveInsight estimates, total prevalent population of Peanut Allergy in the 7MM was found to be 8,640,527 in 2017. The estimates show higher prevalence is in the US with 4,659,471 cases in 2017 and is a growing health problem in US, specifically in children.
Among the EU5 countries, France had the highest prevalent population of Peanut Allergy, followed by Germany and the United Kingdom.
As per DelveInsight analysis, it is observed that, Japan has the least number of prevalent cases (1,548,318 for 2017) of Peanut Allergy, among the 7MM.
In terms of gender, most of the patients diagnosed with Peanut Allergy were male.
The highest number of people affected with Peanut Allergy was found in the age-group of 65 and above years.
Based on the severity, the diagnosed cases were divided in to mild, moderate to severe. The total cases of mild and moderate to severe Peanut Allergy in the US varied as 2,341,384 and 1,153,219 respectively.
Peanut Allergy Report Scope
The Peanut Allergy report covers a detailed overview explaining its causes, symptoms, classification, pathophysiology, diagnosis and treatment patterns
The Peanut Allergy Epidemiology Report and Model provide an overview of the risk factors and global trends of Peanut Allergy in the seven major markets (7MM:US, France, Germany, Italy, Spain, UK, and Japan)
The report provides insight about the historical and forecasted patient pool of Peanut Allergy in seven major markets covering the United States, EU5 (Germany, Spain, France, Italy, UK), and Japan
The report helps to recognize the growth opportunities in the 7MM with respect to the patient population
The report assesses the disease risk and burden and highlights the unmet needs of Peanut Allergy
The report provides the segmentation of the Peanut Allergy epidemiology
Download free sample page: – https://www.delveinsight.com/sample-request/peanut-allergy-epidemiology-forecast
Table of content
1. Key Insights
2. Executive Summary of Peanut Allergy
3. Peanut Allergy: Disease Background and Overview
4. Patient Journey
5. Epidemiology and Patient Population
6. Treatment Algorithm, Current Treatment, and Medical Practices
7. KOL Views
8. Unmet Needs
9. Appendix
10. DelveInsight Capabilities
11. Disclaimer
12. About DelveInsight
Why should you buy this report?
The Peanut Allergy Epidemiology report will allow the user to –
Develop business strategies by understanding the trends shaping and driving the global Peanut Allergy market
Quantify patient populations in the global Peanut Allergy market to improve product design, pricing, and launch plans
Organize sales and marketing efforts by identifying the age groups and sex that present the best opportunities for Peanut Allergy therapeutics in each of the markets covered
Understand the magnitude of Peanut Allergy population by its epidemiology
The Peanut Allergy Epidemiology Model developed by DelveInsight is easy to navigate, interactive with dashboards, and epidemiology based with transparent and consistent methodologies. Moreover, the model supports data presented in the report and showcases disease trends over 11-year forecast period using reputable sources
Related Reports
Media Contact
Company Name: DelveInsight Business Research LLP
Contact Person: Yash Bhardwaj
Email: Send Email
Phone: +919650213330
Address:304 S. Jones Blvd #2432
City: Las Vegas
State: NV
Country: United States
Website: https://www.delveinsight.com/