Published author, American model, and entrepreneur, NeeJay Sherman, launches "Broken to Peace" to help people find all-round wellness after releasing a self-help book with the same title
NeeJay Sherman is a public speaker, philanthropist, former pageant queen, and television personality who is channeling her resources towards her passion – empowering people, especially women, to find peace and prioritize their mental, emotional, and spiritual wellbeing. In a similar vein, NeeJay recently released a self-help book titled "Broken to Peace." The author is also the founder of CEO and Founder of Social Boss NYC and Broken to Peace, a platform that allows people to learn from leaders in healing, self-care, and wellness.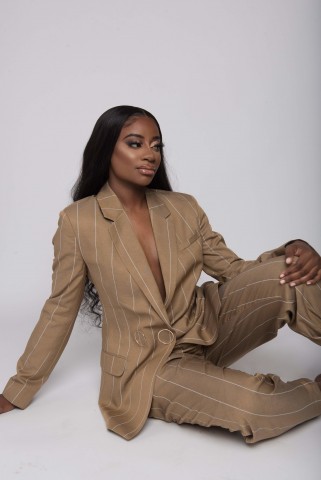 The beautiful NeeJay personifies passion, emotions, and resilience, dedicating her resources to ensure the betterment of others. Described as a perfect combination of beauty and brains, the fast-rising author of a new cult favorite poetry book and self-help brand entitled Broken To Peace is looking to disrupt the world of literature.
Broken To Peace offers an amazing compilation of captivating intention-based poetry and prose authored to trigger emotions in the minds of the readers that will set them on the right path for self-healing and overcoming grief and heartbreak. NeeJay personifies her struggles as she grieved the loss of her beloved mother in 2016 due to Pancreatic Cancer and how she handled the process of dealing with loss, trauma, and heartbreak to help others with a similar experience.
The book is unlike any other self-help guide as it comes from the experience of an author that has been in a similar situation. Consequently, readers do not have to deal with the abstractness that often plagues other guides. Since it was published at the beginning of 2020, the book has continued to increase in popularity and acceptance, with accolades coming from different quarters.
In addition to being an author and beauty queen, the smart NeeJay is also an entrepreneur and a consultant. She founded Social Boss, a social media consultancy helping businesses across different industries to harness the benefits of having a strong presence across several social media platforms.
For more information about Sherman please, visit her website https://www.neejaysherman.com/ or follow her via her social media handles like Facebook, Instagram, LinkedIn and Twitter.
Media Contact
Company Name: I AM PHRESHY BRAND
Contact Person: Derrian Perry
Email: Send Email
Phone: 281-761-1606
Country: United States
Website: https://www.neejaysherman.com/