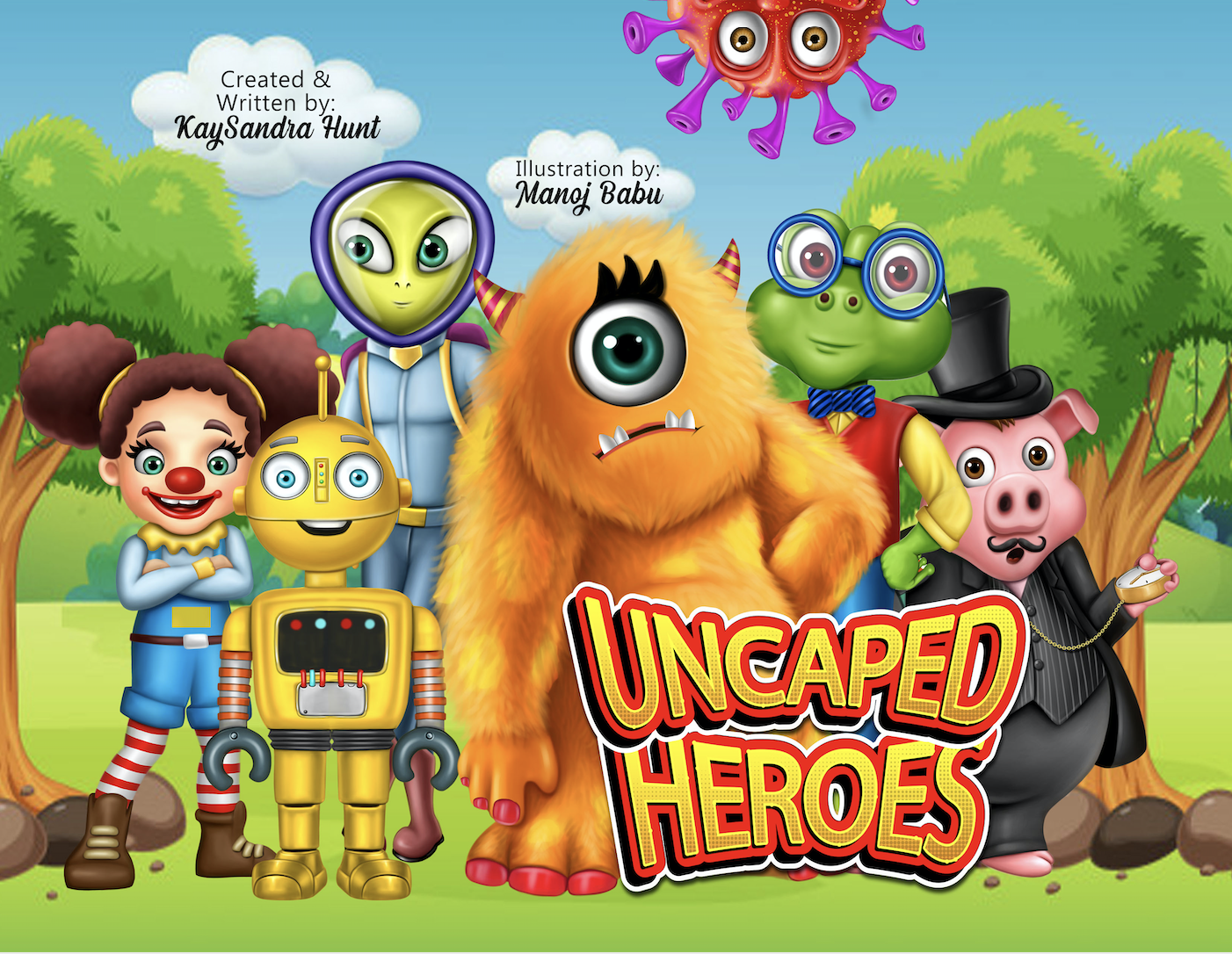 United States – 19th August, 2020 – The impact of the coronavirus disease (COVID-19) pandemic is severe for adults to wrap their brains around, let alone children. But young people still have questions, and they are looking to adults to help them understand what is happening. Listening to the news and overhearing grown-ups may cause children anxiety or fear about the coronavirus. Also, the excitement and traditional routines that usually kick off a new school year are disrupted, and there are many unknowns.
In a quest to help children, Author and Playwright, Kaysandra Hunt, is launching an exciting children's book, "Uncaped Heroes," that gives parents and teachers a creative outlet to talk about what's going on around the world, in a way kids can comprehend.
"Uncaped Heroes" is a beautiful graphic book that tells the story of a group of misfits who learn of a threat to rid their town of laughter and happiness. Popcorn, a kind clown, Arasper a studdering frog, and Mimi, a big fearful monster, joins forces with Zipper, an alien and his loyal side robot, Moto to stop Vivian The Virus and her minions from carrying out their evil plan. The book not only deals with the threat of a nasty virus, but also bullying.
"Uncaped Heroes," a book which will also be a Live Stage Musical next year, will intrigue readers by how it uses loveable animal characters and an exciting story plot to both entertain and educate children. Everyone loves a beautiful children's picture book, but Uncaped Heroes goes straight to the top of the list when considering the illustration and insightful message. The book and activity book will bring parents and their children together for family time fun, even amid the pandemic.
Illustrated by Manoj Babu, "Uncaped Heroes" is an engaging and exciting tale full of intriguing plot twists. Kaysandra Hunt takes the reader on an emotional journey and shows that as long as families and communities work together, they can get through problems.
"Kids are inquisitive and may be asking why they aren't at school, or why they can't hang out with their friends, or why people have to wear masks at grocery stores. I wanted to add a resource that will bridge the conversation gap between parents and children in an easy-to-understand way. This book is exceptional, and a must-read!, but don't take my word for it." says Kaysandra Hunt.
KaySandra Hunt, a product of the Chicago Public Schools, remembers clearly how, as a young girl, she teleported herself to a creative world of her own. She realizes that she finds the most joy in building a child's imagination through literature and theatre.
KaySandra found her place in this world through creativity, fantasy, and imagination. She has combined her playwriting, acting, and producing skills with her expertise in creative design to create striking characters that would then become a part of her stories, stage plays, and screenplays. She is now a much-loved writer, author, playwright, and theatre director. She believes that creative imagination and theatre allows children the freedom of expression as well as a safe place to learn, explore, and grow. KaySandra's ultimate goal is to share her amazing stories all around the world and to inspire kids in the area of theatre arts along the way.
People interested in "Uncaped Heroes" and seeking a book that has got it all: character, kindness, intrigue, and of course, plenty of lessons can order both the book and the activity book from September 25, 2020. Book purchases will benefit the Kids R Actors 2 Non For Profit Arts Organization.
Media Contact
Company Name: Kids R Actors 2
Contact Person: Gail Parker
Email: Send Email
Phone: 312.770.0678
Country: United States
Website: www.kidsractors2.org