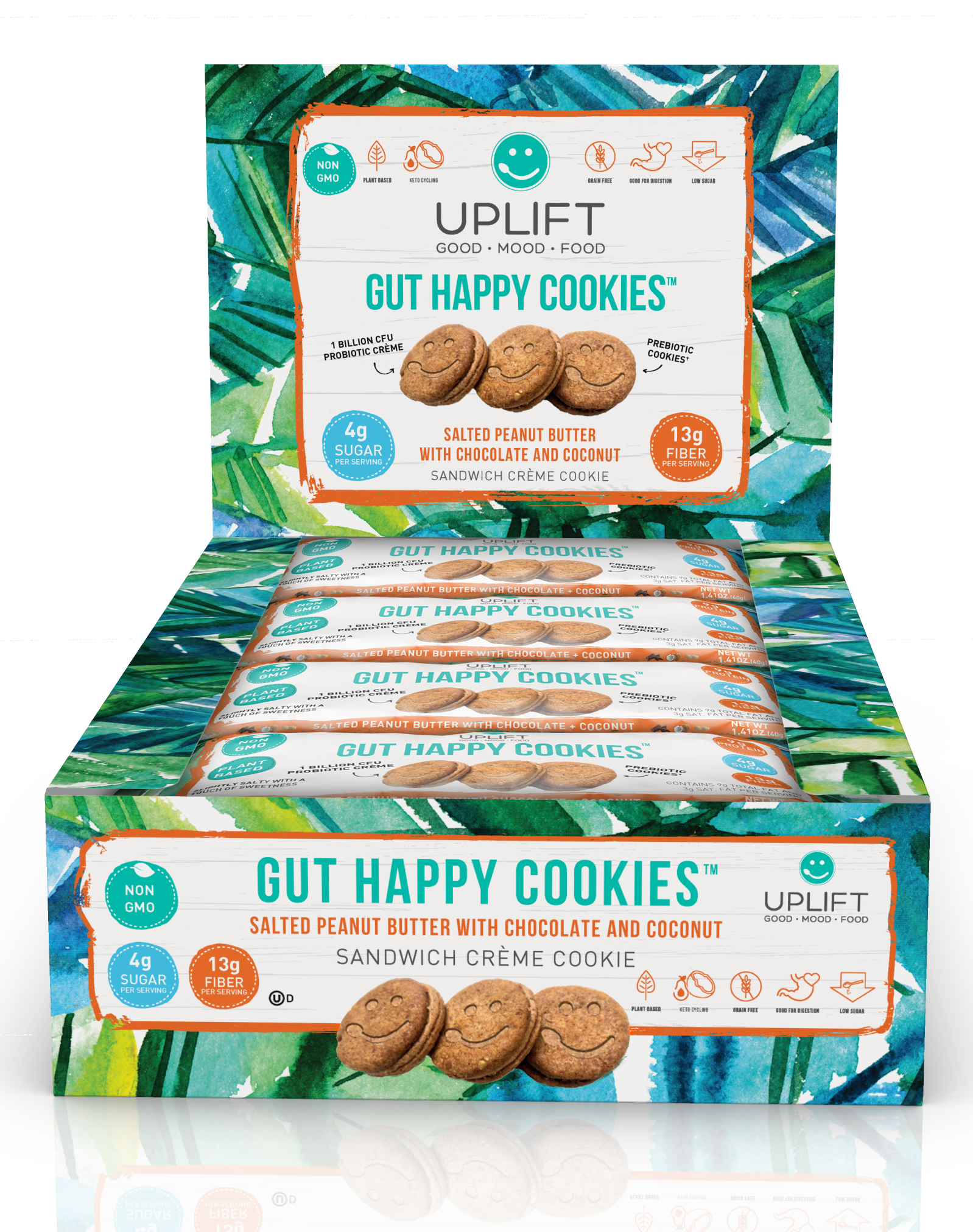 "Dietitian created non GMO and 100% plant based gut health focused prebiotic + probiotic sandwich creme cookies."
Gut Happy Cookies® are the worlds first gut health focused plant based sandwich creme cookies. These low sugar, keto friendly, high fiber cookies are clinically proven to support gut, digestive and immune health. Bursting with diverse prebiotics together with 1 Billion CFU (colony forming units) of probiotics, these cookies are not just another better for you snack, but rather truly GOOD FOR YOU.
New York, NY – August 19, 2020 – Snack Time Means Business: Gut Happy Cookies® Sets New Standard in "Good For You" Functional Foods Category
Clinical Studies Prove Innovative Prebiotic Treats Created by Expert Dietitian are Good for the Gut, Support Healthy Digestion, and Bridge the Gap Between Nutrition and Taste. Fiber-Rich, Protein-Dense, Flavorful Cookies Meets Consumer Demand for Keto-Friendly, Low Sugar Snack Uplift Food, known as an innovative force in science-based nutrition, is pleased to announce the launch and availability of its new prebiotic Gut Happy Cookies™ line – salted peanut butter with chocolate and coconut; sunflower butter with vanilla and chia; and salted almond butter with vanilla and hemp seeds. Each globally-inspired, scientifically supported sandwich cream cookie was individually created and formulated by internationally renowned Dietitian Kara Landau, the first dietitian to create a functional food company focused exclusively on the supportive benefits between mood and gut health. That impressive innovation caught the eye of global food giant Mondelez International's new venture arm, SnackFutures, which provided Uplift Food with its first investment and allowed Landau the opportunity to create new products, such as the new Gut Happy Cookies line and redefine the "good for you" functional food category.
Gut Happy Cookies is positioned to disrupt the "better for you" snack category and sets a new standard with its "good for you" mission. Made with 100% plant-based, fiber-dense, resistant starches and four unique prebiotic-rich ingredients, including a heavy dose of powerful probiotics (one billion colony forming units), Gut Happy Cookies supports proper digestion and promotes immune health. Powered by a unique proprietary blend of lupin beans, tigernuts, tapioca fiber, kiwifruit, and probiotics, Gut Happy Cookies promote the growth of good lactobacillus bacteria, as well as the production of the short chain fatty acid, butyrate which is known to reduce inflammation in the body.
"I created Gut Happy Cookies to provide the body with nutrients that support good gut, digestion and immune health benefits. Unlike other health food products on the market that sprinkle a touch of "superfoods," Uplift Food products have been formulated to provide whole-food derived nutrients that are supported by science and are known to have a positive benefit on the body," said Kara Landau, Founder of Uplift Food and Media Dietitian Representative for the Global Prebiotic Association, USA. "Each delicious morsel has been created to provide the body with the nutrients it needs and the flavors a health conscious consumer craves. With our cookies, snack time just got a whole lot gut happier!"
Landau and her team at Uplift Food are committed to offering prebiotics in their new line of sandwich cream cookies, which caters to all specialty diets, including those who follow a gluten-free, dairy-free, non-GMO, nut-free and vegan lifestyle. Adds Landau, "We're not just another cookie with marketing claims. That's why we performed a clinical study by an accredited university, which confirmed that gut health benefits increased after patients consumed one serving per day for a week. This data proves that our unique blend of gut happy nutrients supports good digestion and ultimately helps the body feel uplifted."
Portable Nutrition from the Convenience of a Cookie
Uplift Food's signature Gut Happy Cookies contain less than a teaspoon of sugar, are made without artificial ingredients or sugar alcohols, and provide less than 160 calories per serving, which make them a convenient and nourishing breakfast or snack option. Also, Gut Happy Cookies combines a powerful punch of prebiotic soluble fiber, prebiotic resistant starch, and insoluble fiber (13g), which fuels the growth of good bacteria in the gut.
Recognized as a game-changer for delivering innovative products that not only taste delicious, but are also better for consumers, Uplift Food – Gut Happy Cookies are available in three varieties on upliftfood.com, Amazon.com and through our various distribution partners.
• Salted Peanut Butter with Chocolate and Coconut: The perfect combination of peanut butter and chocolate in one delicious morsel.
• Sunflower Butter with Vanilla + Chia: Made without nuts, this cookie packs sweet and savory – perfect portable snacking for breakfast or dessert.
• Salted Almond Butter with Vanilla and Hemp Seeds: Fuel the gut with the antioxidant power of almonds and hemp. A delicious and fulfilling snack for any time!
About Uplift Food Founder and Dietitian Kara Landau
Kara Landau, a New York City-based, Australian Registered Dietitian, is a previous spokesperson for the Dietitians Association of Australia, and is now the Nutrition Advisor Media Representative for the Global Prebiotic Association, USA. Kara is a trusted and respected voice in the world of gut health and prebiotics globally. As the Founder of Uplift Food, she successfully secured the company's first investment with global food giant Mondelez International's new venture arm, SnackFutures. Through Kara's efforts, Uplift Food was able to receive investment within the first year of launch and is now a disrupter in the "better for you" cookie category. Kara has set the new standard of "good for you" gut health-focused cookies.
About Uplift Food
Founded by one of the leading prebiotic gut health experts, Uplift Food is the world's first dietitian created functional food brands to focus exclusively on the mood supportive benefits of gut health prebiotics. The company is leading the way in the prebiotic gut health plant-based revolution, by creating innovative, healthy and great-tasting premium whole food-derived products that make it easy for consumers to go 'gut healthy' without compromise. The company also leads the next wave of gut health snack innovation and is the first to launch a prebiotic focused sandwich cream cookie line that is scientifically supported to promote good gut health.
Contact:
Kara Landau
Registered Dietitian and Founder of Uplift Food
917.251.4838
klandau@upliftfood.com
Steven Kessler
Head of Sales
sales@upliftfood.com
Media Contact
Company Name: Uplift Food
Contact Person: Kara Landau
Email: Send Email
Phone: 9172514838
Country: United States
Website: https://nutritionretail.com/featured-item/uplift-food/