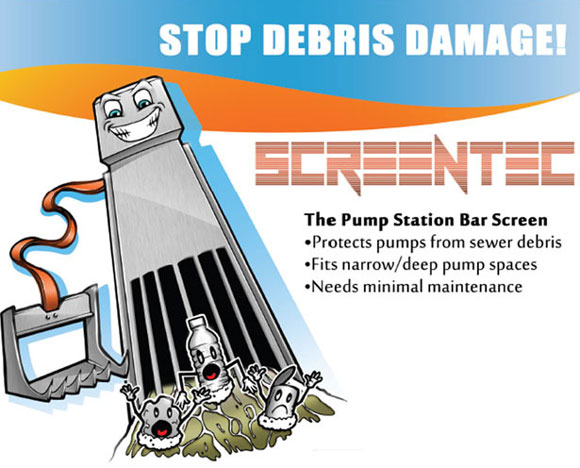 Aqualitec's innovative vertical bar screen Screentec stops wipes damages at US sewers and pumping stations.
Los Angeles, CA – August 19th, 2020 – Since the start of Stay-At-Home orders in mid-March, US cities have experienced costly issues with clogged pump stations.
After people ran out of toilet paper, they started to use and flush whatever they could get their hands on. This included wipes, which do not disintegrate despite misleading labels.
Sanitary sewer overflows increased sharply all over the US due to clogs as a result from rags, tissues, paper towels, and wipes – in some cases an extra 30,000 pounds of wipes were recorded in the first quarter this year.
Many cities and states have successfully launched campaigns to educate people and prevent them from flushing anything that is not toilet paper. However, a new problem with littered masks and gloves flowing into sewers has developed.
All these factors have resulted in damaged equipment, in addition to a sharp increase in maintenance costs. Some cities that normally cleaned their sewage pumping stations once a month increased to twice a week.
Instead of wasting thousands of dollars in maintenance costs, a more effective and affordable solution is installing Aqualitec's innovative vertical bar screen Screentec which has allowed some of their customers to save $500K a year in pump maintenance fees.
Designed for headworks, pump stations, lift stations, wet wells, and manholes, the Screentec bar screen protects pumps from rags, wipes, plastics, and other solids. It also prevents clogged pumps, extends pump life cycle, and improves the quality of wastewater treatment.
"With over 30 years of experience installing more than 1,500 Screentec units worldwide, we will help you avoid costly pump damage without any big structural change thanks to our unique retrofitting design. Best of all, our bar screens require minimal maintenance, dropping maintenance costs as low as $800 over 8 years in some cases" says Aqualitec Director Erwan Ouattara. He adds: "Screentec will also help communities to lower tax payer costs while increasing operator's safety".
Besides its signature vertical bar screen, Aqualitec also offers various wastewater screening solutions such as multiple rake bar screens, drum screens, spiral screens, a grit classifier as well as a washer compactor.
To find out how Aqualitec can help you keep your pumps safe and save big on maintenance costs, call 855-650-2214 or visit www.aqualitec.com.
Media Contact
Company Name: Aqualitec
Contact Person: Erwan Ouattara
Email: Send Email
Phone: 855-650-2214
Address:3415 S. Sepulveda Blvd., Suite 1100
City: Los Angeles
State: CA
Country: United States
Website: http://www.aqualitec.com