(Albany, US) DelveInsight has launched a new report on Epidermolysis Bullosa Pipeline
"Epidermolysis Bullosa Pipeline Insight, 2020″ report by DelveInsight outlays comprehensive insights of present clinical development scenario and growth prospects across the Epidermolysis Bullosa market. A detailed picture of the Epidermolysis Bullosa pipeline landscape is provided, which includes the disease overview and Epidermolysis Bullosa treatment guidelines. The assessment part of the report embraces in-depth Epidermolysis Bullosa commercial assessment and clinical assessment of the Epidermolysis Bullosa pipeline products from the pre-clinical developmental phase to the marketed phase. In the report, a detailed description of the drug is proffered including mechanism of action of the drug, clinical studies, NDA approvals (if any), and product development activities comprising the technology, Epidermolysis Bullosa collaborations, licensing, mergers and acquisition, funding, designations, and other product-related details.
Epidermolysis Bullosa (EB) is a group of skin diseases that cause various degrees of skin and mucous membrane fragility. The skin becomes fragile when proteins essential for skin integrity are absent, reduced, or abnormal. It is characterized by blister formation in response to mechanical trauma. To date, there is no treatment or cure for EB. EB is generally caused by mutations involving at least 18 genes encoding structural proteins within keratin intermediate filaments, focal adhesions, desmosome cell junctions, and hemidesmosome attachment complexes, which form the intraepidermal adhesion and dermo-epidermal anchoring complex within the basement membrane zone (BMZ) of the skin and mucosae. There are various types and subtypes of EB defined by its mode of transmission and a combination of phenotypic, ultrastructural, immunohistochemical, and molecular findings. As per the most recent classification, EB is broadly classified into: EB Simplex (EBS), Junctional EB (JEB), Dystrophic EB (DEB), and Kindler syndrome.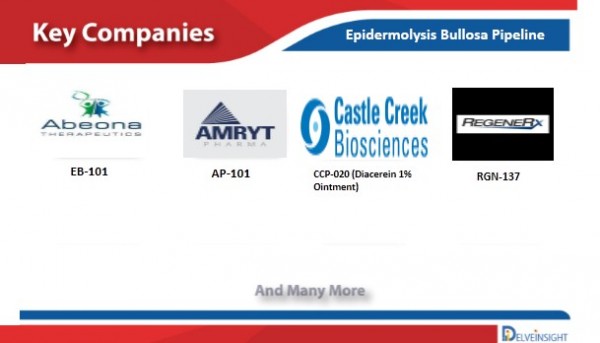 Request for free sample page: – https://www.delveinsight.com/report-store/epidermolysis-bullosa-pipeline-insight
Epidermolysis Bullosa Pipeline development activities
The report provides insights into:
All of the companies that are developing therapies for the treatment of Epidermolysis Bullosa with aggregate therapies developed by each company for the same.
Different therapeutic candidates segmented into early-stage, mid-stage and late stage of development for the Epidermolysis Bullosa treatment.
Epidermolysis Bullosa key players involved in targeted therapeutics development with respective active and inactive (dormant or discontinued) projects.
Drugs under development based on the stage of development, route of administration, target receptor, monotherapy or combination therapy, a different mechanism of action, and molecular type.
Detailed analysis of collaborations (company-company collaborations and company-academia collaborations), licensing agreement and financing details for future advancement of Epidermolysis Bullosa market.
The report is built using data and information traced from the researcher's proprietary databases, company/university websites, clinical trial registries, conferences, SEC filings, investor presentations, and featured press releases from company/university web sites and industry-specific third-party sources, etc.
Epidermolysis Bullosa Pipeline
With the launch of emerging therapies that includes FCX-007 (Fibrocell Technologies), CCP-020 (Castle Creek Pharmaceuticals), RGN-137 (RegeneRx); AP-101 (Amryt Pharma), allo-APZ2-EB (RHEACELL GmbH & Co. KG), EB-101 (Abeona Therapeutics), KB103 (Krystal Biotech), and Ex-vivo expanded autologous with a COL7A1-encoding retroviral vector and LAMB3 encoding gene therapy (Holostem Terapie Avanzate), the market of EB is anticipated to change during the forecasted period (2020–2030).
Fibrocell is developing a gene therapy candidate for the treatment of RDEB. Fibrocell is developing FCX-007 in collaboration with Intrexon, a leader in synthetic biology. In addition, Fibrocell is working in collaboration with Castle Creek Pharmaceuticals to develop and commercialize FCX-007 for the treatment of RDEB. FCX-007 consists of dermal fibroblasts or skin cells that produce extracellular matrix proteins, including collagen. Fibrocell collects fibroblasts from a patient, then modifies them. Currently, it is being investigated in phase I/II clinical trial, although the interim results from the trial were presented by M. Peter Marinkovich, MD, the trial's study director at Stanford University, at the 2018 International Investigative Dermatology meeting, held in Orlando, Florida. But in late July 2019, Fibrocell initiated the Phase III clinical trial of FCX-007.
CCP-020 (Diacerein 1% Ointment) is a topical ointment that is being developed by Castle Creek Pharmaceuticals for the treatment of Epidermolysis Bullosa Simplex (EBS). The drug is engineered to potentially block the activity of interleukin-1β (IL-1β), a pro-inflammatory cytokine that is involved in the inflammatory signaling pathway associated with EBS. Blocking of IL-1β reduces the auto-inflammatory effects in the skin of patients with EBS and strengthen epidermal tissue and support healing. Presently Castle Creek Pharmaceuticals is developing CCP-020 is in the Phase II stage of development. CCP-020 is the only drug that is being investigated in EBS so it is expected to cover a major market share as it has no competition.
KB103 (Bercolagene Telserpavec) is Krystal's lead product candidate that seeks to use gene therapy to treat dystrophic epidermolysis bullosa, or DEB, an incurable skin blistering condition caused by a lack of collagen in the skin. The company also intends to develop KB103 as a potential treatment for recessive dystrophic epidermolysis bullosa — the most severe form of DEB — as well as dominant dystrophic epidermolysis bullosa, the disease's milder form. Currently, Krystal Biotech is investigating KB103 in phase II and III clinical trial to restore functional collagen VII for the treatment of dystrophic epidermolysis bullosa.
According to DelveInsight's analysis, among all these gene therapies that are under development, KB103will cover major market share. KB103 is under development for DEB and RDEB.
Emerging drugs included in the report
AP-101: Amryt Pharma
EB-101: Abeona Therapeutics
CCP-020 (Diacerein 1% Ointment): Castle Creek Pharmaceuticals
RGN-137: RegeneRx
KB103 (Bercolagene Telserpavec): Krystal Biotech
FCX-007: Fibrocell Technologies
Allo-APZ2-EB: RHEACELL GmbH
COL7 and LAMB3 gene therapy: Holostem Terapie Avanzate
HMGB1 peptides: Stemrim
Epidermolysis Bullosa Report Scope
The Epidermolysis Bullosa report provides an overview of therapeutic pipeline activity and therapeutic assessment of the products by development stage, product type, route of administration, molecule type, and MOA type for Epidermolysis Bullosa across the complete product development cycle, including all clinical and nonclinical stages.
It comprises of detailed profiles of Epidermolysis Bullosa therapeutic products with key coverage of developmental activities, including technology, collaborations, licensing, mergers and acquisition, funding, designations and other product-related details
Detailed Epidermolysis Bullosa research and development progress and trial details, results wherever available, are also included in the pipeline study.
Coverage of dormant and discontinued pipeline projects along with the reasons if available across Epidermolysis Bullosa.
Download free sample page: – https://www.delveinsight.com/report-store/epidermolysis-bullosa-pipeline-insight
Table of content
1. Report Introduction
2. Epidermolysis Bullosa
3. Epidermolysis Bullosa Current Treatment Patterns
4. Epidermolysis Bullosa – DelveInsight's Analytical Perspective
5. Therapeutic Assessment
6. Epidermolysis Bullosa Late Stage Products (Phase-III)
7. Epidermolysis Bullosa Mid Stage Products (Phase-II)
8. Early Stage Products (Phase-I)
9. Pre-clinical Products and Discovery Stage Products
10. Inactive Products
11. Dormant Products
12. Epidermolysis Bullosa Discontinued Products
13. Epidermolysis Bullosa Product Profiles
14. Epidermolysis Bullosa Key Companies
15. Epidermolysis Bullosa Key Products
16. Dormant and Discontinued Products
17. Epidermolysis Bullosa Unmet Needs
18. Epidermolysis Bullosa Future Perspectives
19. Epidermolysis Bullosa Analyst Review
20. Appendix
21. Report Methodology
Related Reports
About Us
DelveInsight is a Business Consulting and Market research company, providing expert business solutions for life science vertical and offering quintessential advisory services in the areas of R&D, Strategy Formulation, Operations, Competitive Intelligence, Competitive Landscaping, and Mergers & Acquisitions.
Contact Us
Shruti Thakur
info@delveinsight.com
+91-9650213330
Media Contact
Company Name: DelveInsight Business Research LLP
Contact Person: Yash Bhardwaj
Email: Send Email
Phone: +919650213330
Address:304 S. Jones Blvd #2432
City: Las Vegas
State: NV
Country: United States
Website: https://www.delveinsight.com/