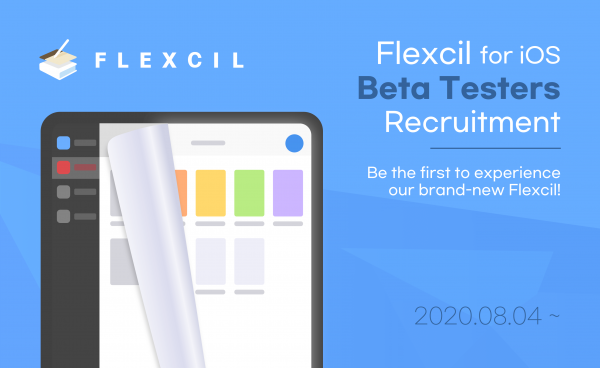 Flexcil is inviting users to a closed beta program (Flexcil lab) for their new version of note-taking application.
Flexcil is a note-taking application designed for study. Users can open PDF and bring a notebook up on single a screen which lets users view and take a note at the same time.
The application allows users to hand write, underline and highlight text, drag images or text from the PDF into the separate notebook by simple gesture. It also has a two-page view of PDF documents, annotate and take notes on them. With its easy and intuitive usability, Flexcil is beloved by more than 1.3 million global users and is pre-installed in Apple Stores worldwide.
The company will introduce a range of new features such as iCloud auto-sync, full screen view, vertical scroll, multi-page view, iPhone support and much more through the beta version of its new architected application.
The South Korean developer intends to gather testers' feedback to improve the app stability and fix potential bugs.
Joining the beta will give you access to all the new features before the official release. You can apply for the beta tester by visiting Flexcil's Beta Testers Recruiting page(https://www.flexcil.com/iosbeta). Invitation will be sent by an email to the users who get selected as a beta tester in September.
Media Contact
Company Name: Flexcil
Contact Person: Elon Park
Email: Send Email
Phone: +82-507-1379-7720
Country: South Korea
Website: https://www.flexcil.com