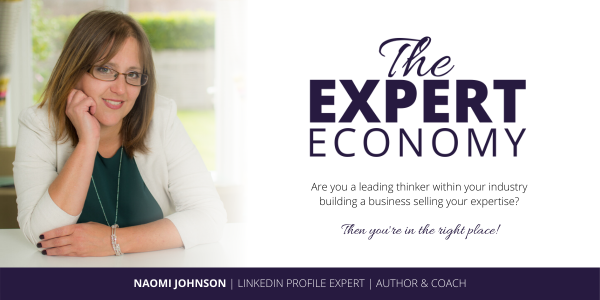 The Covid-19 pandemic has brought the world to a paradigm shift which requires one to adapt accordingly if they want to thrive amidst a global crisis. As the furlough period ends, many people are finding they don't have jobs to return to, or if they do, they are worried about their prospects and looking for new or additional streams of income.
The challenge, however, is that the shift from employment to entrepreneurship is a difficult and treacherous road, with many distractions and pitfalls, that can seriously impact finances, family, confidence, and mental health.
What is needed, is clear, practical, and insightful guidance – the kind of mentoring you can't get from reading a mere article or attending a sales pitch dressed up as a marketing webinar. This is where Naomi Johnson comes to your rescue.
With her podcast "The Expert Economy", Naomi will answer all your questions, like, how do you make sales and marketing feel like a natural fun part of your day, how do you position yourself so prospects come to you already knowing they want to work with you, how can you ensure you get paid for the value you create, and how do you balance all of your commitments to hit your income targets each month.
When it comes to marketing, Naomi says "one size does not fit all. So when researching the right marketing strategy and tactics, it is important to know what type of entrepreneur you are so you know what advice to take on, and what advice will lead you to 'game-over'.
Released on August 12, 2020, there are a total of 3 episodes to "The Expert Economy" podcast to date, all of them equally insightful and helpful for all the budding, as well as, experienced entrepreneurs. In the first episode, the host Naomi discusses how you can become 'the only person your prospect wants to work with'. In the second episode, Naomi talks about the issue that a lot of people face, 'courses and marketing strategies to invest in for a better outcome'. There are a lot more episodes to this podcast on the way, which will help you improve and flourish your business many folds.
Naomi Johnson, the host of "The Expert Economy" podcast, is also the author of the book that goes by the same name, and the listeners can get a free copy of it when they tune in.
Naomi's started her entrepreneurial journey in 2006 as a life coach. When her business failed in the summer of 2008, she knew she couldn't blame it on the economic crisis. Rather her own naivety, mindset, and a very steep learning curve. The lessons she learned during this time can be read in her first book "Grassroots to Green Shoots" available on Amazon.
Applying these lessons, Naomi went on to establish TheProfile.Company and become a world-leading LinkedIn Profile expert writing her second book "What to Put on Your LinkedIn Profile"
Before long, she began to notice that not only did people tend to undersell themselves on their LinkedIn profile, but they were missing vital business components, that if put in place, would dramatically change their results. It was from here that The Expert Economy was born.
With such knowledge and experience, Naomi is the best choice to host a podcast like "The Expert Economy". With this podcast, she will help the listeners to develop the skills to grow their business.
Listen to "The Expert Economy" podcast on various streaming platforms through this LINK.
Media Contact
Company Name: The Expert Economy
Contact Person: Naomi Johnson
Email: Send Email
Phone: 07723 602 353
Country: United Kingdom
Website: www.TheProfile.Company