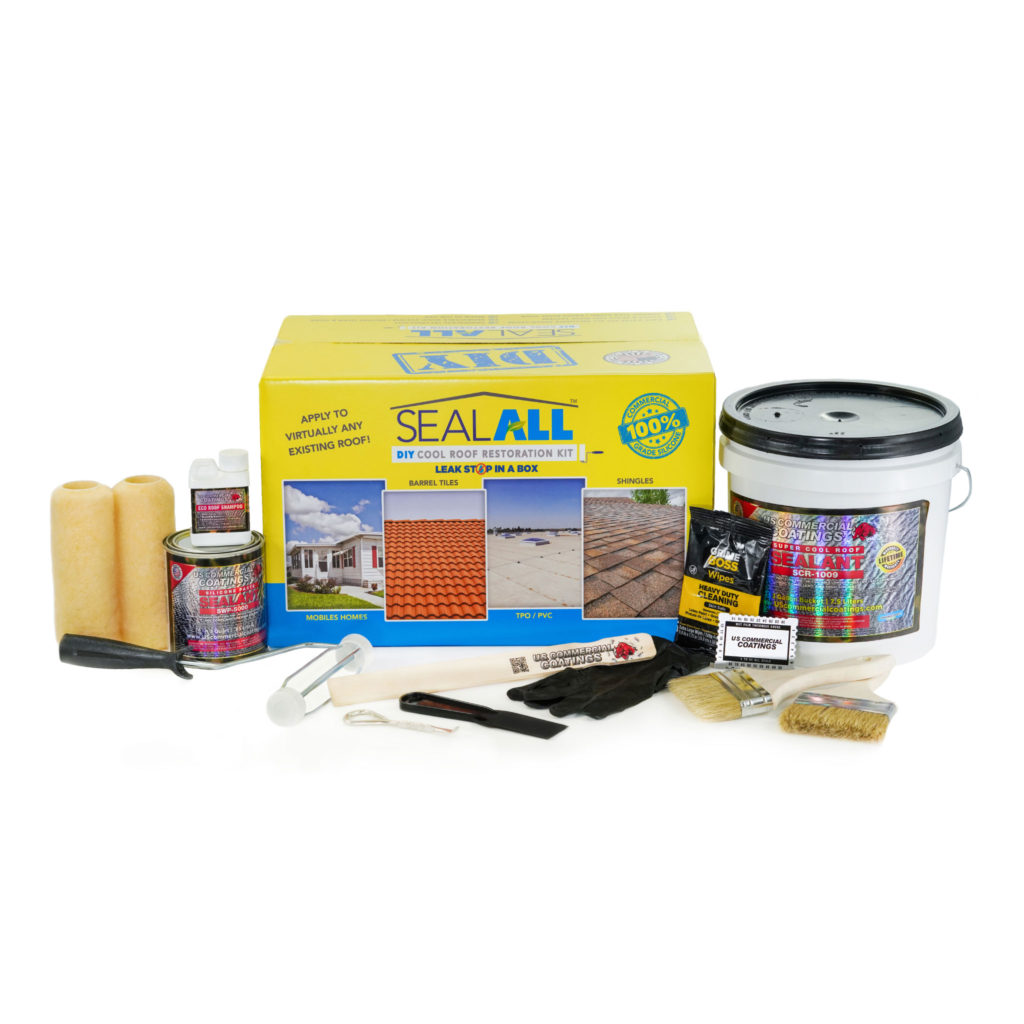 Introducing silicone sealant and cool roof restoration kits for homeowner's DIY home projects
FORT PIERCE, Fla. – Aug 28, 2020 – Seal All proudly introduces its latest DIY solutions for every homeowner who is looking for affordable, yet powerful roof silicone sealants that are proudly made in the USA.
Seal All, renowned for being a global supplier of a wide range of environmentally-friendly DIY roofing solutions, is at again. With the budget-conscious homeowner in mind, Seal All introduces the DIY Cool Roof Restoration Kit, a contractor-grade silicone sealant and roof patching kit that can be easily applied by anyone. No professional contractor is required.
"While a leaky roof may be able to keep the plants watered, it ultimately is a massive drain on your time and your wallet," stated CEO Anthony Flett. "With our DIY products, you can extend the longevity of your roof, prevent leaking, and provide your family peace of mind. Our products are specifically made to give old and tattered roofs a new and energy-efficient cool life extension," further added Flett. "This product achieves Seal All's primary objective. To create a product for the end-user that is a one-stop-shop, easy to install, and won't break the bank. Finally, everyone has an opportunity to save time and money, while beautifying and expanding the life of their roof."
The DIY Cool Roof Restoration Kit permanently solves leak issues for almost every roof surface, including, metal, aged single-ply (TPO, PVC, EPDM, and Hypalon), asphalt (roll roofing, modified bitumen, and built-up roofing), shingles, barrel tiles, RVs, trailers, boats, shipping containers, sheds, ones previously coated, and so much more. Additionally, the DIY Cool Roof Restoration Kit is:
an easy do it yourself 3-step all-inclusive application – think of it as a new roof in one convenient box.

waterproof, vapor-tight, air barrier, and gas-tight.

strong, seamless, and fully adherent to many surfaces (Miami-Dade approved for 160+ hour winds).

energy star rated to keep roofs cool and 88% reflective.

great for emergencies.

high adhesion on dry surfaces; can even handle water ponding without degradation.

environmentally friendly and contains no toxic properties.

highly elastic, primerless technology.

resistant against large temperature fluctuations.

renewable (can be recoated over and over). 

composed of commercial-grade quality products that are available for the first time to homeowners (no longer just for contractors). 

sustainably made in the USA.

Seal All takes pride in the quality of our roof repair products. With our specialty being a high-solid, non-shrinking moisture-cure silicone sealant intended for sealing and repairing roofs, masonry, architectural metal, and metal roof seams and fasteners. As if the ability to repair a roof problem yourself was not a huge bonus, Seal All's universal roof sealing products are solvent-free and contain minimal odor. The silicone sealant may also be applied to quickly control leaks so, in a nutshell, there is no repair too grand or small that cannot be addressed.
Why spend tens of thousands of dollars for a replacement roof when you can easily do it yourself for a fraction of the cost? The DIY Cool Roof Restoration Kit provides you with all the equipment you need at a lesser cost than buying individually, not to mention, all components are commercial grade and have been tested by commercial contractors, guaranteed!
For more information on Seal All or the latest DIY Cool Roof Restoration Kit, please contact below.

Media Contact
Company Name: Seal All
Contact Person: Media Relations
Email: Send Email
Phone: 1-844-KIT-SEAL (844-548-7325)
Country: United States
Website: www.sealallroofkit.com