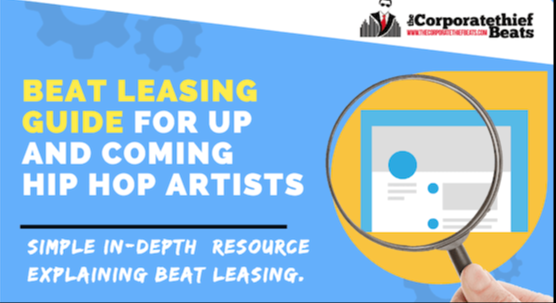 The UK based hip hop music producer The Corporatethief Beats is honoured to share his knowledge with up and coming hip hop artists about leasing beats online.
The music production company The Corporatethief Beats was founded by Daniel Hartnett, a graduate of The Academy of Sound Dublin says. "I understand the plight of up and coming rap artists. Choosing the life of a musician is never an easy path, especially at the beginning when funds are tight. Most rappers don't understand where or how to obtain rap beats to rap over.
Coming up with beats and instrumentals on your own can be a struggle. However, the majority of up and coming rap artists don't need to learn how to make their beats or hire a music producer. Due to this, these budding artists can instead opt to lease beats."
Daniel continues to explain that leasing hip hop beats is somewhat similar to renting a piece of music, in this case, a beat for a certain period. The core advantage of leasing beats is that this is a much cheaper option for the artist.
With the prices of some rap beat lease licenses ranging as low as $20.
In a recent article on The Corporatethief Beats website, found here: https://thecorporatethiefbeats.com/rap-instrumentals/
The company showcases terms of each beat lease license. Basic Mp3 lease, Higher Quality Wav Lease and Platinum Tracked Out Lease.
These lease license will vary from producer to producer, so Hartnett stresses the importance that reads the terms of the lease per lease license set that they buy from every producer they deal with.
"Leasing Hip Hop Beats online can be quite difficult to understand for artists that are up and coming in the music industry. Here we have highlighted several points artists should know about beat leases before they start purchasing beats from online producers."
The Basic Mp3 lease has a distribution limits are commonly between 3000-7000 streams. This means that a rap artist can distribute their song with paying royalties up the limit imposed by The Corporatethief Beats This is the lowest tier of the leasing option. The MP3 is a highly compressed audio format, with quality of around 224kbps to 320 kbps. Allowing artists to distribute the song on all the major streaming websites. Some of which include iTunes, Spotify and Pandora.
The second leasing tier is the premium WAV lease license. Providing the artist with additional streaming limits of up to 10,000 streams, and higher quality format in that of a Wav file.
The final tier is that of the Platinum tracked Out Steam Lease. This type of lease license is only used by more established and are capable of spending more money on their hip hop beats. This lease provides the artist with more control over the mixing stage of the song.
The lease only grants the rap artist with a license to use the instrumental. The artist should also be aware that downloading free beats online is not considered a lease. Music producers only provide free beats so that the artist can audition the instrumental during the song creation stage.
Rap artists and singers should always purchase a lease license for rap beats so that they can actually use for commercial purposes and monetize their work legally.
The Corporatethief Beats website was set up in 2010 by Daniel Hartnett. Over the last number of years, this website has proven to be a necessary resource for rap artist new to the music industry. The Corporatethief Beats website also sells hip hop beat leases of different genres such as trap beats, and type beats. Those interested may find more information on the company's website and Google page, which can be found at https://sites.google.com/view/rap-instrumentals.
Here artists can also learn more about music marketing following Hartnett's blog, which showcases case studies from his own music marketing experiences.
Media Contact
Company Name: The Corporatethief Beats
Contact Person: Daniel Hartnett
Email: Send Email
Country: United Kingdom
Website: https://www.thecorporatethiefbeats.com/