DelveInsight's "Hypoxia Market Insights, Epidemiology, and Market Forecast 2030" report delivers an in-depth understanding of the Hypoxia, historical and forecasted epidemiology as well as the Hypoxia market trends in the United States, EU5 (Germany, Spain, Italy, France, and United Kingdom) and Japan.
Hypoxia is a state in which oxygen is not available in sufficient amounts at tissue level to maintain adequate homeostasis; this can result from inadequate oxygen delivery to the tissues either due to low blood supply or low oxygen content in blood (hypoxemia). Hypoxia can vary in intensity from mild to severe and can present in acute, chronic, or acute and chronic forms. The response to hypoxia is variable; while some tissues can tolerate some forms of for a longer duration, other tissues are severely damaged by low oxygen levels. hypoxia/ischemia
There are multiple causes of cerebral hypoxia including cardiac arrest, choking, stroke, low blood pressure, shock, drowning, drug overdose, paralysis of the breathing muscles in conditions such as amyotrophic lateral sclerosis (ALS), strangulation, smoke inhalation, and carbon monoxide poisoning. Cerebral hypoxia can also occur at birth and lead to brain damage in the newborn.
Symptoms of mild cerebral hypoxia include inattentiveness, poor judgment, memory loss, and a decrease in motor coordination. Brain cells are extremely sensitive to oxygen deprivation and can begin to die within five minutes after oxygen supply has been cut off. When hypoxia lasts for longer periods of time, it can cause coma, seizures, and even brain death. In brain death, there is no measurable activity in the brain, although cardiovascular function is preserved. Treatment depends on the underlying cause of the hypoxia, the most important treatment for cerebral hypoxia involves removing the source of the oxygen deprivation, along with extensive physical, occupational, or speech therapy to teach the brain how to work around any damaged areas.
Get FREE sample copy at:
https://www.delveinsight.com/sample-request/hypoxia-market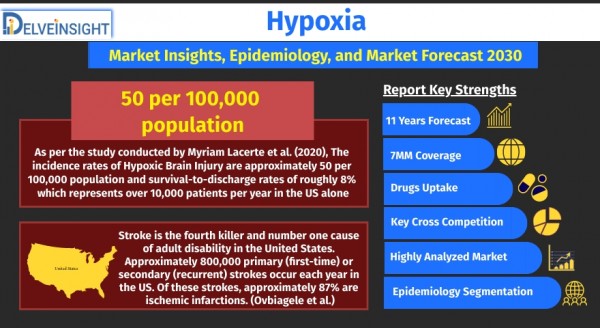 The Hypoxia market report covers emerging drugs, current treatment practices, Hypoxia market share of the individual therapies, current and forecasted Hypoxia Market Size from 2017 to 2030 segmented by seven major markets.
The report provides a detailed current Hypoxia treatment practice/algorithm, market drivers, market barriers and unmet medical needs to curate best of the opportunities and assesses the underlying potential of the market.
Hypoxia Market Key Facts
As per the study conducted by Myriam Lacerte et al. (2020), The incidence rates of Hypoxic Brain Injury are approximately 50 per 100,000 population and survival-to-discharge rates of roughly 8% which represents over 10,000 patients per year in the United States alone.
Stroke is the fourth killer and number one cause of adult disability in the United States. Approximately 800,000 primary (first-time) or secondary (recurrent) strokes occur each year in the US. Of these strokes, approximately 87% are ischemic infarctions. (Ovbiagele et al.)
As per the study conducted by Phillip Ferdinand et al. (2016), Sulter et al. reported that 63% of stroke patients had at least one episode of hypoxia, defined as a saturation of less than 96% for more than 5 minutes.
Key Benefits of Hypoxia Market Report
Hypoxia market report provides an in-depth analysis of Hypoxia Market Size, Share, Trend, Epidemiology and Market Forecast till 2030, in 7 major market i.e. EU5 (Germany, Italy, Spain, France and the UK), Japan, and the United States.

The Hypoxia market report will help in developing business strategies by understanding the Hypoxia Market trends & developments, key players and future market competition that will shape and drive the Hypoxia market in the upcoming years.

The Hypoxia market report covers Hypoxia current treatment practices, emerging drugs, market share of the individual therapies in 7 MM.

The report provides a detailed assessment of the Hypoxia market market drivers & barriers, Unmet Needs, market opportunities, patient population, comparative analysis of pipeline products with detailed clinical profiles, and other factors.
Extensive R&D activities by academias and industries shall fuel the growth of the Hypoxia market in the upcoming years. The Hypoxia market size shall grow during the forecast period owing to the expected launch of many therapies during the forecast period.
The Hypoxia market outlook section of the report helps to build the detailed comprehension of the historic, current and forecasted Hypoxia market trends by analyzing the impact of current therapies on the market, unmet needs, drivers and barriers and demand for better technology.
The report gives a thorough detail of Hypoxia market trend of each marketed drug and late-stage pipeline therapy by evaluating their impact based on the annual cost of therapy, inclusion and exclusion criteria, mechanism of action, increasing patient pool, covered patient segment, expected launch year, competition with other therapies, and view of the key opinion leaders.
Hypoxia Epidemiology
The Hypoxia epidemiology section covers insights about historical and current Hypoxia patient pool and forecasted trends for every seven major countries (i.e. the United States, EU5 countries (Germany, Spain, Italy, France, and the United Kingdom), and Japan from 2017 to 2030.
It helps to recognize the causes of current and forecasted trends by exploring numerous studies and views of key opinion leaders. The epidemiology section also provides the diagnosed patient pool and their trends along with assumptions undertaken.
Hypoxia Drugs Uptake and Key Market Players
The Hypoxia Drugs Uptake section focuses on the rate of uptake of the potential drugs recently launched in the Hypoxia market or expected to get launched in the market during the study period. The analysis covers Hypoxia market uptake by drugs; patient uptake by therapies; and sales of each drug.
Report's Drugs Uptake section helps in understanding the drugs with the most rapid uptake, reasons behind the maximal use of new drugs and allow the comparison of the drugs on the basis of market share and size which again will be useful in investigating factors important in market uptake and in making financial and regulatory decisions.
The current pipeline for Hypoxia has many significant products. The dynamics of Hypoxia market is anticipated to change in the coming years owing to the improvement in the diagnosis methodologies, incremental healthcare spending across the world, and also due to the expected launch of many therapies during the forecast period. Some of the Key players in the Hypoxia Market includes:
Biogen
Diffusion Pharmaceuticals
And many others.
Drugs Covered
TMS-007
Trans-Sodium Crocetinate (TSC)
And few others.
Table of Content
1. Key Insights
2. Executive Summary
3. Hypoxia Competitive Intelligence Analysis
4. Hypoxia Market Overview at a Glance
5. Hypoxia Disease Background and Overview
6. Hypoxia Patient Journey
7. Hypoxia Epidemiology and Patient Population
8. Hypoxia Treatment Algorithm, Current Treatment, and Medical Practices
9. Hypoxia Unmet Needs
10. Key Endpoints of Hypoxia Treatment
11. Hypoxia Marketed Products
12. Hypoxia Emerging Therapies
13. Hypoxia Seven Major Market Analysis
14. Attribute Analysis
15. Hypoxia Market Outlook (7 major markets)
16. Hypoxia Access and Reimbursement Overview
17. KOL Views on the Hypoxia Market.
18. Hypoxia Market Drivers
19. Hypoxia Market Barriers
20. Appendix
21. DelveInsight Capabilities
22. Disclaimer
Related Reports
Hypoxia Epidemiology Forecast to 2030
DelveInsight's 'Hypoxia Epidemiology Forecast to 2030' report delivers an in-depth understanding of the disease, historical and forecasted Hypoxia epidemiology in the 7MM, i.e., the United States, EU5 (Germany, Spain, Italy, France, and the United Kingdom), and Japan.
Hypoxia Pipeline Insights, 2020
Hypoxia Pipeline Insight, 2020 report by DelveInsight outlays comprehensive insights of present clinical development scenario and growth prospects across the Hypoxia market.
About DelveInsight
DelveInsight is a leading Business Consultant, and Market Research Firm focused exclusively on life sciences. It supports pharma companies by providing end to end comprehensive solutions to improve their performance.
Media Contact
Company Name: DelveInsight Business Research LLP
Contact Person: Anuj Rawat
Email: Send Email
Phone: +919650213330
Address:304 S. Jones Blvd #2432
City: Las Vegas
State: NV
Country: United States
Website: https://www.delveinsight.com/