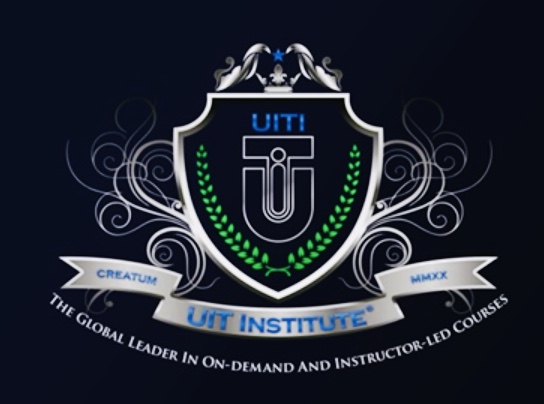 Miami, FL – September 10, 2020 – UIT Institute "UITI", the global leader in on-demand and instructor-led certification platform, is pleased to announce the upcoming launching of their new e-learning website this month. The new online platform is backed by cutting-edge technologies of Artificial Intelligence and a proprietary Learning Management System (LMS).
E-learning, as it seems, is about to take the world of education by storm. The novel Coronavirus has resulted in schools shut all across the world. Globally, over 1.2 billion children are out of the classroom. As a result, education has changed dramatically, with the distinctive rise of e-learning, whereby teaching is undertaken remotely and on digital platforms. Research suggests that online learning has been shown to increase retention of information, and take less time, meaning the changes coronavirus have caused might be here to stay.
Information technology is driving the world economy today. You look at marketing: everything that's happening in marketing is digitized. Everything that's happening in finance is digitized. So pretty much every industry, every function in every industry, has a huge element that's driven by information technology. It's no longer discrete. William Clinton said that in today's knowledge-based economy, what you earn depends on what you learn. Jobs in the information technology sector, for example, pay 85% more than the private sector average.
The UIT Institute's lessons will major in advanced information technology courses. Professional students will benefit from UIT Institute's easy to navigate the online platform, with a personal and individualized approach to online training and e-Learning educational solutions.
In early 2019, Jorge Reyes Jr., CEO of UIT Institute tried to raise venture capital funding, even met with several angel investors and a couple of hedge funds friends, but the idea failed to impress investors, and he was rejected 15 times. However, rejection is nothing more than a necessary step in the pursuit of success. Charles R. Swindoll said that Life is 10% what happens to you and 90% how you react to it.
In response to this, Jorge Reyes Jr., decided to bootstrap the development of this amazing eCommerce-LMS platform, which is launching in a few weeks (September 2020).
The UIT Institute eCommerce Platform will have integrated Artificial Intelligence and eLearning Management System (LMS) to begin offering over 1500+ courses online (Video On-demand and Instructor-Led Courses and Certifications).
This platform is going to be part of the growing Massive Open Online Courses (MOOC) movement available outside the traditional university system, which aims at unlimited participation and open access via the web.
According to Jorge Reyes Jr.: "We will be specializing in 7 different areas across a breadth of categories: Cybersecurity, IT Networking, Cloud Management, Software Development, Project Management, Business Skills, and Office Productivity. With this affordable platform, business, organizations can also create custom learning portals for corporate training."
"Each of our courses consists of several units comprising video lectures with closed captioning, in conjunction with integrated quizzes to help students understand concepts and reinforce ideas, as well as follow-up homework, which promotes a "learn by doing" model," he stated.
With the institution's "open enrollment" philosophy; students can enroll in one or more courses at any time after a course is launched. All course lectures and problem sets are available upon enrollment and can then be completed at the student's preferred pace within 12 months on their enrollment. In conclusion, Jorge Reyes Jr., said: "Our students will earn PDUs, CEUs, CPEs and will be issued Certificates of Completion of individual courses."
"Our platform is going to be part of the growing Massive Open Online Courses (MOOC) movement available outside the traditional university system, which will provide affordable quality education, accessible to all participants in an open-access forum via the web. This is a move to 'support' and provide 'reasonable", affordable" and "quality" training in the MOOC space."
For more information, please visit us at: www.UITInstitute.com
Media Contact
Company Name: UIT INSTITUTE
Contact Person: Jorge Reyes Jr., CEO & Founder
Email: Send Email
Phone: +1 800-921-6049
Country: United States
Website: www.UITInstitute.com