Chanlie Jean – 'Battle To The Blessing'
ABOUT THE ARTIST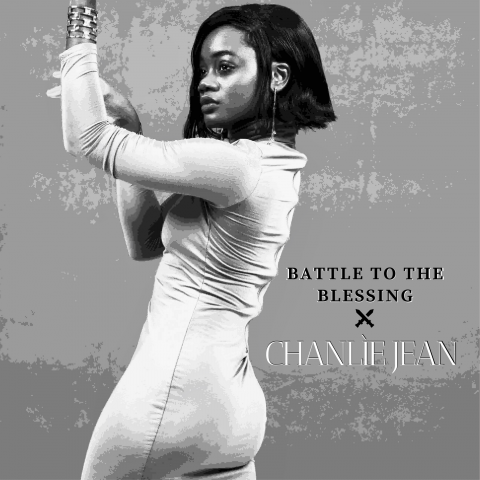 Chanlie Jean is a singer/songwriter who burst onto the music scene back in 2018. The now twenty-two year old artist has been singing/dancing since she was in elementary school. Chanlie's inherent musical talent first emerged when she was just six years old; reciting the melody of a song to her sisters vocal teacher after becoming "fed up" with her older sister's reluctant shyness at attempting the song. After that, the vocal coach encouraged Chanlie to take up singing lessons. When she was eighteen, Chanlie went to a vocal coach who told her that she was "too advanced". Although she auditioned for AGT and got through to the pre-audition stage, Chanlie Jean was cultivating a passion for writing and producing her own original material.
After receiving some constructive criticism from an individual in the music industry who worked with the likes of Akon, Rihanna and Usher, Chanlie dedicated herself to honing her craft as an artist and inevitably completed her debut single; performing all across South Florida. Chanlie Jean's music has since been played across the country and has led her to new ventures. Branching off in the entertainment world into the field of acting, Chanlie auditioned for a number of TV shows. commercials and movies before making the bold decision to complete her education before pursuing the creative arts; achieving an A.A degree in Business Management/ Marketing.
Before graduating, Chanlie worked for Uber to help finance her academic studies. Refusing to waste an opportunity to further her music career, the up and coming artist played her tracks for her customers, withholding the artist name until after the song had finished to get the honest reaction from the individual listening. To her surprise, many people were left with a "shocked facial expression" when she told them that the artist they were listening to was the same person driving the car.
Inspired by the positive feedback, Chanlie committed herself to releasing original music to the world and to date, has two singles in her online discography: 2018's 'One Reason', and our featured single, 'Battle to the Blessing' (2020). With over twenty thousand followers on her Instagram alone, it's fair to say that Chanlie Jean is developing a dedicated fanbase as she continues to build on the momentum of her debut single. In addition to her new single, Chanlie Jean has been quietly working on an EP that is to be released sometime later this year.
FEATURED RELEASE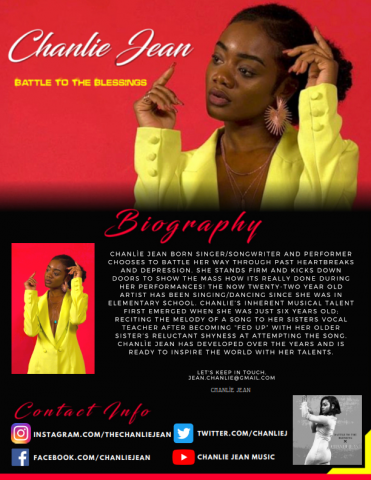 Our featured single, 'Battle to the Blessing' by Chanlie Jean, is out now and available to stream on all major streaming platforms! The single lasts two minutes and fifty-six seconds and sits at a steady 103 bpm. The track commences with an eleven second introduction that combines a gradual crescendo of ambient instrumentation with a powerful spoken word sound bite; creating a sense of anticipation prior to the instigation of the proceeding verse.
Chanlie's vocal color is clean and emotive; seamlessly synchronizing with the melodic flow of the instrumentation. Subtle harmonized vocal layers are systematically added throughout the mix (check out 0:16 to 0:20), providing a creative flare whilst ensuring that the well balanced production prevents any detraction from the main vocal line.
The beat kicks in at the 0:30 mark and resultantly drives the rhythmic intensity of the single. A pre-chorus half-time section provides just the right amount of dynamic diversity to make the 'Battle to the Blessing' hook line all the more memorable.
From the powerful an authentic vocal performance, to the eclectically mixed instrumentation, fans of Chanlie Jean, as well as those who appreciate new and creative music, will definitely want to hear this single. Make sure you follow Chanlie Jean on social media to keep up to date with upcoming releases and performances:
Media Contact
Company Name: Wokechimp Independent
Contact Person: Chanlie Jean
Email: Send Email
Phone: (561) 566-2894
Country: United States
Website: https://open.spotify.com/album/0jXQcIakMmHNTki7lHBxg9?si=58hEHcYzSeGQE79jTPspBA