September 15th, 2020 – William Sculley's YouTube channel hosts the premiere of Luxury Listings with Jon Lovitz where Jon crashes the set of a $6,000,000 beachfront home tour in Malibu bringing his classic comedy and giggle filled excitement to the audience.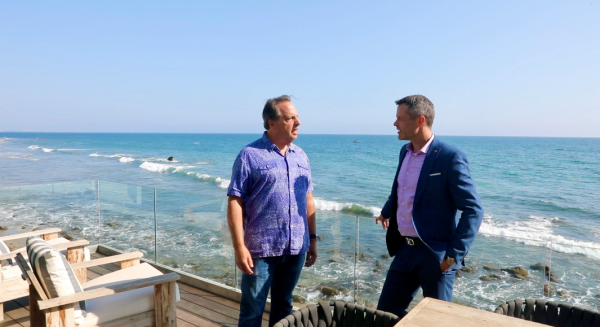 Sculley, who has produced Billboard records and worked alongside artist like G-Unit, Pussycat Dolls and produced singles for reality show Real Housewives of Beverly Hills has now staked his claim at selling multi-million dollar beach front properties in Malibu. Will and Jon's relationship can be described as scanty at best! Will and Jon show great chemistry on camera but as season one of the YouTube based comedy rolls out, Jon continues to crash the multimillion-dollar listings tours with clever comedy and jokes. Jon will always find obscure reasons why "he" thinks the home should be discounted or why these luxury properties may be a little too overpriced!
For more information about Will Scullery please, visit his website or check him out on Facebook.
About Will Sculley
Will Sculley (aka: Doc Skulley) started producing at only 15 and just a year later had a song out on Billboard College Radio. This was only the beginning of an impressive early career. Soon to follow were tracks that made the Billboard Top 100 and Billboard Dance Charts. Not only is he a Billboard artist but he has had a worldwide release, hosted by Ryan Seacrest and Kiss FM. Will has progressively built his career on stellar achievements and is working his way to being in the ranks of the most world-renowned producers. With his tracks being used in featured films, placed in fashion shows, and released nationwide on major radio broadcasts, it is no wonder why Will Sculley, who is Hollywood's most sought after producer has taken his talents and long list of clients to the luxury real estate business in Malibu.
About Jon Lovitz
Jon Lovitz, best known as a cast member of Saturday Night Live appeared in numerous films and TV Series including Benchwarmers, Rat Race, Friends and Seinfeld . Lovitz maintained a television and film career both during and after his time on SNL. Among his credits, include roles in shows like Seinfeld, The Simpsons, Friends, NewsRadio, Three Amigos, and of course The Critic.
Media Contact
Company Name: Siena Rose Productions, LLC.
Contact Person: William Sculley
Email: Send Email
Phone: 323-580-3815
Country: United States
Website: https://www.youtube.com/channel/UCpuvQ2vfM8wPu3sC46eq7rg