"HighRise Glass Repair of Toronto"
High-rise and low-rise glass repair needs to be of the highest quality possible. Safety is always a paramount consideration. Whether a simple repair is needed or complete replacement, cost is not the only factor, as poor installation can cause risk and possible injury. HighRise Glass Repair of Toronto, takes the safety and stability very seriously of all repairs and installations and can do it in a very cost-effective manner also.
High-rise and low-rise glass repair is not limited to windows.
Sliding doors also need repair and replacement; perhaps more often even than windows, as they are the entrances to buildings, or the divisions between office sections. Commercial buildings come in all manner of styles, shapes and sizes, and quality of installation and knowledge does count when addressing all repair and replacement issues. Technicians should be certified and have a knowledge of all types and styles of glass. Energy efficiency counts for some businesses, while others are seeking a certain aesthetic look to complement their existing structure.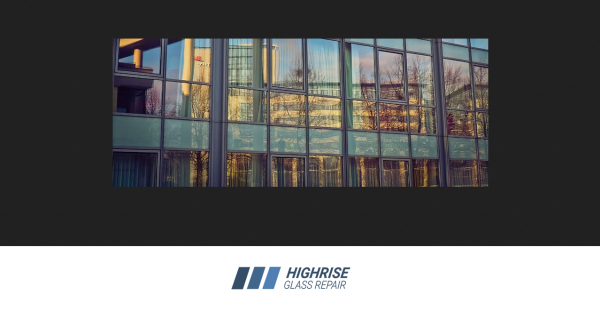 No glass lasts forever unfortunately, and a minor crack even causes major problems.
Especially in high-rise condos, which are becoming more popular today, the amounts of glass, sometimes floor to ceiling are tremendous. While glass has a usual lifespan of about 15 to 18 years, in a high-rise condo, because of the huge span of glass, repair or replacement may be needed every 10 years. There is more wear and tear on the glass in these types of modern condos, and heating and air conditioning costs may rise if the glass is not inspected and replaced whenever necessary. The Canadian Mortgage and Housing Agency as well as the Canadian Government now estimate that there are close to 400,000 condos now built in the Toronto and surrounding areas, with an astounding 1.3 million nationwide.
With the amounts of condos now in Toronto, glass repair and installation safety are a top priority.
Individuals that choose condo living do so because of its convenience and for the upkeep that is usually included. This upkeep however, is usually limited to seasonal maintenance and repair and replacement of glass is left to the owners of the condos, unless they are renting. However, glass installation or repair on any high-rise or even low-rise building can be tricky if not performed safely. Heavy equipment or other types of equipment might be needed depending on the size and height of a building. Workers might have to hang by straps to safely install a window. All equipment must be up to safety standards and all technicians must be fully trained regularly. Regular inspections of equipment and trainings should take place. High-rise glass repair and replacement is often needed because of weather conditions. Canadian weather can be brutal. It can affect the glass of all high-rise and even low-rise buildings. Routine inspection and maintenance should be a priority and a good company like HighRise Glass Repair of Toronto should be consulted whenever a problem may seem to exist.
About HighRise Glass Repair
Based in Toronto, HighRise Glass Repair is a team of experienced high-rise, low-rise, and commercial or residential condominium glass repair and replacement technicians, who place safety above all else. Whether business or commercial all building glass repair or replacements are a specialty. Sliding doors, aluminum windows, caulking, inspections, and even screen installations are also among the services provided, which are extensive.
Media Contact
Company Name: HighRise Glass Repairs
Contact Person: Media Relations
Email: Send Email
Phone: 416-875-5285
Address:425 Alness St
City: Toronto
State: Ontario M3J 2T8
Country: Canada
Website: https://highriseglassrepairs.com/