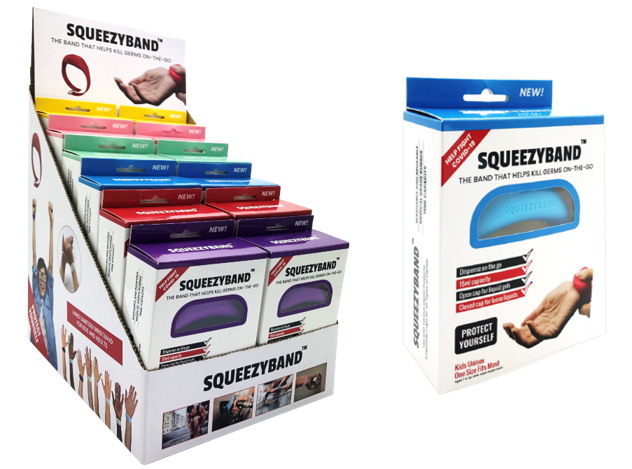 "The photo features our countertop display along with the individual item to be hung or displayed on any shelf."
SQUEEZYBAND puts more of your essential hygiene needs in the palm of your hand. This wristband prevents contamination and allows you to carry all necessary liquids, such as hand sanitizer, lotion, liquid soap, and more.
Juzdan Gear is proud to partner with Mr. Checkout to bring SQUEEZYBAND to stores across the country. Squeezyband is the smart choice for killing germs on the go. Do not settle for inferior substandard copies of our product which do not take care of consumer safety. It is manufactured of the highest medical grade materials to ensure both high customer satisfaction and safety. "Our mission at SQUEEZYBAND was to develop a reusable, dependable, and high-quality Medical Grade Hand Sanitizer band that could help keep people safe," said George of Juzdan Gear. With that in mind, we set out to produce a product that can handle medical-grade liquids while keeping people safe.
This is highly essential for any product that has direct skin contact for long periods of time. "By partnering with a company such as Mr. Checkout, it allows us to expand our footprint at a fast pace. This product is highly prevalent in the environment we are faced with today" says Eric of Juzdan Gear. Squeezyband is great for the responsible adult that keeps their hands clean throughout the day. It is also a must-have for kids returning to school. They can dispense sanitizer onto their hands periodically throughout the day to stop the spread of germs and viruses.
Unlike other dispensing bands, the SQUEEZYBAND does not need an applicator or syringe to fill, making it super easy to fill on the go. SQUEEZYBAND comes packaged with multiple attachments so you can dispense both loose liquids or gels. No matter what type of liquids or gels you want to dispense we have you covered. The SQUEEZYBAND can be refilled as many times as needed and will hold up to 15ml (0.5 Oz) of liquid or gel at one time in the band. You can also safely wash the SQUEEZYBAND to keep it clean. If you are interested in selling our product in your locations today, make sure to reach out to Mr. Checkout and Juzdan Gear. Squeezyband will soon be in a store near you. Look out for our product and make sure to purchase a band for everyone in the family.
Media Contact
Company Name: Juzdan Gear
Contact Person: George Juzdan
Email: Send Email
Phone: 9734125281
Country: United States
Website: https://mrcheckout.net/squeezy-band/