Pet502, Co., Ltd., a company specializing in pet furniture, is a brand launched in the second half of 2018 and plans to provide functional wooden furniture for pets.
With the corporate concept, "Create a world where pets and pet owners can coexist," the company is committed to launching the pet furniture that both pets and pet owners can be satisfied with. The online shopping mall is available at https://www.pet502.com. You can also watch the advertising video at https://youtu.be/RpSG5yJZ76k.

Video Link: https://www.youtube.com/embed/RpSG5yJZ76k
Yoon Ji-hyun, CEO of Pet502, launched a pet furniture brand that considers pets from a companion animal, based on more than 10 years of experience having four cats and four years of experience leading a gathering for companion animals. With her special affection for pets, she even got the brand name from her first cat, 502.
The brand designed furniture with a focus on the functionality and stability required from the viewpoint of companion animals by reflecting the behavioral characteristics, as well as natural color and cute design that can satisfy the companion's interior taste.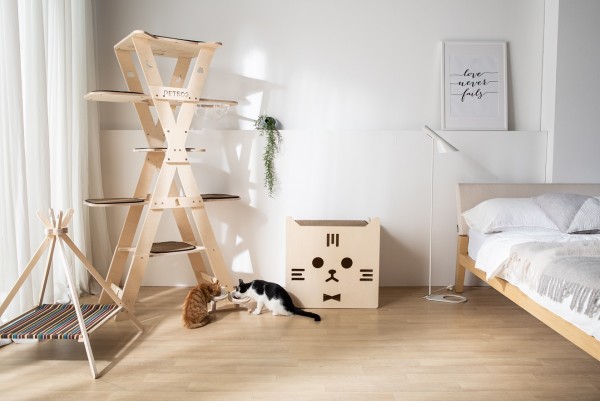 The catwalk and cat-ball attached to the window can be used as a space for cats, which is highly utilized as it has a cat tower function at a low cost. The height & angle control table has been steadily gaining popularity since its launch as it can be adjusted to the age of pets. In addition, the angle control pet stairs can individually adjust the angles of the three footrests, which be used not only for stairs but also for sliding steps. In addition, the brand has more than 20 kinds of products and continues to market.
In recognition of the functionality and stability of products, the brand also made more than three registration of the utility models for the first time in the pet furniture industry in Korea. At more than 10 domestic fairs last year, it was recognized by the public as well as authorized organizations by selling out all products at the same time as they were released.
"All furniture provided by Pet502 is a product that is well harmonized with the interior of your house with a cute design, allowing pet owners to live a happier life with their pets," said CEO Yoon Ji-hyun. "In the future, we will continue to make efforts to reach consumers as a leading brand in the lifestyle of pets, not just a pet furniture brand."
Media Contact
Company Name: PET502 co., ltd.
Contact Person: Youn Ji Hyun
Email: Send Email
Phone: +82 10 3952 5502
Country: Korea
Website: https://www.gobizkorea.com/user/goods/frontGoodsPreView.do?goods_no=GS2020091497568