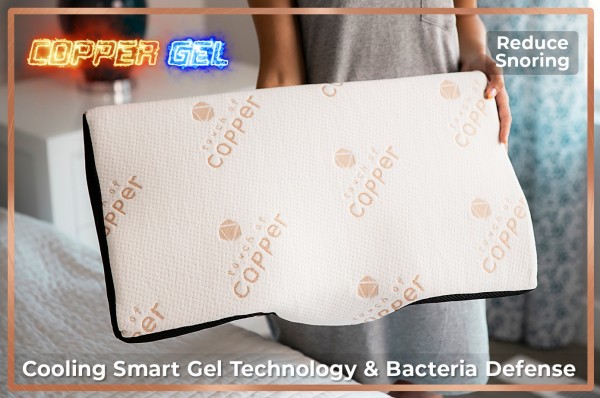 Doctor Pillow has launched another revolutionary pillow in the market-The Copper Gel 7-in-1 cooling pillow with anti-snore technology. This innovative new pillow has surpassed its crowdfunding goal on Indiegogo by a huge amount. Equipped with seven outstanding features including carbon bamboo, cooling smart gel technology, anti-snoring neck alignment, air cell tech, Bouncetek memory foam, Copper infused ice-cool cover and Air vortex breathable mesh, this pillow is designed to induce comfortable sleep and reduce snoring.
The Copper Gel Pillow features a unique, ergonomic design with an anti-snore neck support channel that helps in keeping your head, shoulders, neck, and spine in the right posture, allowing your breathing pathways to open and reduce snoring. Made with activated bamboo charcoal carbon fiber that prevents mold growth, dust mites, and allergens, the pillow also features the unique cooling gel technology for better sleep. The Bouncetek memory foam is designed to improve spinal alignment and relieve pressure points to prevent neck, shoulder, and back pain. The Copper Gel is also equipped with an extremely breathable Air Vortex mesh to allow airflow.
Furthermore, the Copper gel pillow comes with an ice-cool cover, infused with Copper, known for its benefits in bacterial-defense. The copper particles infused in the pillow are beneficial for skin, and prevent acne breakouts, while improving skin elasticity and smoothness. In fact, copper technology has been tested by NASA for its skin-healing and anti-microbial properties and it is also used in hospital linens, scrubs, and other medical fabrics to prevent the growth of bacteria. The Ice Cool Pillowcase removes moisture to keep you cool, while the cool silk material is anti-mildew, anti-static, insect-proof and washable.
Ordinary pillows generate uncomfortable heat which is one of the major causes of interrupted sleep. To solve this, Doctor Pillow has integrated the Air Cell technology in their pillow to keep constant airflow and keep the user cool. In addition, the Smart cooling gel reacts to the user's body, sensing if they are hot and works to keep it cool all night. The soft and comfortable hydro cooling gel is specifically designed to cool down the body temperature to a comfortable level.
Overall, the seven unique features integrated into the Copper Gel Pillow work together to enhance sleep quality by reducing snoring, maintaining the proper body temperature, preventing allergens & bacterial growth, regulating the humidity, improving sleeping posture, and ensuring breathability all night long. It's a much-needed innovation in modern times considering a large percentage of the world population suffers from insomnia and sleeping issues due to external factors.
Whether you're a side sleeper or a back sleeper, this pillow is suitable for all. The Copper Gel pillow is available for $69 through the limited early bird reward, which is 42% off the retail price of $119. The product ships worldwide.
More information about the Copper Gel Pillow and other discounts can be found on its Indiegogo campaign page.
Media Contact
Company Name: Dr. Pillow
Contact Person: Christina
Email: Send Email
Country: United States
Website: www.indiegogo.com/projects/copper-gel-7-in-1-anti-snoring-cooling-pillow/x/23114483