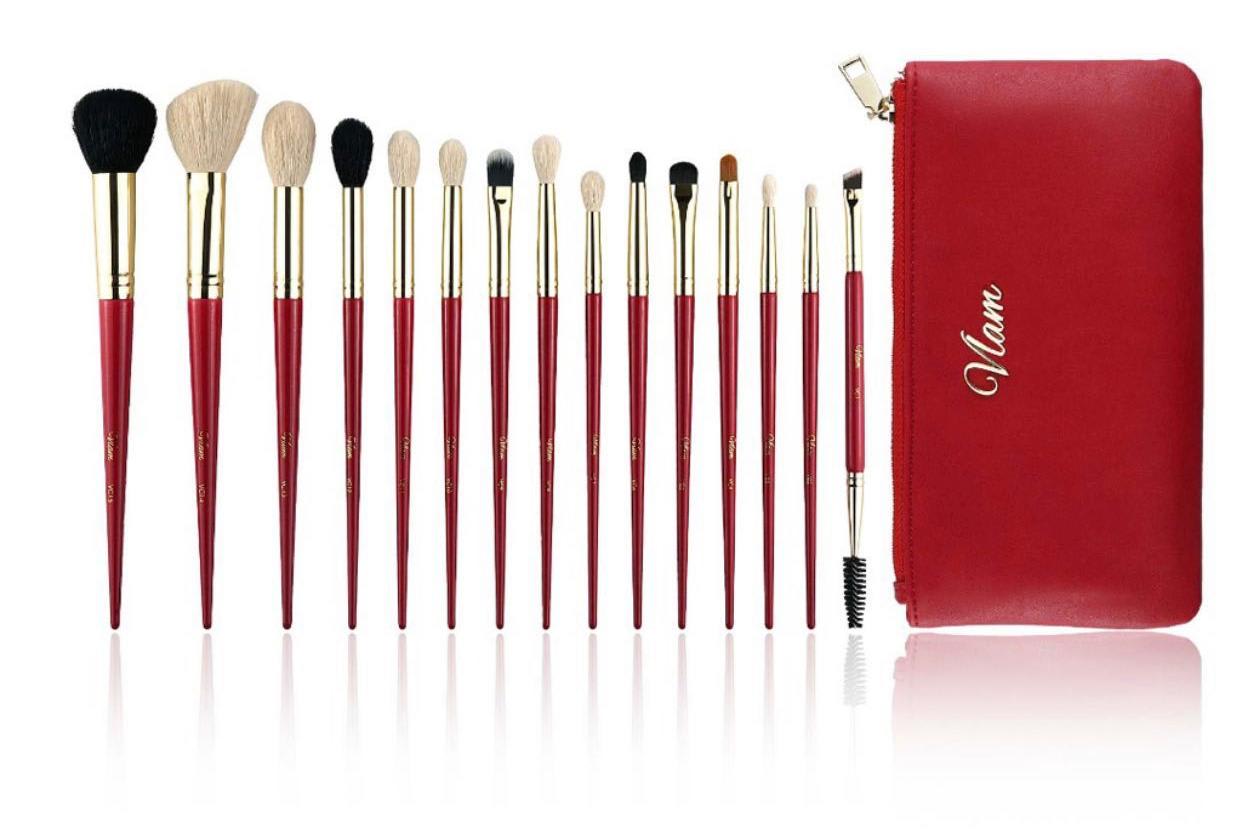 Downey, CA – September 28, 2020 – You've​ been stuck at home for months. While you were rocking the yoga pants and T-shirt chic look, your makeup routine was a super simple swipe of mascara and a quick flash of lipstick, but now you've had enough. You're tired of being in your makeup rut and you want to pump up the glam factor! You do what any fashionista looking for inspiration does, you search for a makeup tutorial from your favorite YouTubers. Disappointment hits quickly when the makeup artist starts by listing the need for hundreds of dollars worth of makeup brushes. With VLAM Cosmetics ultra popular and affordable 15-brush kit, ​makeup enthusiasts​ can rock any makeup look from simple and stunning to ultra glam.
When it was launched earlier this month, the You're All Set VLAM Brush Collection sold out in the first two days of pre-sale! The reason for the set's popularity is the top-quality mix of soft, natural brush hairs for precision eye and lip makeup application and the long-lasting synthetic brushes which are perfect for heavy-duty smudging and blending.
The best makeup looks start with a great base. That's why the kit includes ​great eye blending​, highlighting, blush and contouring brushes. To make sure there are no harsh lines, large blending brushes are also included in the kit. The blending brushes allow for softening and adds elegance to the overall makeup look. Once the perfectly flawless base layer is achieved, it's time to get creative with colors! The You're All Set VLAM Brush Collection includes application, smudging, blending and precision eye crease and lipstick brushes.
"Makeup is supposed to be fun," explains Vero Curiel, CEO of VLAM Cosmetics. "There's nothing more exciting for a makeup artist than a new eye makeup pallet or the latest lip color. We know that the right tool makes all the difference when it comes to makeup application. It's fine to rush out and buy the latest pallet or the newest ultra-pigmented lipstick, but without a great set of quality brushes, that new makeup will be a wasted. That's why VLAM Cosmetics created the You're All Set VLAM Brush Collection. It has everything needed to create any look and includes high quality synthetic and natural bristles. Best of all, it's incredibly affordable!"
The elegant brush kit come with 15 long-handled brushes, including an eyebrow brush, tiny detail brush, tiny tapered brush, multi use brush, mini smudge brush, pointed blender brush, detailed crease brush, pointed blending crease brush, concealer brush, round blending crease brush, large blending brush, highlight brush, precision pointed brush, blush brush, and a contour/bronzer brush. VLAM Cosmetics took extra care with the kit to ensure that not only are the brush fibers high-quality, but the handles a sleek, luxurious and lightweight. The kit comes with an easy to organize hand bag​ to keep your brushes safe and clean.
For more information about VLAM Cosmetics, or to order the You're All Set VLAM Brush Collection while supplies are still available, visit www.vlamcosmetics.com/product/youre-all-set-vlam-cosmetics-brush-collection.
To connect with VLAM Cosmetics online follow @vlam_cosmetics on Instagram.
For more information, or to arrange an interview, please contact below.

Media Contact
Company Name: VLAM Cosmetics Inc
Contact Person: Veronica Curiel
Email: Send Email
Phone: (562) 419-2133
Country: United States
Website: vlamcosmetics.com