Choosing bridesmaid dresses can be a difficult task, and if you don't know where to buy the beautiful and affordable bridesmaid dresses, then Alfabridal could be your destination.
Buying a bridesmaid dress can be a difficult task. The price of bridesmaid dresses is not cheap, and there are a large number of girls often in different styles and sizes, usually involving a lot of compromises, which brings some pressure to it. Shopping in the right places can take some of the pressure off and actually make shopping for bridesmaid dresses easier and smoother. If you're not sure where to start, take a look at Alfabridal.
Alfabridal is an online shop dedicated to helping you find affordable, more flattering quality dresses for your bridal party. Alfabridal offers more than 100 styles bridesmaid dresses in more than 50 colors, ranging from 2 to 26, and accepts customized sizes. No matter what style you want, romantic, cute, retro, etc., you can find the one that belongs to you here. Most importantly, all bridesmaid dresses are under $100.
These three bridesmaid dresses are made of tulle, with an elegant v-neck sleeveless decal on the left, a lovely A-line convertible knee-length dress in the middle and a nice illusion v-neck dress on the right. Tulle gives a person a kind of fleeciness stereo feeling, this kind of fabrics suits the wedding of dream quite.
If you want your bridesmaids to look elegant while complemming the bride, these two grey bridesmaids dresses are perfect for you. Either the deep V on the left or the neck on the right is a great way to show off your bridesmaid's figure.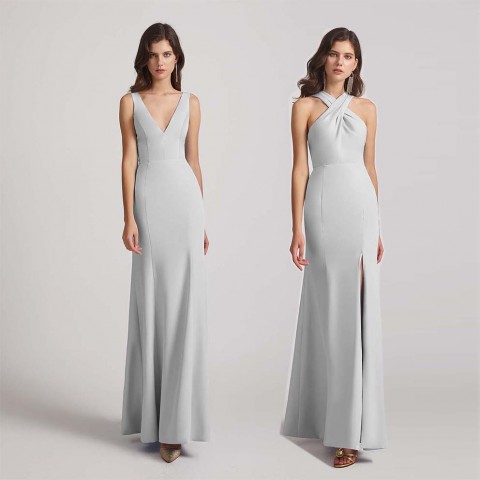 Below are two two-piece bridesmaid dresses, both of which are made of satin on the upper body and sleeveless dresses with spaghetti straps made of tulle on the lower body. The difference lies in the length of the dress. The short one is more playful, and the long one is more charming.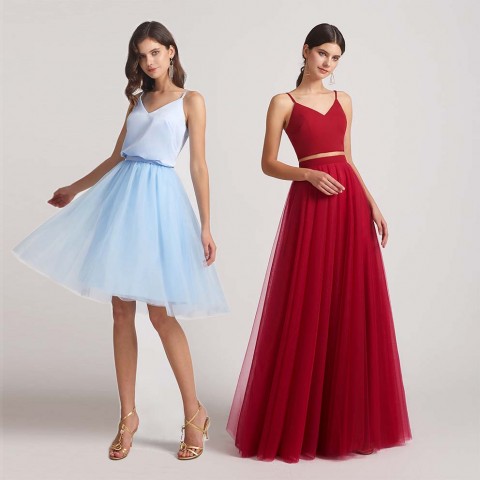 Do you like the above? Alfabridal also has many good-looking maid of honor dresses whose prices are below $100. Go and see if there is one you like.
Media Contact
Company Name: Alfabridal
Contact Person: Natalia
Email: Send Email
Phone: +8615506210392
Address:A Building, City Life Plaza
City: Suzhou
State: Mainland
Country: China
Website: alfabridal.com