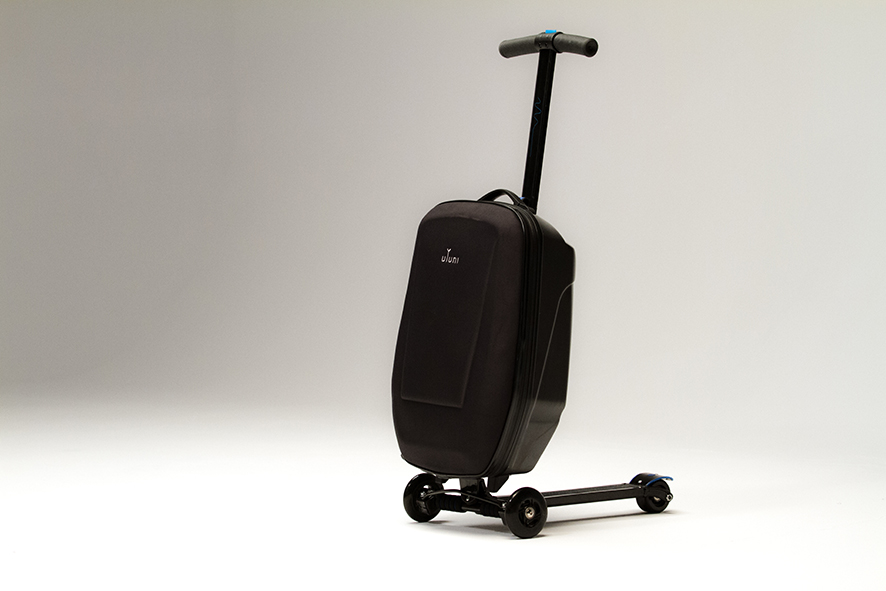 uYuni, the innovative 'suitcase-scooter' maker, has come out with a new offer for customers following the launch of its most advanced uYuni scooter, the uYuni Diamond. The firm is offering a significant discount to the first 100 buyers of uYuni Diamond, which is the most advanced uYuni suitcase-scooter that is available in the market. The special offer can be availed from uYuni's official website.
Convenience and a luxury lifestyle now comes on wheels. uYuni has been marketing its suitcase scooters for the past five years, and this year is celebrating the launch of its upgraded version with the new offer that would see the device being given away for about EUR170 compared to its original cost of EUR350. The new version comes with advanced technical and safety features and more customer-centric service options.

uYuni is an integrated luggage carrier and foot-powered scooter that customers can use to move around quickly at airports, paved bicycle tracks and even pavements where cycles are allowed. Some people even use it for commuting to their office.
uYuni has built up a large online community of fans and customers on channels like Facebook and Instagram, who skate around and share their lifestyle. One customer, Adam Scott, said, "For me it was a gift, but it has become an essential travel companion, since I first fold-out the deck. I am always looking for the opportunity to skate with my suitcase."
The luggage can double up as a normal suitcase and when needed, users can get on to the scooter attachment and push their uYuni as a foot-powered scooter, easing their transit. The size of the suitcase is approved by most air carriers, so travelling on a plane with a uYuni in tow is not at all a hassle. The interiors are spacious with a large 26 litre capacity, and included is an interior pocket for housing a 21" laptop as well. The suitcase-scooter is very lightweight and thus suitable for frequent travellers with only 4.5kg in weight, and is made in Europe.
uYuni provides many safety features such as an adjustable handle, back brakes, non-slip deck and quality aluminium construction, that makes it sturdy and durable. Other features include ergonomic handles, studs for impact resistance, polycarbonate resistance zones, high quality wheels, etc. uYuni is now being offered with a two-year guarantee, a 14-day money back guarantee and free delivery.
For more information, please visit: https://uYuniscooterluggage.com/
Media Contact
Company Name: UYuni
Contact Person: Carli Monzon
Email: Send Email
Country: Spain
Website: https://uYuniscooterluggage.com/