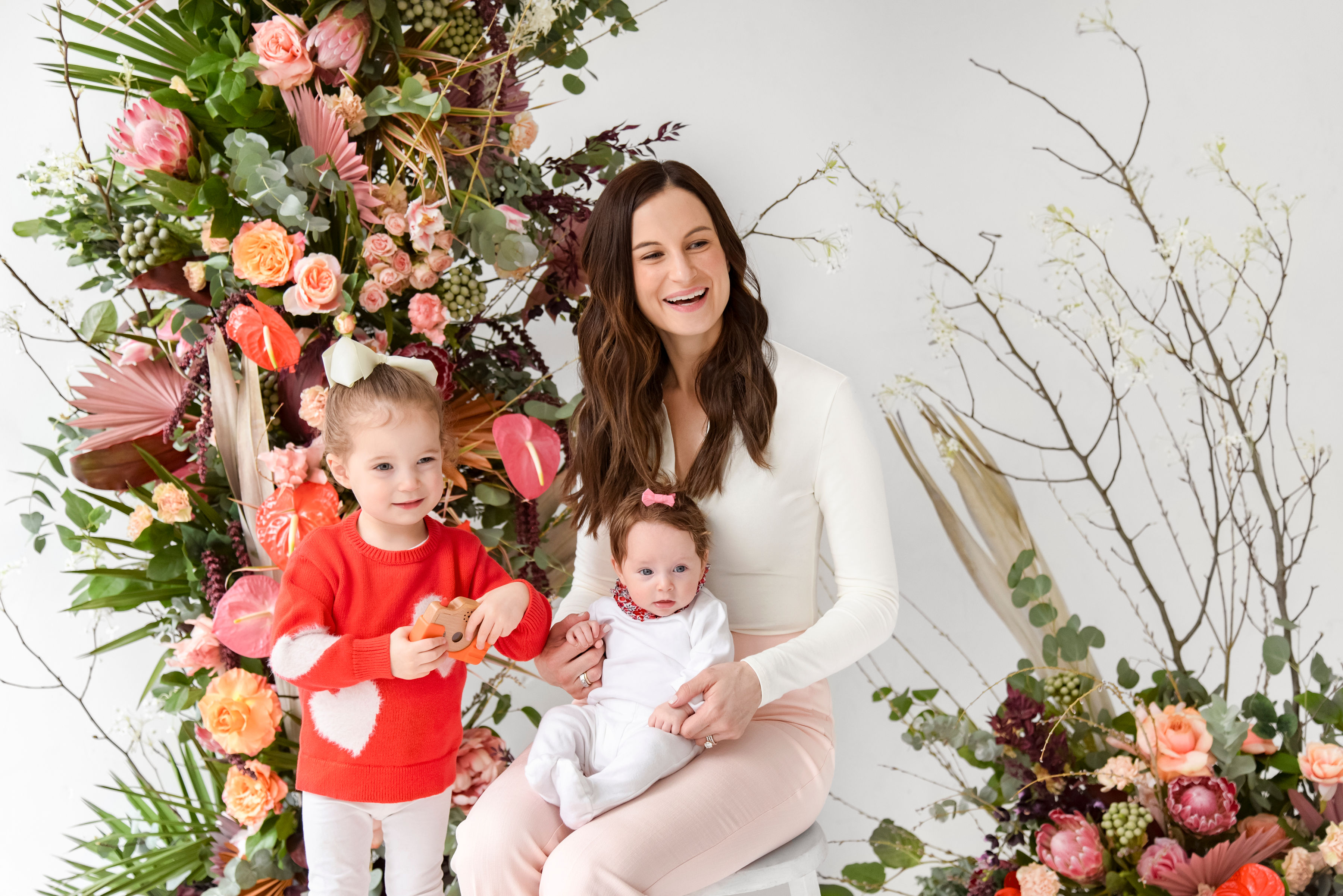 "Jennie Monness, the founder of parenting blog Mo' Mommies and Union Square Play, which provides parenting support through early childhood resources and moms groups, with her two children, Tess, 2.5 years and Nell, 11 months."
Union Square Play makes the shift to virtual mom meetups and virtual parenting content to provide support and "focus energy where parents need it most."
Jennie Monness, founder of online mom resource Mo' Mommies and co-owner of Union Square Play, felt strongly about preserving her "mom crew" at the start of the pandemic. Moms already need to lean on one another in just normal, day-to-day life, and with COVID-19, that need was even more heightened. She wasn't going to let the pandemic get in the way of connecting and providing resources to new moms. After Monness's Union Square Play (USP) closed down temporarily due to COVID-19 and took their operation online to provide virtual parenting support, she wanted to make sure that moms would still be able to foster the same sense of community that they felt when the play space was open.
Pre-COVID, Monness, founder of new mom resource "Mo' Mommies" hosted eight-week in-person Mom Tribe meetups to provide new moms with support and expert advice. Monness, who has two children (who are both two years and under), missed her tribe deeply when quarantine was underway for COVID-19. After hearing that so many moms felt the same way, Union Square Play launched an online Mom Crew.
Over the course of the initial weeks of the pandemic, more than 100 moms joined crews for moms-to-be, new moms, and moms of two. Each group meets via Zoom for eight weeks, and the groups are led by Monness and two other facilitators, who talk about everything from work/life balance, to thoughtful parenting, to infant play, to ways to foster development, to marriage, to how to take care of and find time for themselves. Sleep specialists, lactation consultants, psychologists, and other specialists are also brought in to visit groups.
Since the new format is online, Union Square Play has expanded their reach to California, Paris, Texas, and now reaches moms much farther than just NYC. Union Square Play is also providing virtual on-demand content for parents, including videos on craft projects, open-ended play ideas, cooking with little ones, and Mommy and me fitness using a baby carrier. The site also features free content for kids with music and puppets and content for parents only about exercise, health and wellness, and parenting conversations.
Jennie Monness
Jennie Monness began her career in early childhood 12 years ago, after receiving her master's degree from Teachers College, Columbia University. Her first job was teaching English to 18 to 24-month-old native Mandarin-speaking children, helping to prepare them for entrance to the most prestigious schools in NYC. She then became the educational director of several early childhood centers for eight years, creating programs that used research-based best practices. Additionally, she taught as an adjunct professor for Touro College undergraduate students obtaining their degree in Early Childhood Education. About two years ago, Monness decided to take a decade's worth of knowledge in early childhood education, and share her learnings with new parents to educate and empower them through her blog Mo' Mommies. She teaches classes, speaks at events, and uses social media to provide timely information about her own parenting and toy recommendations that new parents deeply need and desire. Her aim has been for moms to connect, support, and empower one another. She has co-founded a play space, Union Square Play, to bring these ideas to life through developmental, sensory, music and creative classes in addition to a thoughtful open play space. Her methods center around open-ended play materials and objects, so that babies can be engaged, rather than entertained, creating their own "curriculum"; and can learn in the most natural, innate way.
Due to COVID-19, she has launched USP Online to focus energy where parents need it most and now leads various virtual mom groups weekly. Additionally, she has created the content and curriculum in what was recently launched as the Union Square Play Packs, meant to support parents of children one to three years old with at-home sensory learning kits. Parents can choose to utilize them in smaller learning "pods", as the boxes are meant to take the place of in person social experiences that young children are lacking right now, but also to complement those experiences once early learning centers like Union Square Play do reopen.
For more information on Union Square Play, please visit https://unionsquareplay.com/
Follow Union Square Play on Instagram @UnionSquarePlay
For more information on Mo' Mommies, please visit https://momommies.com/
Follow Mo Mommies on Instagram @MoMommies
"Like" Mo Mommies on Facebook at https://www.facebook.com/MoMommiesNoProblems/
Media Contact
Company Name: Otter PR
Contact Person: Brittany Bearden
Email: Send Email
Phone: (800) 648-6854
Address:150 E. Robinson St.
City: Orlando
State: FL
Country: United States
Website: www.OtterPR.com