 September 30, 2020 – Amoovars Design Studio has today launched a customized piece of RGB lighting on Kickstarter called the IRIS Smart LightStrip. The device is a technology-driven LED Light strip that can create any type of atmosphere wherever it is installed, including homes and offices. With this product, the team at Amoovars Design Studio hopes to create a new niche in aesthetic lighting that can be fully customized to suit the ambiance of an event, mood, or room.
The IRS Smart LightStrip by Amoovars Design Studio was invented to satisfy the growing demand for tech-driven interior design. The new product aims to transform interior lighting into a customizable and flexible option that can instantly adapt to the atmosphere of a room. With a display containing more colors than the rainbow, the IRIS Smart LightStrip is up there with the most innovative products of the decade. The product allows users to enjoy up to 16 million colors and can be controlled using a smartphone, a simple touch, or Amazon Alexa.
What makes the IRIS Smart LightStrip so appealing is its complex technology housed by the simplest of designs. The Smart LED strips come with 3M adhesive and can be easily installed in any interior space and programmed to create lighting options for different atmospheres and moods suited to any occasion.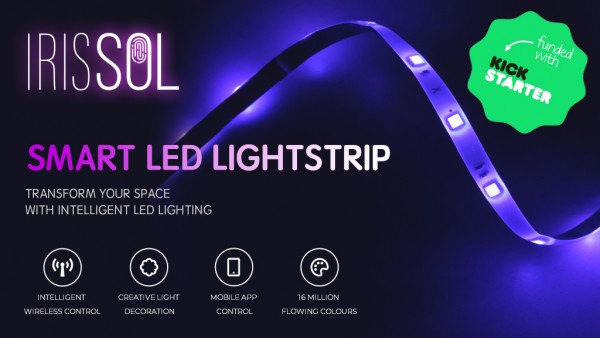 Amoovars Design Studio, creators of the Iris Smart LightStrip is one of the market leaders in aesthetic lighting and electronic devices. The company is backed by a talented team of researchers who specialize in inventing relevant products that enhance the living condition of customers. Apart from building their business to turn in profits, Amoovars Design Studio hopes to bring more cheers and happiness to the world with its range of products. The company invites the public to be a part of their movement by supporting its launch on Kickstarter. Supporters will receive many gifts in return, including attractive early bird discounts and deals.
For more information: https://www.moovars.com/
Media Contact
Company Name: Amoovars Design Studio
Contact Person: Oceana
Email: Send Email
Country: United States
Website: https://www.moovars.com/