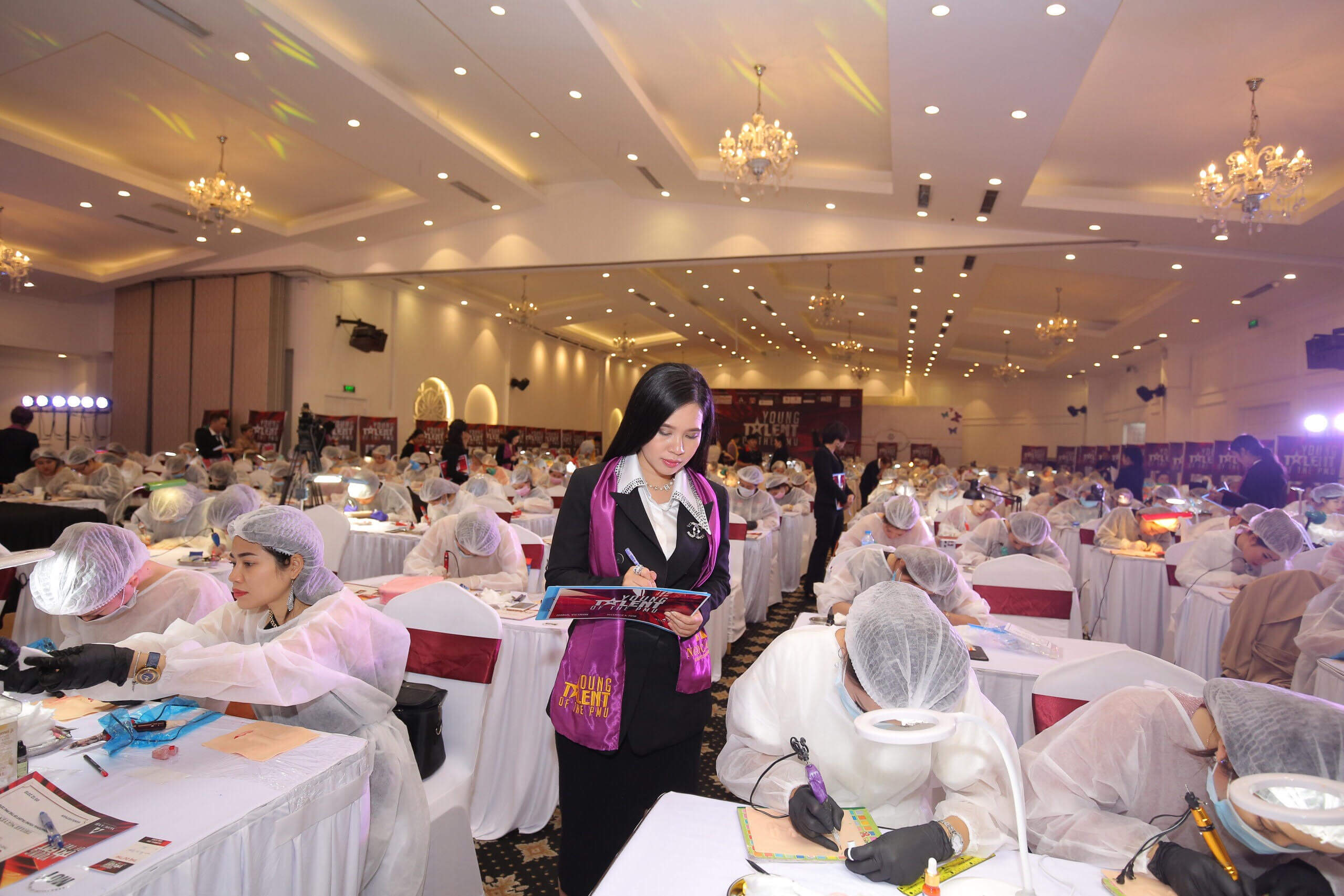 "After graduating from the cosmetology courses at Miss Tram ACADEMY, you can apply to major beauty salons, spa beauty salons nationwide and abroad, even build your own SPA with proficiency and self most belief."
Today, the aesthetic technology industry is thriving with the advent of many modern techniques and methods of beauty. The beauty industry is a common name for many fields, including makeup, Spa – skincare, treatment of skin problems (acne, freckles scars, tattoo removal, …), tattoo spray Aesthetics – PMU (tattooing, spraying, microblading).
Over 17 years working in the domestic and foreign beauty training industry, Miss Tram Academy (headed by Grand Master Tram Dong) has constantly learned, researched, and pioneered modern, effective beauty technologies. World Leader in Skin Care & Treatment; Spray cosmetic tattooing; Spa management training; … to improve the teaching of students at the academy.
Miss Tram Academy students come from Vietnam (learn to open a shop or cover a job right away) and also abroad (overseas Vietnamese and foreigners in Vietnam) (international qualifications are entitled to practice in the country. practice).
3 factors that help the courses at Miss Tram Academy gain students' trust:
1. Curriculum and teaching methods:
The curriculum is developed and continuously supplemented with the latest knowledge/technology of the beauty industry in Vietnam as well as in the world based on practical experience and in-depth knowledge of the academy's expert team.
And most notably, the course is organized into many different classes, with group classes and individual classes (1 with 1). Each student has his or her own schedule, to graduate from the course, students need to pass all the exams in the modules, complete enough theoretical/practical lessons.
2. The quality of teachers:
100% of trainers are trained and have pedagogical certificates.
All instructors/tutors have practical experience in the profession for at least 3 years.
Lecturers at Miss Tram are regularly trained in the beauty profession from experts in Vietnam and internationally. In addition, internal teachers also have to go through many courses and exams organized by Miss Tram Academy on a weekly / monthly and quarterly basis.
3. Equipment and facilities
Along with a system of modern equipment and spacious facilities, Miss Tram Academy ensures students can apply professional knowledge in a practical, safe, and shortest time.
The current main courses Miss Tram Academy is training:
• PMU Specialist (Microblading – Ombre – Shading: Eyebrow, Eyelid, Lips Course)
• Professional Skin Care and Skin Treatment Full Face Training Course Certification
• Training Professional Eyelash Extension Course
• Spa Management
• Online PMU Course
A few plus advantages for Miss Tram Academy:
Grand Master Tram Dong with more than 17 years of direct experience in training the faculty, developing curriculum, and participating in training for students.
Associate & provide certification support with Legal Training Centers in the USA, Australia.
Having the right to Graduation Examination of official Vietnamese Certificate of Primary / Intermediate / Vocational College of Vietnam and 100% guaranteed to be used for ANTAM to legally register for business with the business contents: COSMETIC SPRAY SERVICE; …
Right to Graduation Examination Certificate of Hygiene and Safety – prevention of blood-borne-fluid infection
Graduated from receiving CERTIFICATE of completing vocational training PROFESSIONAL COSMETIC SPRAY; …
There are on-demand classes: for students preparing to leave, needing to open a shop, overseas Vietnamese returning home, group study, tutoring, online study, diploma – practice certificate …
There is a class (private tutoring) for those who have studied in other centers but have not yet done so.
Teaching and textbooks in 3 languages ​​(at the request of students): Vietnamese, English, Chinese
Trained in DANGEROUS RESOLUTION skills with customers.
SPECIAL: After the interview, enthusiastic students will receive scholarships up to 10 – 30 million and work officially at Miss Tram Spa Beauty.
Contact information: 126/6 Phan Xich Long, Ward 3, Binh Thanh District, Ho Chi Minh City, Vietnam.
Mobile: +84909783289
Working time: 9:00 – 20:00 (all days of the week)
Website: http://misstram.edu.vn/
Facebook fan page: https://www.facebook.com/thammymisstramacademy/
Media Contact
Company Name: Miss Tram Beauty Academy
Contact Person: Master Dong Bao Tram
Email: Send Email
Phone: +84909783289
City: Ho Chi Minh
Country: Vietnam
Website: misstram.edu.vn