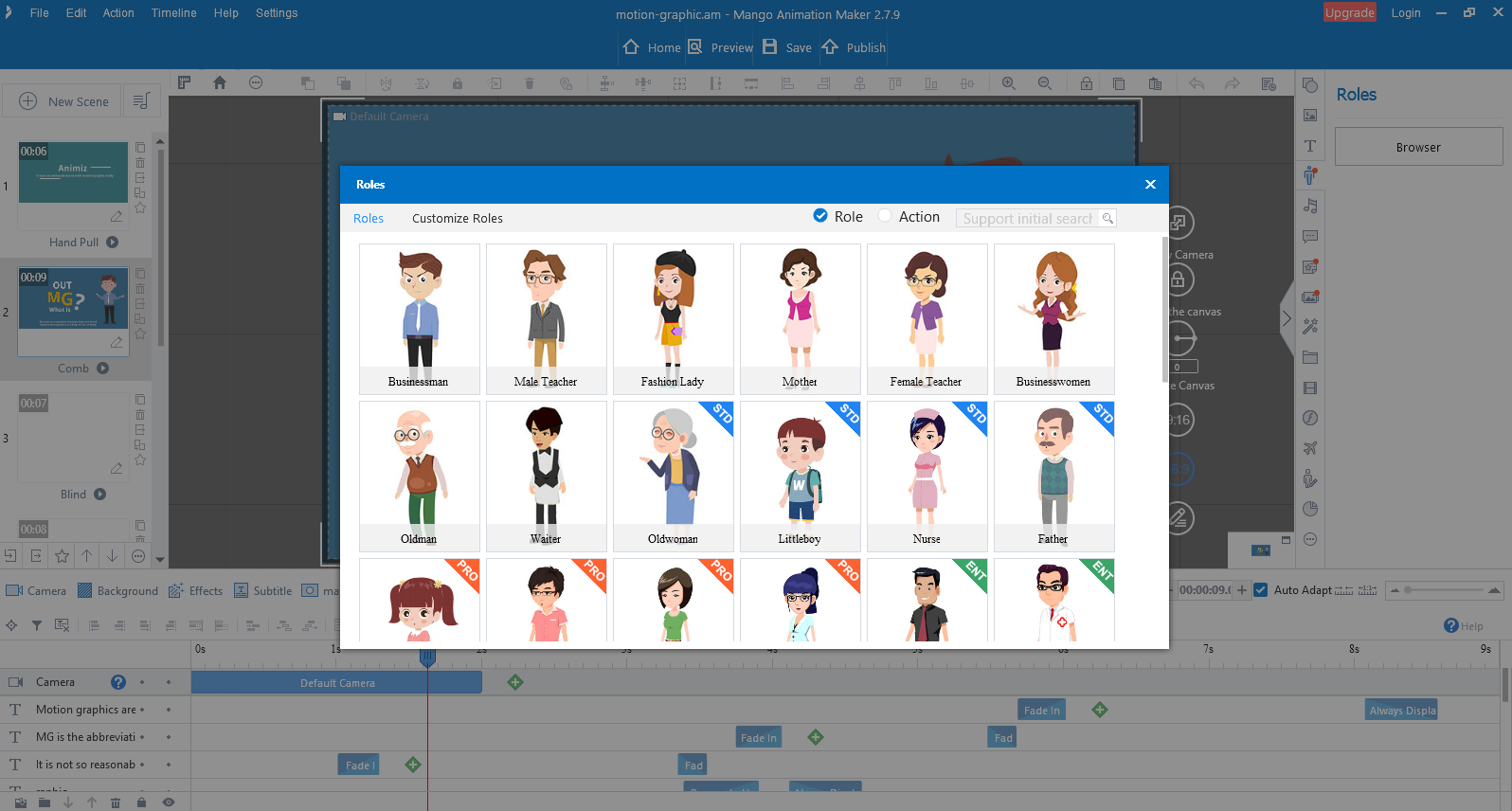 "Mango Animation Maker helps businesses make to-the-point animated videos for their products or services."
Mango Animate provides an artistic platform for users to play around with its free animation maker and create stunning animated videos for their businesses.
As the world is witnessing a major digital transformation and businesses are competing to make their brand stand out in the online arena, Mango Animation Maker is the go-to solution for companies looking to create innovative video content that grasps the audience's attention. The free animation maker makes lives easier with its cutting-edge features and templates that are fun, user-friendly and cost-effective.
Mango Animation Maker has a range of professionally designed and ready-to-use templates for every business requirement, be it for marketing and advertising purpose or corporate presentations. The free animation maker allows users to explore a galaxy of animation images, widgets, symbols, shapes and graphs that they can use in customizing animated video templates. Various types of animation effects and scene transition effects are available in store for users to add a human quotient to the animated video.
Besides, Mango Animation Maker is well known for its full customization capability. It supports users to upload media from local computers and even create personal characters for their animation videos. When the video is ready to publish, this free animation maker allows users to square the video size and dimension to suit different platforms and devices. Users also have the option to distribute their animation as a gif, other than an online or offline video.
"Content plays a key role in leaving a long-lasting impression about a brand on viewers' minds. It has become increasingly important to enrich content with advanced features and this is where Mango Animate comes into play," says Winston Zhang, CEO of Mango Animate. "We aim to help businesses shine through our creative world of animation", he adds.
The free animation maker is cost-effective (free download or one purchase use forever options) and an easy to use visual tool to produce rich content. There are clear virtual step by step guides and supports for using this free animation maker. Customer feedback supports the development of the software, which ensures its ease of use and the hands-on control it gives to users without animation training.
To know more about the free animation maker, please visit Mango Animate.
About Mango Animate
Mango Animate is an animation hut that users can create a sundry of videos such as animated explainer videos, whiteboard videos, character and business videos using its software programs.
Media Contact
Company Name: Mango Animate Software Co., Ltd.
Contact Person: Paul
Email: Send Email
Phone: +86 020-61972665
Address:Room 1003, 10/F, Tower 1, Lippo Centre, 89 Queensway, Admiralty
City: Hong Kong
Country: HongKong
Website: https://mangoanimate.com/