For Laurie Lisa, author of "The Wine Club" and "Across the Street," writing was a natural love and passion. She always knew she would become a writer.
Paradise Valley, Arizona, USA – November 3, 2020 – Author Laurie Lisa was born and raised in Southern Illinois. She obtained her B.S. in English Education, her M.A. and Ph.D. in English (20th-century American Literature) and taught literature and composition. As accomplished as she was, something was missing as her love and passion for literature grew. Her desire since childhood for writing turned into publishing her first book, The Wine Club on June 6, 2020. Laurie didn't stop there. Four months later, on October 29, 2020, Laurie released her second novel, Across the Street, and quickly became a favorite author receiving five-star reviews. She has six more novels completed and ready for publication over the next year or so.
Laurie says, "When I decided to write Across the Street, I was anxious to explore the limits of love and devotion between twin sisters. I am an identical twin, and while my sister (her first name, coincidentally, is Lisa – the same as my last name) and I are truly devoted to one another, our love was never tested by the need for one to serve as a surrogate for the other. Still, it was fun exploring the limits between twin sisters in a work of fiction. I also chose Scottsdale, Arizona, as the book's setting as I raised my children in Scottsdale. So, I was able to vividly describe the scenes, characters, and emotions."
ABOUT THE BOOK – Across the Street

Will the love between twin sisters survive? In an epic novel about the bond between twins, family relationships are complicated by anger, resentment, hidden secrets, and impossible choices. Alex Carissa is thrilled when her identical twin sister, Sam, and her husband move into the neighborhood. For Sam, years of infertility, followed by an unthinkable tragedy, have left her despairing of ever having a child. Money is tight, and IVF is expensive. Sam's only hope may be to ask her sister to be a surrogate. Alex will do anything for Sam, but when the sisters embark upon an unorthodox route to surrogacy, jealousy, guilt, and legal complications soon follow. As the limits of sisterly devotion are tested, the family's hidden wounds and secret addictions come to light, shaking the foundation of their marriages and their lives. An emotional story of a woman's struggle with infertility and a riveting book about family complexities, Across the Street, makes an excellent selection for book clubs.
Reviews
"The author has crafted a truly engaging story here. This story's drama and emotional core rest within Sam and Alex's relationship but between their families, and each member struggles with their own problems. The story is equally balanced with fully developed and evolving characters, who are relatable and realistically written in connection to the larger story being told." – Amazon Review
"An entertaining and emotional read, author Laurie Lisa's Across the Street is a must-read drama novel." – Amazon Review
"I loved this author after reading her novel The Wine Club and was thrilled to be asked to read and review this, her newest offering… As I got more and more into the story, I was looking for every opportunity to pick it up and find out what happened next." – Amazon Review
About the Author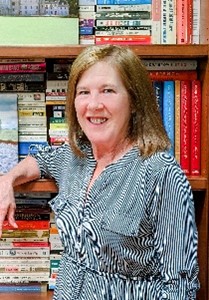 Laurie was born and raised in Southern Illinois. She obtained her B.S. in English Education from the University of Illinois (Champaign), where she also met and then married her husband, Steve Lisa. Laurie earned both an M.A. and a Ph.D. in English from Arizona State University (20th Century American Literature), where she also taught literature and composition. After her time spent in Academia and raising her three children (Anthony, Michelle, and Caitlin), Laurie returned to her writing fiction passion.
Laurie is a prolific writer and has completed eight novels in the genre of literary women's fiction. Each of her books follows its own distinct and sophisticated plot with well-developed characters. In addition to her novels, Laurie has published two academic books, several short stories, and poems. Laurie resides with her husband, Steve, in Paradise Valley and Flagstaff, Arizona. You can read more about Laurie and her novels at her website, LaurieLisa.com
For book signings or interviews, please contact the author at Laurie@LaurieLisa.com.
Media Contact
Company Name: AAPH Press Distribution, LLC
Contact Person: Steve Lisa
Email: Send Email
Phone: 480.442.0297
City: Paradise Valley
State: AZ
Country: United States
Website: Laurie@LaurieLisa.com