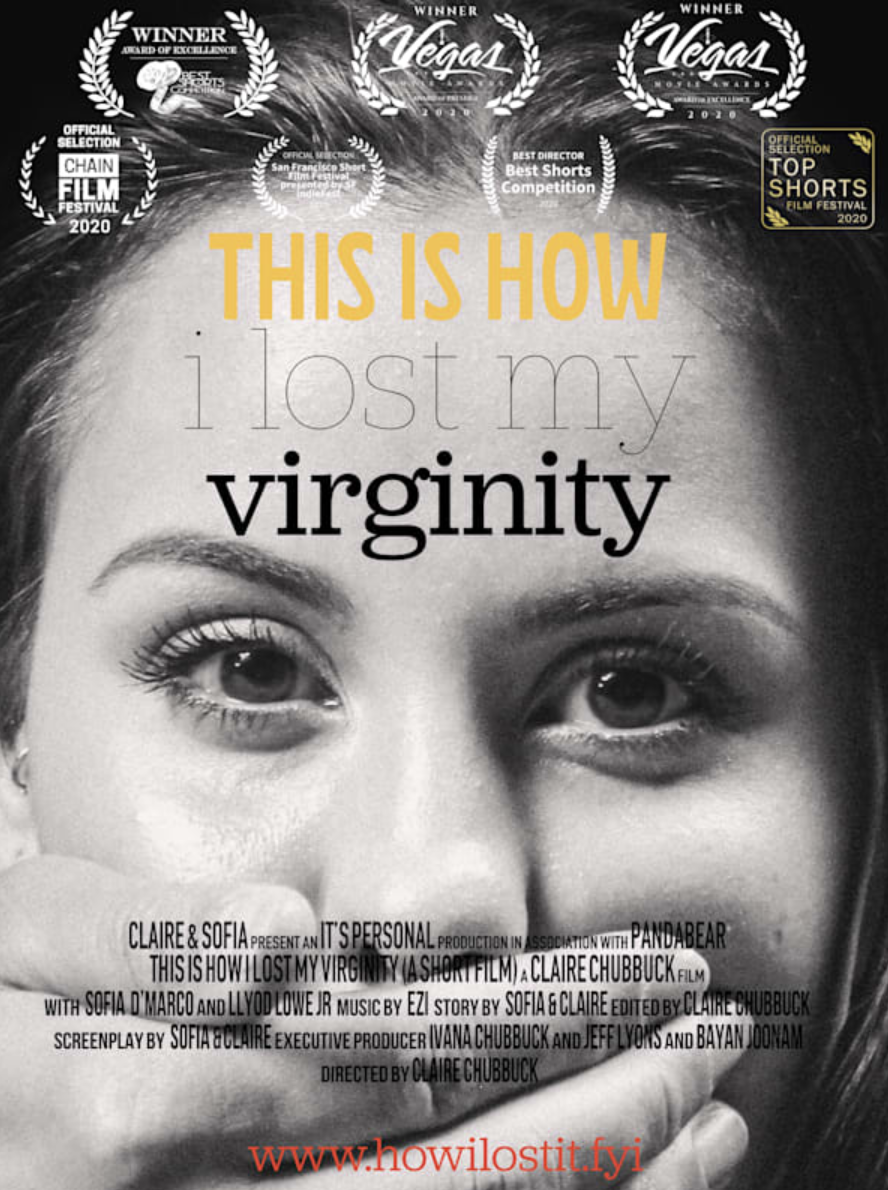 November 3, 2020 – Directed by Claire Chubbuck, the short film titled 'This is how I lost my virginity' has become the proud winner of two prestigious awards in the Best Shorts Film Competition. Out of the two, the Award of Excellence was bestowed to Claire Chubbuck for Direction and the other one was won by Sofia D'Marco for the actress in the leading role.
The film features the exceptional real-life story of the lead actress, Sofia D'Marco. Nearly after a decade of silence, she has decided to open up and write her personal experience of captivity into a narrative screenplay.
Watch the trailer on YouTube: YouTube: https://youtu.be/xvkkadF6oCs
As Sofia describes, it is not just a 'rape' story. It is way beyond it. The film is about breaking the silence – using art to let others know they are not alone. She further expresses that through the catharsis of art, she wants to support her best friend through her trauma by doing it together. Award-winning short film director Claire Chubbuck feels that the script is built on a commonality of pain that neither of them wants to fear anymore.
The Best Shorts Competition recognizes television, film, videography and new media professionals who demonstrate exceptional achievement in craft and creativity. It also praises those who produce standout entertainment or contribute to profound social change. In the competition, highly qualified professionals in the film and television industry judge the entries.
Rick Prickett, chairman of The Best Shorts Competition, feels that The Best Shorts is not an easy award to win. From powerhouse companies to remarkable new talent around the world, everyone contends for the same. However, the Best Shorts Competition helps set the standard for craft and creativity. The remarkably out-of-the-world quality of entries is always impressive. The goal of Best Shorts is to help winners achieve the recognition they deserve.
The award has already been begged by The Weinstein Company for Market Hours, Disney Interactive for Vinlymation: A Love Story and Oscar winning production Mr. Hublot from Laurent Witz from Luxembourg. Thus, winning a Best Shorts Award allows a company or organization to join the ranks of these high-profile winners.
About Best Shorts and list recent winners: www.BestShorts.net

Media Contact
Company Name: Claire Chubbuck
Contact Person: Sofia MacNeal
Email: Send Email
Country: United States
Website: http://www.ruddmusic.org/