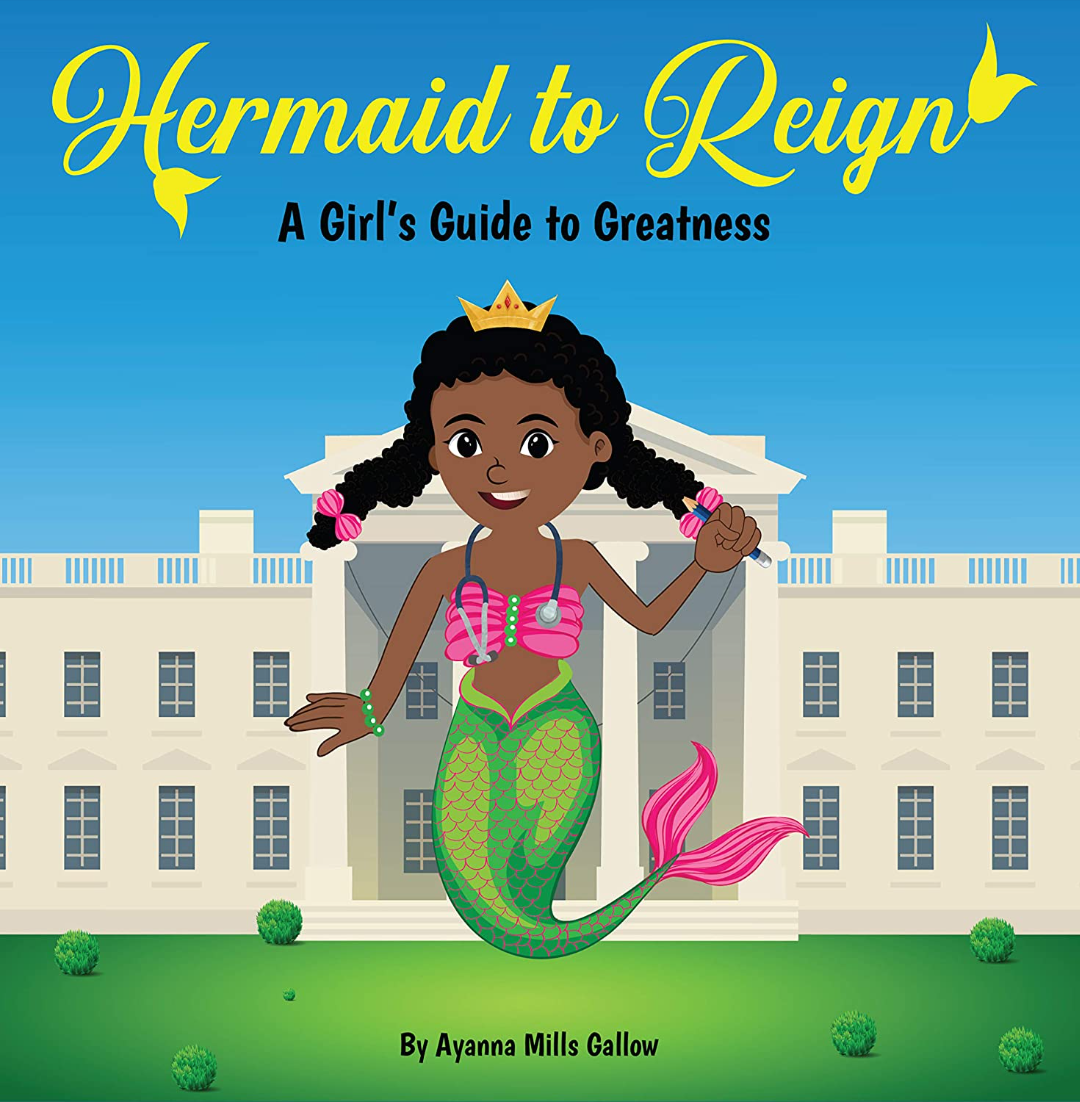 #1 International Bestselling Author, Ayanna Mills Gallow, MBA, has launched a new motivational book titled: "Hermaid to Reign: A Girl's Guide to Greatness," written to propel young girls to any level they desire in life.
Speaking about the book, Ayanna Mills Gallow said: What if you were told you couldn't be something when you grow up because of the color of your skin? Would you give up and find something else? Or, would you keep striving for excellence? Hermaid to Reign: A Girl's Guide to Greatness, by Ayanna Gallow, was written to ensure young girls that they can be anything they want." Hermaid is a brave girl who was told that she could not be a Mermaid because her skin was black (brown). However, she learned that God created HER, and she was MADE to REIGN!
Hermaid is using HER voice to speak up so that all girls will know they were also MADE to REIGN regardless of what they look like. This Book enforces the following principles for every young girl:
Confidence
Self Love
Faith
Overcoming Obstacles
Giving Back
Obeying Parents
Hard Work
Building Friendships
Positive Mindset
Getting Proper Rest
Determination and Goal Setting.
This is a short book packed with a lot of Life Lessons to help children to avoid distractions and negativity by focusing on achieving goals.
The author, Ayanna Mills Gallow, is also an Evangelist and a Hip-Hop music enthusiast. Her purpose is to be an intersection between the Bible, (God), and the community, (Hip Hop) to help others, create success. Her mission is to help others Heal Internal Pain (HIP) so that they can have Happiness, Opportunities and Prosperity (HOP). In 2019, Ayanna was ordained and licensed as an Evangelist. She is also an AVP in Underwriting for a leading international insurance company and the VP of Operations at innervisionmagazine.com.
Through her company, Thanx-A-Mills LLC, Ayanna uses her voice and published writings to inspire, strengthen families and promote healing and personal development. Ayanna coaches' others through her signature program, Write Pray & Release, at writeprayrelease.com. Above all else, Ayanna's favorite role is being a mom to her sons, Colby and Caleb, who are both bestselling authors at the ages of 9 and 12. Ayanna is extremely driven, and her goal is to run her family as a successful business.
Ayanna is a Temple University alumni, a native of New York and a member of Alpha Kappa Alpha Sorority, Inc. She currently resides in Alpharetta, GA, USA. You can learn more about Ayanna and her bestselling non-fiction books at ThanxAMills.com. You can also find her on Instagram and Facebook under ThanxAMills and https://www.facebook.com/ayanna.gallow
The book has already started receiving rave reviews from its readers. According to a reader: "Hermaid to Reign: A Girl's Guide to Greatness is a Children's Book by the author Ayanna Mills Gallow. The protagonist of the story is a black girl who was told that her ancestors were slaves. But Hermaid knew that she is the creation of God and she can rule the world with the right education and hard work.
This is a wonderful book that motivates all girls to work hard and make a proper plan to achieve their goals in life. This adorable book gives a beautiful lesson that never let anyone tell you that you can't do anything. We have to believe ourselves and keep on working towards our goals.
It is a very colorful book with beautiful illustrations. The story is very interesting and full of inspiration. Language of the book is easy, so kids will be able to understand it. The cover photo is really nice. I appreciate author's creativity in coming up with the name of the main character "Hermaid". I strongly recommend this book to little girls."
Media Contact
Company Name: Thanx A Mills, LLC
Contact Person: Ayanna Gallow
Email: Send Email
Phone: (770)530-8257
Country: United States
Website: thanxamills.com/hermaid-to-reign/