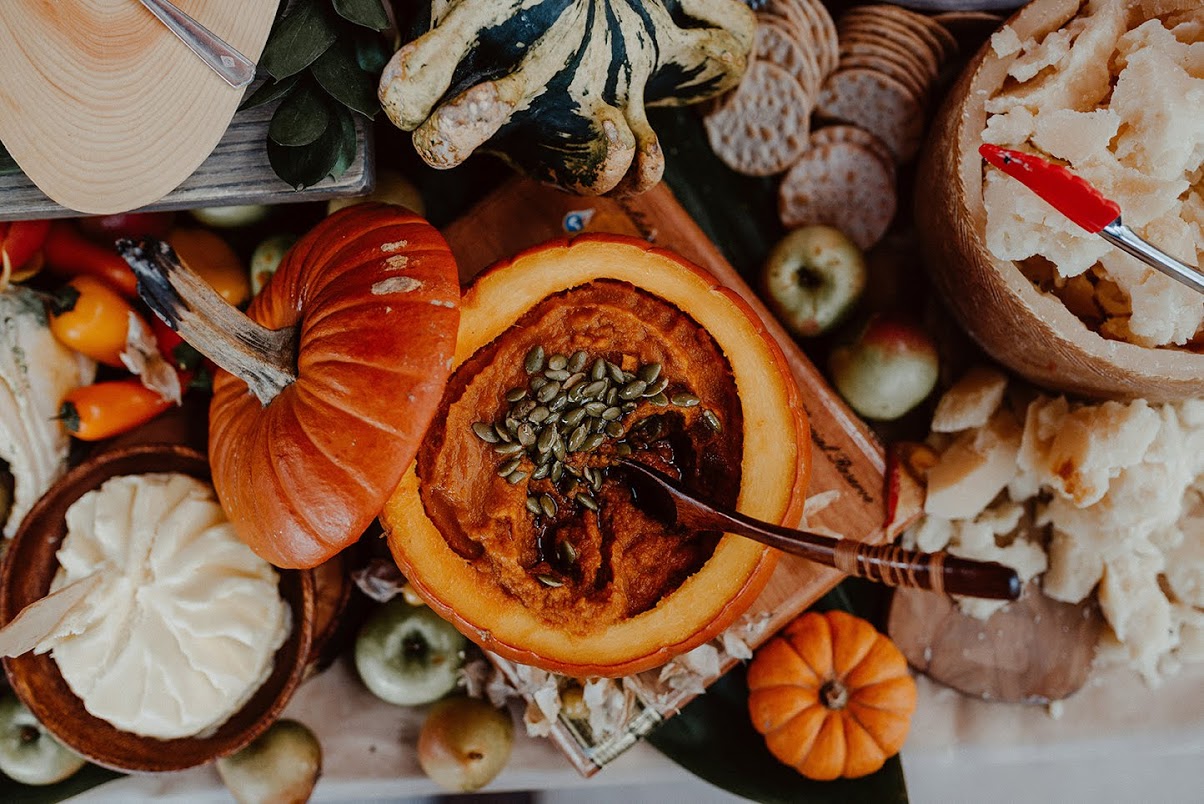 ""Doorstep Market delivers the best that local artisans have to offer in a multi-regional, multi-vendor, one-stop online shopping experience," says Jennifer Solow, Doorstep Market Founder. "Each region features an array of makers and growers and is expertly curated to offer insider favorites in food, drink, home, wellness, clothing and more that can be shipped straight to your doorstep.""
Thanksgiving celebrations may be smaller and more intimate this year, but they can still be special, filled with delicious, locally grown foods and lovely handcrafted home items.
Doorstep Market provides recipes for a variety of Thanksgiving sides, soups, starters and salads with ingredients and items you can purchase directly from the site. For example, cook the delicious Fennel-Parsnip Soup using Grapeseed Oil from Salute Sante or Oysters Mignonette using American Vinegar works Rose Wine Vinegar and Fresh Oysters delivered to your door from Little Ram Oyster Co. The tasty Cider-battered Sage Leaves can be made with Hard Cider from Merchant's Daughter, while Salmon from Boston Smoked Fishis perfect for Salmon Canapes and Sea Scallops from Red's Best for Scallops with Arugula and Grapefruit sauce. Bleu Cheese from Point Reyes Cheese Company goes well on the Bitter Greens and Parsnip Salad, and Honey Garlic Green Beans are great topped with New England Cranberry Honey from Hudson Hives.
For dessert, pour Cara-Sel Salted Caramel Sauce from the Ardent Homesteader over apple slices, serve an Olive Oil Cake from La Saison, or add English Mixed Spice Baking Blend from Boston Spice to homemade cookies or brownies.
To drink, try Pumpkin Spice Fair Trade Coffee from Indigo Coffee Roasters.
Doorstep Market also offers a great selection of hand-made items to help prepare the meal and set a beautiful Thanksgiving table, making it easy to buy locally for all your holiday needs from a variety of vendors from one convenient site.
Protect clothing during food preparation with Alice's Aprons Dark Indigo Linen Apron from the Permanent collection. Carve the turkey with Feder Knives Chef's Knife featuring a locally sourced walnut handle. Set the table with the 3-piece Porcelain Place Setting from Connor McGnn Studios and a set of Gardenia Naturally Dyed Napkins from the Farmhouse Project. Serve the meal with a Ceramic Serving Bowl from Myrth Ceramics, a handmade Wooden Trivet from Camphill Village Store, or a handcrafted Ceramic Tray with Leather Handles from Hester's Studios. Add Pine Cone Beeswax Candles from Camphill Village Store and bunch of Farm Fresh Sunflowers from Crane Creek Growers or a Still Life Sea Garden of artistic plant arrangements in unique seashells from Sea Gardens Marin for a decorative touch.
Doorstep Market taps local curators to present a wide selection of regional purveyors representing growers, distillers, brewers, bakers, cheesemakers, designers, and many more to its shopping site, making it a site for all seasons and reasons. The concept is to bring the region to consumers, allowing them to shop like locals and enjoy all that the region has to offer.
For more information visit: https://doorstep.market/
Media contact:
Liz Ammirato
Cathy Callegari PR, Inc.
liz@callprinc.com
845-621-2005
Media Contact
Company Name: CATHY CALLEGARI PUBLIC RELATIONS INC
Contact Person: Cathy Callegari
Email: Send Email
Phone: 845-621-2005
Address:159 Madison Avenue, Apt. 5J
City: New York
State: NY
Country: United States
Website: www.callprinc.com