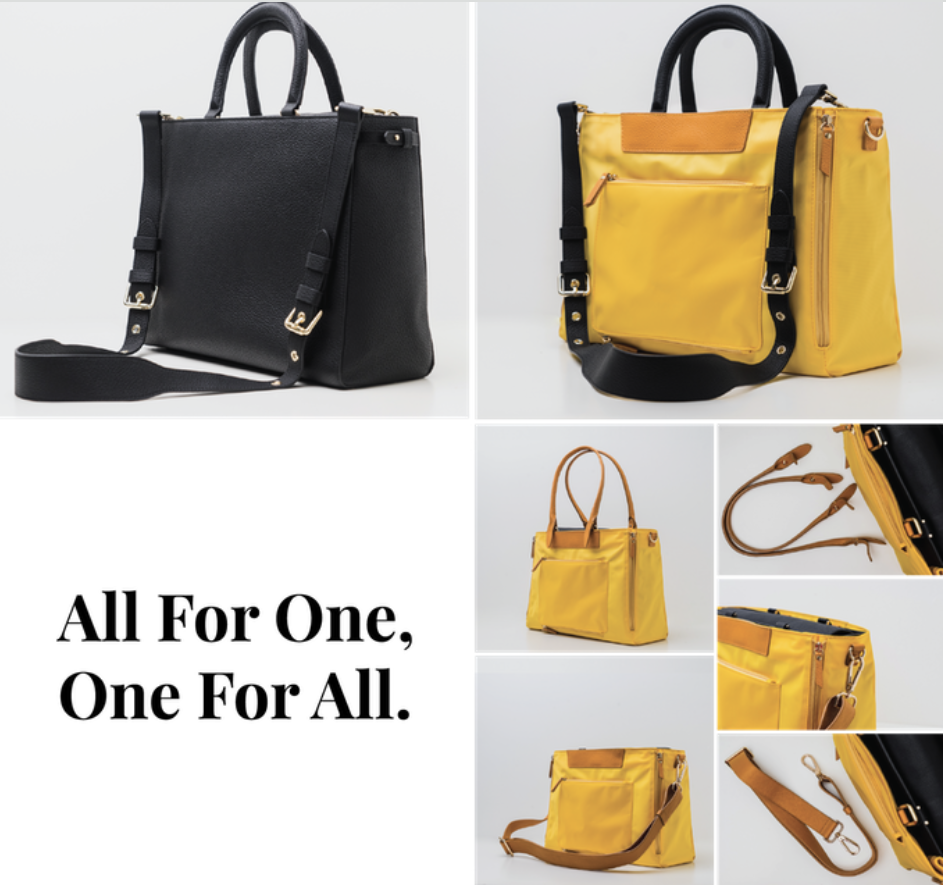 November 30, 2020 – Gioia.Life is pleased to announce the launch of the Cosmopolite. The new bag spots a novel design with unique materials that allow customers to use it in many different applications. Quite simply, it was designed to be an everyday bag that exudes the right amount of professionalism and style. Prior to its official launch on Kickstarter, the Cosmopolite has reportedly earned the approval of many professional women and fashion enthusiasts.
Women of this era are steadily becoming much more independent, confident, and versatile. They play many roles concurrently such as being an entrepreneur, working professional, mother, daughter, spouse, traveler, etc. They strive to play a good part in each of these roles. However, their ability to perform may be restricted by one of the most mundane accessories in their daily lives: their bags.
Much like the women who wield them, bags play vital roles in the lives of ladies, on any and every occasion. Be it going to work, attending to kids, hanging out with friends, shopping or having a romantic evening with a spouse, women find themselves constantly rummaging through their bag collection, usually ending in dismay when you can't find the perfect bag for the relevant occasion.
The team knows the frustration that comes with having to switch from one bag to another to suit various occasions, especially their founder, Agnes. She is a dynamic entrepreneur who is always on the go and has an active lifestyle. She can be in a meeting with a team in the morning, have lunch with clients, work on proposals in Starbucks, and network in the evenings. And this is just her typical day. She disclosed that relating entirely to the need for a bag like this, an everyday bag, led to the birth of The Cosmopolite.
The new bag with Suit-up Sleeve is a versatile, elegant, and artistically designed piece that allows users a plethora of options in how they might choose to wear it. The Suit-up Sleeves don't only serve as an accessory. Strip it down from the Cosmopolite and use it as a separate bag on its own! And the best part? If the users get bored of the tote, switch it to a sling! Chic and convenient, the Cosmopolite and Suit-Up Sleeves do not disappoint! It gets better. Despite their quality, the Cosmopolite bags have been slapped with inexpensive price tags. The team revealed that while they are in business to turn a profit, they just want to see the Cosmopolite bags go out to all who need them.
The Cosmopolite is ideal for all women. One of them is the young, aspiring woman who goes to work, travels, and shops. Here's one more opportunity for her to always carrying her style around. The bag is also for the lady who demands versatility, functionality, and aesthetics in one bag. Like the concept, "one size fits all", the Cosmopolite is one bag that fits every occasion and style. It is perfect for mobile, dynamic lifestyles as well as relaxed personalities. The sleeve can also slot onto luggage, thus easy for globetrotters to carry around.
"We have made The Cosmopolite with the finest quality and top craftsmanship by partnering with a top designer and manufacturer. The material is ethically sourced, hand-picked full-grain leather – a material used throughout the millennia in luxury bag creation," says Agnes Wong, Creator and Founder of Gioia.
Despite its portability, the Cosmopolite has a lot of interior space to accommodate a wide range of items. With its strategically placed zippers and pockets, users can carry 13" laptops (like the Macbook Pro 13), cosmetics, keys and glasses, a water bottle, power bank, earphones and cables, and even an umbrella!
Watch promo video on YouTube: https://www.youtube.com/watch?v=m7vAh2hhxZQ&t=3s
The Cosmopolite launches on e-commerce on November 30, 2020.
About
Gioia.Life is based in Singapore. They define the art of living by challenging the rules of fashion. They craft intentionally designed products that elevate personality and lifestyle beautifully and thoughtfully. For more information, please visit: https://www.gioia.life/
Media Contact
Company Name: Gioia Fashion Pte Ltd
Contact Person: Agnes Wong
Email: Send Email
Address:10 Anson Road, #10-11 International Plaza
Country: Singapore
Website: https://www.gioia.life/