The coming International Women's Day will be all the more special with the launch of a new campaign against violence – I SEE YOU. The campaign has been launched by Mission NGO led by founder and President, Valeria Altobelli. I SEE YOU involves global ambassadors wearing makeup taking a selfie with one eye covered with a hand, while a second photograph without cover shows their tears and pain.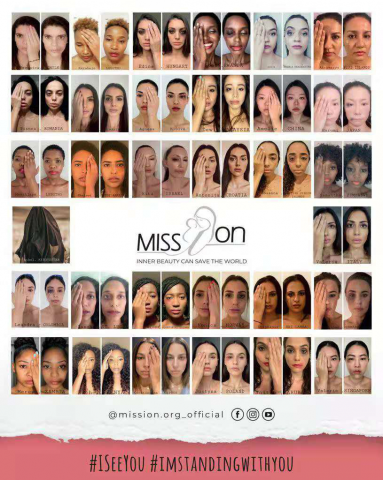 I SEE YOU aims to share a simple idea, that makeup and looking beautiful hide the pain and trauma that women go through after facing violence and abuse. During the pandemic days and in quarantine conditions, there has been an exponential rise in domestic violence. The campaign wants to put a stop to violence against women through love, education, and mentoring the youth.
The makeup that women wear often hides their pain and suffering, not merely physical or emotional, but also social and economic. The campaign comes a year after the anthem, 'I'm standing with you', made popular by 40 women from countries connected to Mission NGO. The anthem received contributions from great musicians such as Diane Warren and John Debney.
"We are in a new era, in which the love and the sensitivity to women have to be concrete and not just spoken!" says Mission President, Valeria Altobelli, quarantined in Rome. "I am the mother of a boy. He will be a man. And he has to know exactly the beauty and the preciousness of women's hearts to behave appropriately with his future love!"
The campaign, just like the black and white challenge, will be seen all over the Instagram and social media pages of Mission NGO. These photographs will deeply convey and truly demonstrate solidarity and compassion for all women suffering all over the world.
Everyone is invited to join the I SEE YOU campaign. Women are encouraged to take two selfies, one with an eye covered with a hand, and the second one that expresses their true soul and reality. The photographs can be tagged with friends and influencers. A beginning has been made by Mission NGO on its Whatsapp group with 20 countries.
For more information, kindly visit https://mission-ngo.org/
Media Contact
Company Name: MISSION NGO
Contact Person: Valeria Altobelli
Email: Send Email
Country: United States
Website: mission-ngo.org