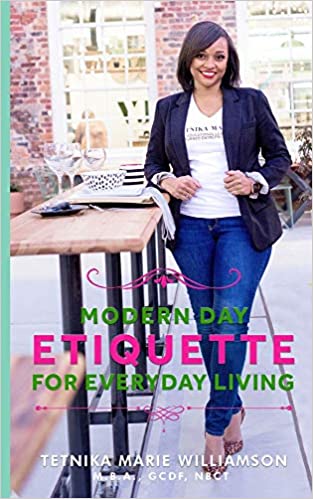 2nd December, 2020 – Tetnika Marie Williamson, a certified life coach, educator, and etiquette expert dedicated to helping people enjoy professional success and lead more fulfilling lives is now launching her new book Modern Day Etiquette for Everyday Living that deals with personal development and how to conduct yourself using proper etiquette.
Life coaching services extend a lifeline for those stuck and lacking motivation. Moreover, people are forever putting off their own goals in others' service but desperate to get on track and make changes in life for development, and learning. A professional life coach like Tetnika Marie can be an influential mentor and motivator to help one create and design a more productive life in such situations.
Tetnika Marie's offers a comprehensive variety of life coaching and mentoring services for people to hone their organizational and etiquette skills to become more accomplished in business, career, and personal development. Her life skills training targets personal branding, launching a business, time management, and goal setting.
Besides career coaching, Tetnika Marie offers her expertise on social skills and etiquette such as public speaking etiquette, dining etiquette, business etiquette, and image etiquette, to name a few. Her latest book Modern Day Etiquette for Everyday Living, is a consolidated version of her services in helping people learn etiquette skills that will particularly benefit young adults embarking on personal careers of their own.
Tetnika Marie Williamson, an M.B.A, NBCT, is also an educator with 13 years of experience whose entrepreneurship skills helped her launch her different ventures such as Poise & Co., an agency that thrives on promoting educational services for youth and adults with a focus on Life Skills & Personal Development. Poise & Co. serves as a hub for her other businesses like Cutie Pie Pampering, an event planning company specializing in modern, stylish & unique Spa Parties for girls ages 4-14.
Tetnika Marie has always been passionate about impacting peoples' lives positively through coaching, consulting, and mentoring. Her dedication has won her several awards and honors, including Mayor Recognition and Influential Community Leader. She has served in fortune 500 companies and worked with several media brands and publications like CBS sports and ABC News.
Tetnika Marie's book Modern Day Etiquette for Everyday Living is available on Barnes and Noble and Amazon. For expert advice on etiquette and life coaching, she can be reached on her website, and will help you achieve your personal goals with POISE & GRIT!!
For more information: http://www.tetnikamarie.com/
Media Contact
Company Name: Poise & Co.
Contact Person: Tetnika Marie Williamson
Email: Send Email
Country: United States
Website: http://www.tetnikamarie.com/