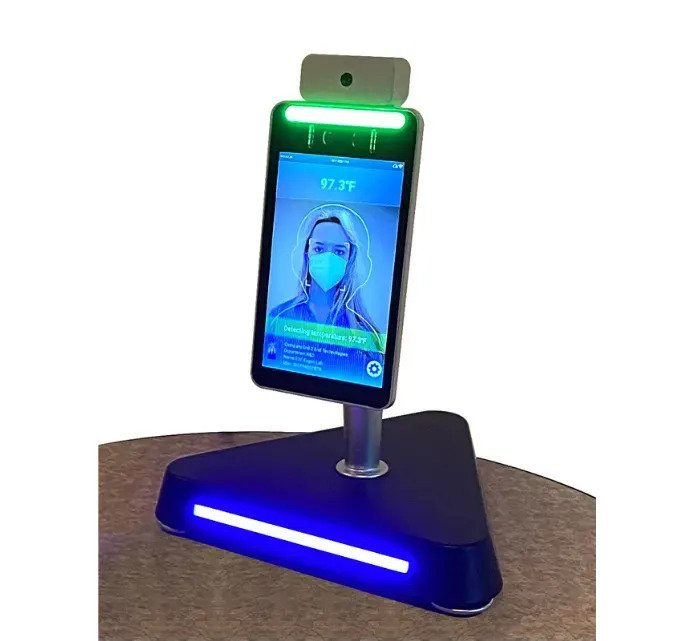 "Here you see the End 2 End Technologies Temperature Scanner System. There are several models available including a stand-alone unit."
End 2 End Technologies Keeping Consumers Safe During Covid-19
Minneapolis, MN – DECEMBER 10, 2020 – TEDxMinneapolis, an independently organized event focused on sharing "ideas worth spreading", recently sought for a way to keep their beloved speakers safe while filming the TEDx talks for their 2020 event, Adaptation. In order to keep speakers safe, TEDxMinneapolis teamed up with End 2 End Technologies, a leading technology provider, to utilize a temperature scanner kiosk system that tests for an elevated temperature, to prevent the spread of Covid-19.

Temperature can be a key indicator that someone has contracted Covid-19. Since the speakers for Adaptation had created special Covid-19 safe plans to follow leading up to the filming date, the team behind TEDxMinneapolis knew they had to ensure that the safety precautions would continue while they filmed. So, in addition to mandatory masks and Covid-19 self-assessments, TEDx Minneapolis mandated temperature checks for every person who attended a filming.

Initially, event leaders planned to use handheld temperature scanners to check guests' temperatures. Although this seemed to be the best option, event leaders knew this was not a perfect solution. In order for the organizers to use the temperature scanners, they needed to be extremely close to the speakers and staff, meaning they would not be able to uphold a 6-foot distance, and all parties would be put at increased risk.

With the help of E2E, TEDxMinneapolis was able to conduct efficient temperature checks per CDC rules and regulations and keep everyone involved safe. Even beyond the TEDxMinneapolis event, the deployment of this revolutionary technology in retail and service locations ensures business owners can continue to prevent the spread of Covid-19.

"During the rise of the pandemic, we saw a continuous and dire need for a solution to help prevent the spread of Covid-19," said Greg Crow, CEO of End 2 End Technologies. "As a technology solutions company, we were confident we could contribute to bridging this gap by offering a solution to combat the spread. This new and multi-faceted need provided us with the opportunity to leverage our expertise and innovate. And so, our temperature kiosk was born.
By using our robust solution, staff members who might have had higher exposure while using handheld scanners are no longer put at risk while operating a temperature station; as the temperature kiosk allows for contactless scanning and collection of results in a simple, safe, and effective way.
We're in this industry to help protect our community, enable business-efficient solutions and help real people get back to business, and we're proud to say that's exactly what we've accomplished with the tool we created."

If you're interested in learning more about using a scanner at your business or event, please contact sallen@e2etechinc.com or visit our webpage to fill out our request form https://end-2-end-technologies.myshopify.com/pages/contact.
Media Contact
Company Name: End 2 End Technologies
Contact Person: Paisley Reynolds
Email: Send Email
Phone: 218-209-8405
Country: United States
Website: e2etechinc.com