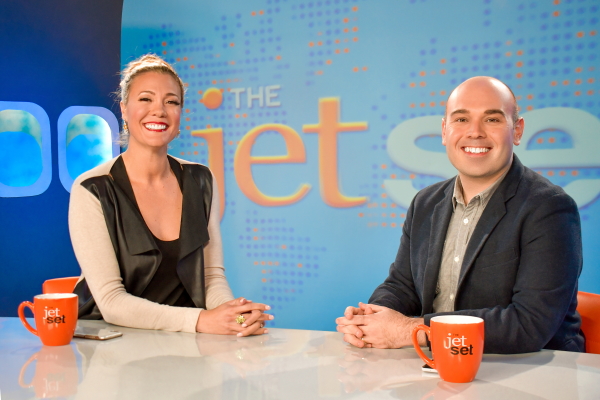 FOLLOWING A YEAR OF UNCERTIANTY FOR THE TRAVEL INDUSTRY, NATIONALLY SYNDICATED TRAVEL AND LIFESTYLE SHOW "THE JET SET" LANDS ON ZLIVING TV WEEKLY.
Are you ready to go? It's time to Jet Set! Following a crazy year for those who love to travel, ZLiving TV is making getting away and taking a vacation, a bit easier. Whether it be from your couch or wherever you are quarantined, America's first ever travel and lifestyle themed talk show "The Jet Set," now in its 5th season in syndication, has been picked up by national cable/satellite and OTT network ZLiving.
The Jet Set offers viewers a weekly dose of travel news, updates and inspiration with interesting and informative guests and destination features shot on-location. The show is hosted by former flight attendant and television travel expert Bobby Laurie along with health and wellness expert and Mom, Nikki Noya.
Available on AT&T, DISH Network, Comcast, Verizon FiOS, Frontier, RCN and other cable providers, ZLiving is your destination for classic programs and lifestyle shows that help you laugh, relax and take a break from reality.
Co-host Nikki Noya says she's ready to travel again and she doesn't think she's alone. "I don't care if it's for dinner in the next city or town over, or somewhere a long flight away — I think so many people are ready to get out and explore again. For right now though, thanks to ZLiving you can watch The Jet Set in every US city and I'm happy we can take people out of their homes and on a trip for 30 minutes a week to see and experience something new."
It's been a year of uncertainty in the travel industry and Bobby Laurie added, "the industry and the travelers will come back! With many people planning a vacation or dreaming about where they want to go when we can put the pandemic behind, or maybe even still traveling now — the airlines are still flying and hotels are open — we're working to keep everyone informed on new policies, changes, what's open and where to go."
When not anchored out of their studio in Washington, D.C., episodes of The Jet Set have been filmed on-location in small towns like Austin, MN and Festival Country, IN and around the world in Germany, Cuba, Switzerland, Russia, and France amoung others.
The Jet Set airs over 40 new episodes a year and can be seen in all 210 US TV markets, 13 countries and is available on Roku, Amazon FireTV and on their website at http://www.TheJetSet.tv
WATCH THE LATEST EPISODE NOW:

Video Link: https://c.streamhoster.com/embed/list/WwsdfD/1Bpb4CdsOCl/ib4FXTqos8D_2_1
ABOUT BOBBY LAURIE:
Bobby Laurie is the only TV travel expert with actual hands-on travel industry experience. Laurie's background in the travel industry dates back to November 2005 when he was initially hired as a flight attendant for Republic Airways, before moving to US Airways as a Flight Attendant and an Analyst in InFlight Policy and Procedures. He later took an InFlight Team Leader position at Virgin America.
Currently Bobby Laurie serves as co-host of the nationally syndicated travel & lifestyle show "The Jet Set" and as a Traffic Reporter in Washington, D.C. Bobby also is a regular travel contributor to NBC's The TODAY Show, NBC News, Dr. Oz, Inside Edition and GritDaily.
ABOUT NIKKI NOYA
Through her extensive travels, Nikki Noya recognized how obesity, poor nutrition and lack of exercise was affecting the lives of so many around the world and across the United States. With the education and tools that she had acquired and the passion that she felt for helping others, she knew that she had to share her knowledge and give back what she had learned.
As a television expert, health and wellness correspondent, wellness coach, and personal trainer she begins her message by imparting her belief that true beauty starts from within. She strives to empower everyone to achieve vibrancy, energy, radiance, and beautiful health through fitness, nutrition and balance.
FIND ZLIVING TV:
Media Contact
Company Name: On It Media LLC
Contact Person: Media Contact
Email: Send Email
Phone: 8889191917
Address:107 S WEST STREET 136
City: ALEXANDRIA
State: VA
Country: United States
Website: http://onitmedia.tv