To satisfy her wandering spirit and passion for planning events, Steph and The Rolling Mat provides a mobile studio for yoga and health-related services at festivals, corporate offices, and even online. She has held events around Atlanta and throughout the country. She can be seen leading yoga experiences at local breweries.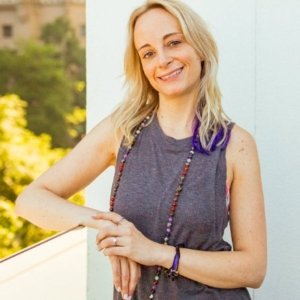 About her show, The Corporate Yogi Podcast, Steph explains that "Each week I will introduce yoga teachers and wellness pros to other experts in the field who have walked the walk so that they can see not only what is possible but also how to make their corporate yoga & wellness business a reality!"
The Corporate Yogi Podcast is featured on Spotify, where listeners can find current and upcoming episodes.
About Stephanie Mitchell
Steph developed her love for yoga during her early college years at Kennesaw State University. After taking her first class in 2007, Steph quickly saw the benefits in her physical and mental state. After back-aching years behind a desk in a corporate office, Steph followed her passion and launched The Rolling Mat Mobile Yoga Studio in 2015.
Things quickly evolved. She discovered a unique way to put her love for yoga and intense desire to help people and developed a successful corporate yoga & wellness branch of her business made to increase mindfulness, community and productivity in the workplace. After having much success and hearing the cries from fellow yoga teachers about their lack of income and impact, Steph created The Elite Corporate Yogi Program designed to teach aspiring yogis how to ditch the low paying studio classes and build a rewarding & profitable corporate yoga & wellness business!
Stephanie and her guests on The Corporate Yogi Podcast provide concrete information and action steps for yoga teachers starting a corporate wellness business! Furthermore, the show provides corporations with solid statistics and success stories so that they can understand the full benefits of offering wellness incentives to their employees.
Tune in: Corporate Yogi Podcast – The Rolling Mat | Podcast on Spotify
Media Contact
Company Name: Marketing Huddle, LLC
Contact Person: Mike Saunders, MBA
Email: Send Email
Phone: 720-232-3112
Country: United States
Website: https://www.AuthorityPositioningCoach.com