January 8, 2021 – DIY crafts are fun for all age groups, but Beemob Pte's newly launched Facebook Fanpage 3 Minute Crafts takes craft-making to another level with 3-minute video-based craft projects for both adults and children that are entertaining and educative alike.
DIY crafts are a fun way for all age groups to engage in a relaxing and creative pursuit but 3 Minute Crafts seeks to make craftwork more engrossing and fun especially for children. The New Facebook Fan page launched recently has become a real hit among its fans for its innovative approach to an educational activity beneficial for cognitive stimulation. As a hobby for adults, DIY crafts can improve mental stability where the actions of cutting shaping, drawing and producing items from paper can be a mentally relaxing and stress-busting experience. DIY craftwork is also healthy for kids, providing a platform to encourage their creativity, cognitive function and enhance the learning experience.
The 3 Minute Craft Facebook Fan page is never a dull moment and can be particularly engaging for children with projects on how to invent crafts and tricks to sneak food and snacks into class. Obviously, there are many who can't wait for lunch break or those who just aren't satisfied. When a stomach starts growling, what does one do? As a fun solution, 3 Minute Crafts teaches children to make edible school supplies like a candy in pen box, candy on a notebook, a ruler, a pencil or even turn a marshmallow into bleach.
3 Minute Crafts utilizes 3-minute YouTube DIY craft tutorials with content that combines an element of fun and learning to keep children engrossed for an entertaining and educative experience. The platform utilizes paper with safe tools and materials to produce fun crafts and items like paper toys, teddy bears, stationery holders, gift wrapping ideas and even festive décor like paper lanterns.
The entire experience of 3-Minute Crafts is a fulfilling experience especially for children who can learn how to be productive. The platform is a great way to learn activities that can be part of social occasions or educational projects in schools and families alike. It encourages bonding, social interaction and teamwork from a young age.
3 Minute Crafts was set up by Singapore based software and application publishing company Beemob Pte Ltd. The page has received an overwhelming response since its launch and has chalked up over 125k followers. 3 Minute Crafts publishes new content daily with a variety of DIY videos that can be watched in the YouTube channel accessed directly from Facebook.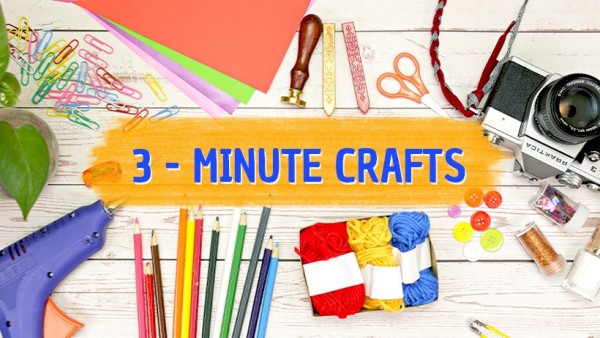 For more information: https://www.facebook.com/3min.crafts.create/
Media Contact
Company Name: Beemob Pte. Ltd
Contact Person: Nicole Yong
Email: Send Email
Address:1 Raffles Place #40-02, One Raffles Place
Country: Singapore
Website: https://www.facebook.com/3min.crafts.create/