After the success of her first book, "Journey of An Unraveled Road," author Frieda Lopez pens science fiction novel "Destination Destiny" in the series "The Rideshare Chronicles."
San Antonio, TX, USA – January 8, 2021 – Author and form American Idol contestant Frieda Lopez came face-to-face with a major illness as well as harassment on the job. For most people, if faced with multiple hardships at one time, often give up and fall into a major depression. For Lopez, it was different. Lopez says, "I could have taken all of this lying down, so to speak, but I chose to fight. I chose to act. I vowed to help others." The result of the battle she fought in court wasn't necessarily a win with a settlement. In fact, she lost that too. Still, she fought hard by authoring her debut memoir, "Journey of an Unraveled Road," published by Absolute Author Publishing House and is available now on Amazon. The success she received from her first book encouraged her to pen an entire science fiction series called The Rideshare Chronicles. Book one, Destination Destiny, is now available in Kindle and paperback on Amazon. The second book in the series, Highway to Hell is now available for pre-order.
"The Rideshare Chronicles is a fun and adventurous series featuring a fabulous heroin in the form of a superhero," says Dr. Melissa Caudle, Editor-in-Chief of Absolute Author Publishing House. "When I first met Lopez, she had a vision, and now watching her grow as an author is short of amazing. I love everything about this series."
About "Destination Destiny"
After a tragic end from her former life in Houston, Texas, Alessandra struggles with adjusting to life in her hometown of San Antonio. Attempting to come to terms with her past, she tries to make the best of life as a rideshare driver for Passieo's Pilot rideshare program in her hometown. Struggling to find her place in her small world, she runs into a love interest from her past who helps her discover her destiny and her strength. She soon learns to her embrace her power and her destiny to save the Universe.
About "Highway to Hell"
As Alessandra mourns the loss of her love Jonathan King, she begins to contemplate if her newfound destiny is worth embracing, as her beloved uncle and spirit guide in her journey comes back into the physical realm. But there's a new threat that becomes not only a danger to her beloved hometown, which opens a hell-mouth into the city she left behind, Houston, TX. Struggling with the aftermath and the remanence of the life Alessandra left behind, she begins her journey on a highway to hell, in her everyday life and the life of her newfound destiny.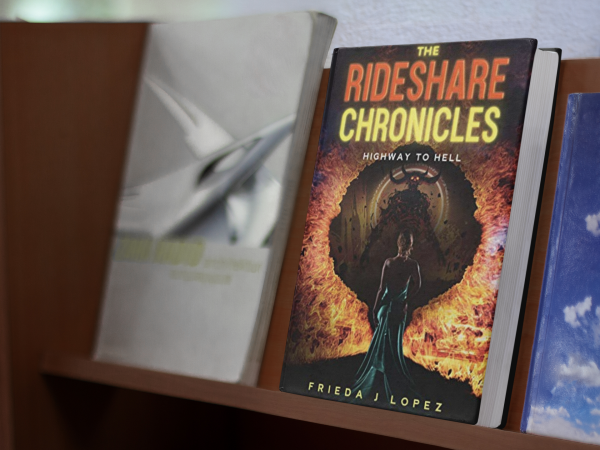 ABOUT THE AUTHOR

Frieda López is the writer for Journey of an Unraveled Road who was born and raised in San Antonio, TX. Through her professional career in Customer Relations and Retail Management, she has utilized her experience and interactions with the behavioral patterns, which was used to start her personal journey with Journey of An Unraveled Road as her debut novel. She has completed philosophy, psychology, and theology courses at San Antonio College as well as creative writing courses. Frieda López has been a lifelong writer since 2nd grade. A survivor of childhood trauma, childhood abuse, and domestic violence, she wrote this piece, which started this book as her personal journey; and works from home in San Antonio, TX.
For interviews, book signings, motivational speaking, and public appearances, contact Frieda at frieda@friedathewriter.com
Website: https://friedathewriter.com
Media Contact
Company Name: AAPH Press Distribution, LLC
Contact Person: FRIEDA LOPEZ
Email: Send Email
Phone: 210-367-5665
Address:1231 Williams Blvd
City: San Antonio
State: TX
Country: United States
Website: www.absoluteauthor.com