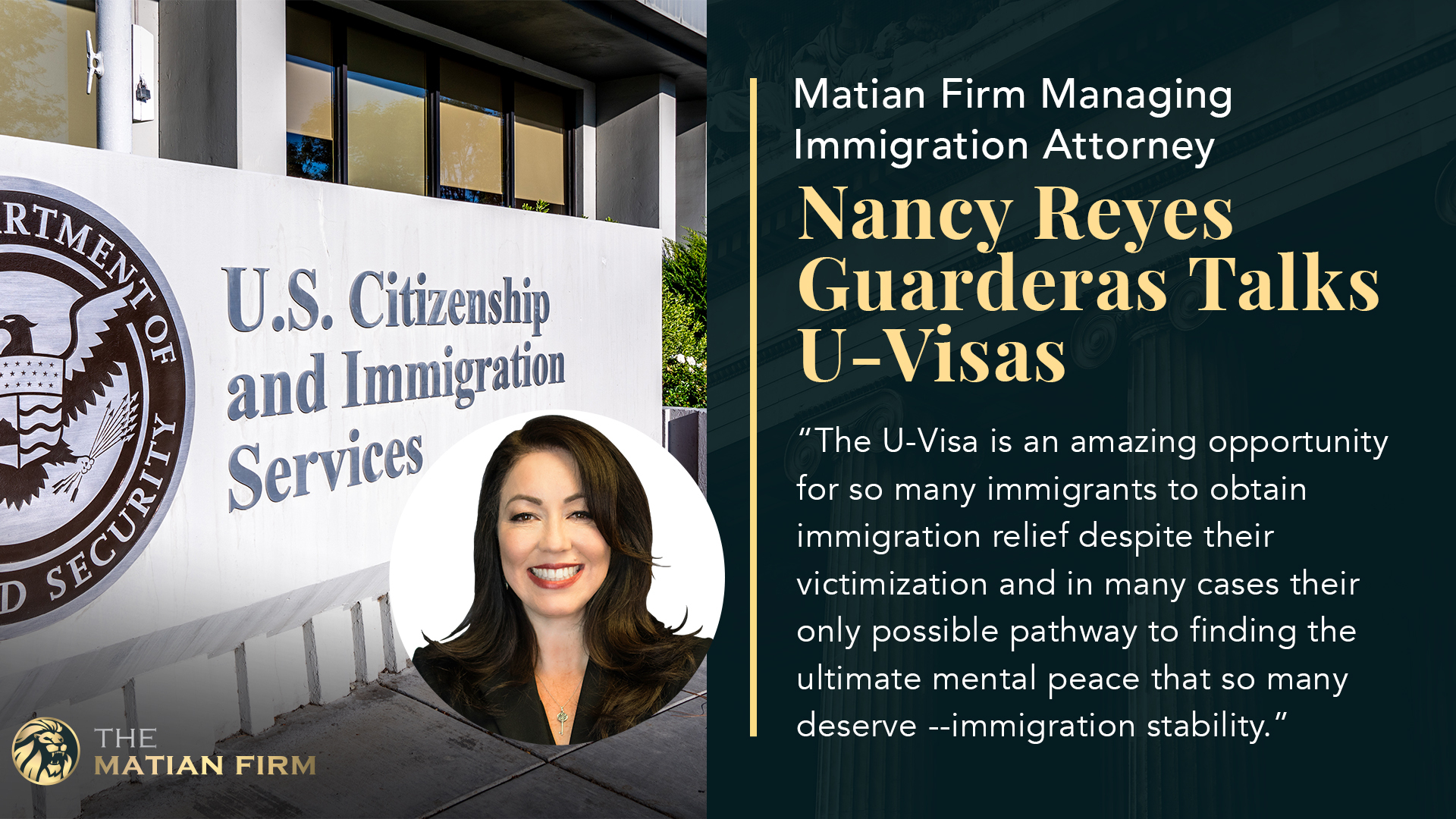 "The U-Visa is an amazing opportunity for so many immigrants to obtain immigration relief despite their victimization and in many cases their only possible pathway to finding the ultimate mental peace that so many deserve – immigration stability."
The U-Visa was created to protect immigrant victims of serious victims
LOS ANGELES – January 14, 2021 – Abogada Nancy Reyes Guarderas of the Matian Firm is scheduled to appear on California radio and TV stations to discuss the U-visa and its application process.
The U nonimmigrant status (U visa) is reserved for crime victims and their families, who have suffered substantial physical or mental harm due to the crime, and have helped, are helping or are likely to help law enforcement or government officials in the investigation or prosecution of said criminal activity. The U-visa allows these victims to enter or stay in the United States when they otherwise may not be permitted to do so. The law also serves to help law enforcement agencies better assist crime victims and prosecute perpetrators of the crimes.
Reyes said, "The U-Visa is an amazing opportunity for so many immigrants to obtain immigration relief despite their victimization and in many cases their only possible pathway to finding the ultimate mental peace that so many deserve – immigration stability."
When Congress passed the Victims of Trafficking and Violence Protection Act in 2000, they simultaneously created the U-visa.
Reyes also notes that the U-Visa is one of the most generous forms of relief that has the ability to pardon almost all immigration violations including prior deportations, crimes, entries and exits and much more, including:
• Abduction
• Abusive Contact
• Blackmail
• Domestic Violence
• Extortion
• False Imprisonment
• Felonious Assault
• Fraud in Foreign Labor Contracting
• Hostage
• Involuntary Servitude
• Kidnapping
• Manslaughter
• Murder
• Obstruction of Justice
• Peonage
• Perjury
• Physical Assault
• Physical Exploitation
• Slave Trade
• Stalking
• Torture
• Trafficking
• Witness Tampering
• Unlawful Criminal Restraint
The U-visa provides several benefits for eligible immigrants, including:
• Lawful status for up to four years
• Work authorization
• Derivative benefits for qualifying family members
• Pathway to lawful permanent residence after three years in U status
Nancy Reyes Guarderas is an expert on immigration rights and visas, as she has been advocating and guiding her clients through the immigration process since 1998.
During her time working as Senior Staff Attorney for the Legal Aid Foundation of Los Angeles (LAFLA), she was the Chair of the Los Angeles VAWA / U Visa Network, where she lead the group to make immigration policy changes at the local, state, and national level by working closely with law enforcement, prosecutors, USCIS, and other government offices to create and better the policies impacting our communities' immigrants.
Guarderas has extensive experience filing affirmative and defensive applications for her clients before the United States Citizenship and Immigration Service. She has also conducted hearings before the United States Immigration Court, briefing and appealing before the Administrative Appeals Office, Board of Immigration Appeals, and the United States 9th Circuit Court of Appeals.
Guarderas has helped thousands of clients with direct services, conducted community outreach for thousands of people, and trained hundreds of private and non-profit attorneys, social workers, and law students through panels, training, and guest lecturer opportunities at USC's School of Social Work and Loyola Law School.
Listen to Abogada Nancy Reyes Guarderas discuss the U-visa process, and answer questions on:
1/13/21 @ 10:00AM on Jose 97.5/107.1 (KLYY-FM) with Irma Covarrubias
1/13/21 @ 2:25PM on LA 101.9 & Que Buena 98.9 – Univision Radio (KSCA-FM & KSOL-FM) with La Bronca
1/13/21 @ 4:45PM on KLOVE 107.5 – Univision Radio (KLVE-FM) with Ysaac Alvarez
1/14/21 @ 8:00AM on El Show de Alex "El Genio" Lucas Network with Alex "El Genio" Lucas
1/14/21 @ 8:20AM on Que Buena 105.5/94/3 (KBUE-FM) with Don Cheto
1/14/21 @ 10:00AM on Jose 97.5/107.1 (KLYY-FM) with Irma Covarrubias
1/14/21 @ 1:00PM on Que Buena 98.9 – Univision Radio (KSOL-FM) with El Zorro
1/14/21 @ 1:15PM on Amor 100.3 – Univision Radio (KBRG-FM) with Glorybella
1/14/21 @ 6:00PM on La Raza 93.3 (KRZZ-FM) with El Compa Gil
Visit laligadefensora.com for full interview schedule.
About Nancy Reyes Guarderas
Nancy Reyes Guarderas is an immigration attorney, licensed to practice in the State of California, since 1998. Prior to joining The Matian Firm dba La Liga Defensora, Mrs. Reyes Guarderas was a Senior Staff Attorney at the Legal Aid Foundation of Los Angeles (LAFLA) as an immigration attorney. LAFLA serves as the frontline law firm for poor and low-income people in Los Angeles. She also serves as a regular Legal Analyst for Univision TV and Radio. Mrs. Reyes Guarderas delivers important legal information, explains nuances and complexities in immigration law and provides breaking news and analysis on the changing landscape of immigration legislation.
About the Matian Firm
The Matian Firm | La Liga Defensora, is a California-based immigration law, criminal defense, employment law, and personal injury law firm. Under the direction of the firm's President, Shawn F. Matian, Esq., The Matian Firm | La Liga Defensora is dedicated to providing zealous advocacy on behalf of their clients. A continuous practice of reinvestment into the firm serves to enhance Matian's mission. With a combined 40,000 square feet of newly built office space and over 175 employees, The Matian Firm | La Liga Defensora is one of the fastest-growing law firms in all of California.
The Matian Firm | La Liga Defensora has helped tens of thousands of clients with their immigration, criminal and injury cases, by providing excellent legal services. This consistent track record of outstanding work has been notably recognized by the legal community as evidenced by the many awards that have been bestowed upon the firm including: Super Lawyers | Rising Stars; The National Top 100 Trial Lawyers; Lawyers of Distinction Award; Nationally Ranked Top 10 Attorney Award; 10 Best Law Firms Client Satisfaction; and Avvo's Client Choice Award, amongst other accolades.
The Matian Firm | La Liga Defensora is located at 3701 Wilshire Blvd Suite 210, Los Angeles, California 90010. Northern California at 111 N. Market Street Suite 888 in San Jose, California 95113 and the Inland Empire in Ontario located at 4200 Concourse St. Ontario, CA 91764.
More information on the firm, its attorneys, and its casework please visit: www.matianfirm.com
Media Contact
Company Name: 711 Media Marketing
Contact Person: Lou Petracci
Email: Send Email
Phone: 909-904-3708
Address:87 E Green St Suite 301
City: Pasadena
State: CA
Country: United States
Website: 711media.tv