AlfaSage Limited, the company that owns and manages 20Hz has been developing its new interface for both platforms on Android and IOS.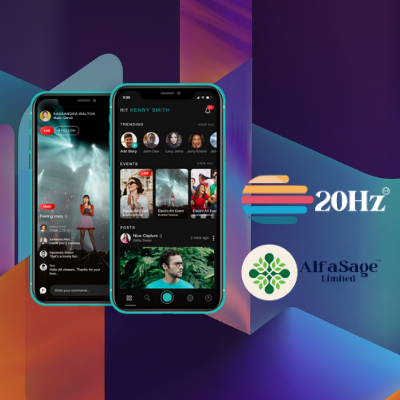 The funding comes from their existing network of private investors from both Singapore & the United Kingdom.
Antonio Roulet, AlfaSage Ltd's CEO, commented: "20Hz has huge potential. I think that our monetization methods online today for a lot of these larger platforms make it almost impossible for creators to make a decent living."
"20Hz will allow creators to have a level playing field from which they can push their live streams & products quicker and more effectively resulting in higher compensation for their time invested in the platform."
Early adopters of their previous website Livestream platform service are excited to see the company take a new direction in its development.
Previously the company was founded in October of 2018. The website was a versatile content platform service with the objective to offer live streaming content for its users.
Additionally, the company has also worked in developing Cloud Technology, and Artificial Intelligence whilst giving their active users detailed insights into how their audience is consuming your content. This allows their user base to easily understand their demographics and hone their content whilst driving advertising revenue.
E92 was a cloud service that allowed users to manage their market, publish and monetize their content, whilst nGane was an artificial learning algorithm that gathered data in real-time from subscribers that were interacting with this content.
Unfortunately, E92 is no longer being considered in their developmental process as the company starts to shift its focus to mobile-based applications & social media products.
For more information:
https://www.20hz.com/
https://www.linkedin.com/company/alfasage-limited-official/
Media Contact
Company Name: AlfaSage Limited
Contact Person: Antonio Roulet
Email: Send Email
Phone: +44 7786136498
Country: United Kingdom
Website: https://www.20hz.com/