Fast growing social media platform, Clapper, announces the launch of Clapper Live, a new feature that allows people to share real, uncensored video content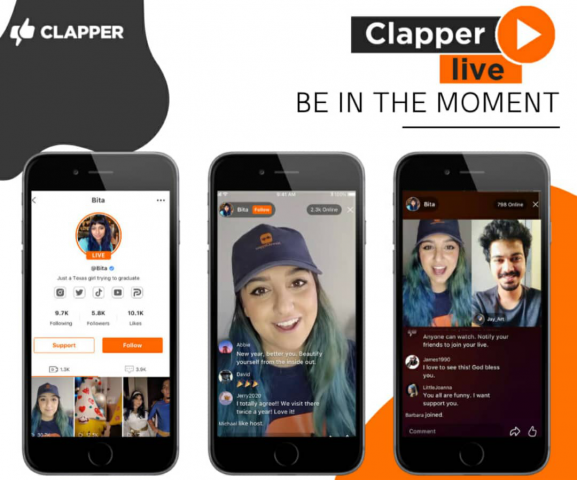 Clapper is again looking to disrupt the social media space as the platform announces the launch of a new feature – Clapper live. The new function allows users of the fastest-growing social platform to share real life videos to as many people as possible across the globe, without censorship or ads that disrupt the seamless experience of using social networking platforms.
"We at Clapper believe that GenY to Baby boomers can be a content creator because content is to show the real life around you. We believe that your content should not be to please everyone but for yourself and people like you. At Clapper, do not worry about the edits and sound effects. In Clapper, you can see various people that TikTok are not noticed, but they are the "ordinary" real lives of most people. What a truck driver saw and heard on the road; a small family farm founded in 1908 and the farm owner showing you how to feed beef cows; hunters from Texas; foodie lovers; boxing instructors; home flip workers; fitness instructors; cowboys; country singers. People can find themselves being heard, being seen, being valued on Clapper," said Edison, CEO of Clapper.
The recently launched functionality is in line with the company's goal of providing local and global videos to people, irrespective of gender, political affiliation, or race. Clapper was created to break away from the norm in social media, enabling people to use technology for empowerment by allowing them to speak and be heard or seen as the case may be.
Clapper aims to bring "realness" into social media as a free-to-use platform with no ads or distractions. While the use of social media has continued to grow in recent times, with a report projecting the number of global users to reach over 3.43 billion monthly by 2023, many of the available platforms do not allow users express themselves freely and monetize their content. However, Clappers looks to change this narrative with the launch of Clapper Live further substantiating this claim.
The subscription-based platform also has features such as "Clapback," which allows users to let out their opinion. There is also Clapper Fam, a monetization feature that allows creators to capitalize on superfans, helping them sustain themselves on an ad-free short video platform. The user-friendly interface of Clapper affords users an equal opportunity, showing ordinary, real and diverse communities of people through the sharing of short videos and livestreams of up to 3 minutes for each video.
Media Contact
Company Name: Clapper Media Group Inc.
Contact Person: Sam
Email: Send Email
Phone: (302)538-9028
City: Dallas
State: Texas
Country: United States
Website: newsclapper.com/