Performance Features:
· Safe and nontoxic, replacing Ba/Zn, Ba/Cd, and organotin stabilizers.
· Anti-verdigris, anti-hydrolysis, providing high transparency without producing fog and smell.
· Excellent color retention, needing a loCompanyr dosage.
· Good lubrication and dispersion, compatible with PVC resin and no plate-out.
· Suitable for the processing of soft clear products, such as medical plastics, car mats, films, shoe soles, wires, cables, food packaging, etc.
· Non-toxic substance with heavy metal content meeting EN71/EN1122/EPA3050B and environmental protection standards such as EU ROHS directive, PAHs polycyclic aromatic hydrocarbon and REACH-SVHC
Usage:
· Processing with epoxidized soybean oil
· Kneading ingredients.
· Processing with other additives.
Packaging and Storing:
· Compound paper bag: 25kg/bag, kept under seal in a dry and shady spot.
Application: For Soft Clear PVC Products
Calcium Zinc Stabilizer HL-768 Series
Product Code

Metallic Oxide (%)

Heat Loss (%)

Mechanical Impurities

0.1mm~0.6mm(Granules/g)

HL-768

40.0±2.0

≤3.0

<20

HL-768A

35.0±2.0

≤3.0

<20

HL-768B

41.0±2.0

≤3.0

<20

HL-768C

41.0±2.0

≤2.0

<20
Application: For Soft Clear PVC Products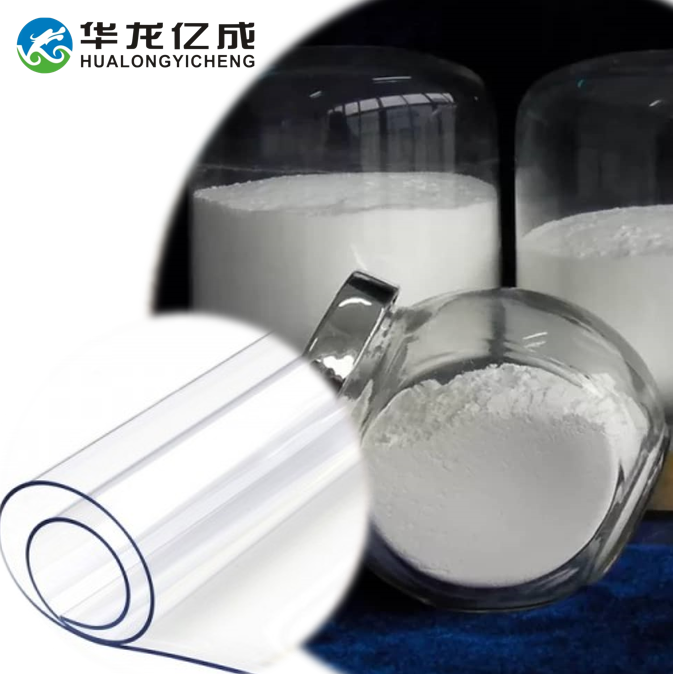 Guangdong Hualongyicheng New Material Technology Co., Ltd. is among the globally leading manufacturers that focus on the production, sales, R&D of new PVC additives, including Environmentally Friendly Stabilizer, PVC Processing Aids, PVC Impact Modifier, Clear PVC Formulation Compound, etc. At Hualongyicheng, Company don't just want their customers to purchase products; Company want them to get the most value out of them. Company dedicated and experienced technical teams are always on hand to deliver best-in-class customer service offer customers for their production.
Headquartered in Guangdong, China, Hualongyicheng has more than 100 employees around the world and a Manufacturing and R&D Center, covering an area of 10,000 square meters. Additionally, their After-sales Service Centers are located in Vietnam, Myanmar, Thailand, Malaysia, Nigeria, etc. and Company PVC additives also have been exported to Europe, North America, and South America.
Media Contact
Company Name: GUANGDONG HUALONGYICHENG NEW MATERIAL TECHNDLOGY Co, LTD
Email: Send Email
Phone: 0086-18927309713
Country: China
Website: https://www.hlycadditive.com/