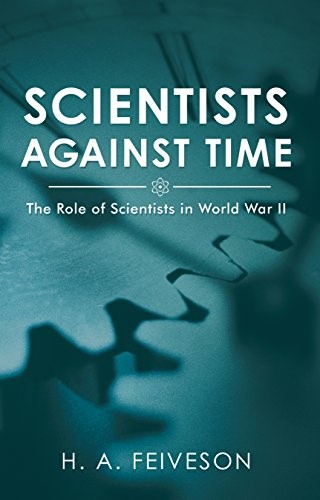 Princeton, NJ – February 2, 2021 – Senior Research Scientist Emeritus at Princeton University, Harrold A. Feiveson, has examined the role of scientists in the major events of world war two in his book, Scientists Against Time.
In early 1942, the fate of the ALLIES appeared dire. Germany had conquered most of Western Europe, and its armies were deep into Russia. Japan had overrun Manchuria, the Philippines, and the Dutch East Indies, had conquered large swathes of China, and had destroyed much of the U.S. battle fleet at Pearl Harbor. But the tide of World War II turned dramatically in favor of the ALLIES, and in this, Allied scientists played a critical role.
Scientists Against Time explores the major events of the war and how scientists' work has impacted the prosecution of the war, eventually helping to tilt the balance in favor of the ALLIES. The chapters covered in the book include an overview summary of the entire war and detailed chapters on the Battle of Britain, the Battle of the Atlantic against the German U-boats, the battle for command of the air, the Allied breaking of the German Enigma cipher, D-Day and the Allied invasion of Europe, and the Manhattan Project to develop an atomic bomb. These were all events that were greatly influenced by the contributions of scientists.
"Harold Feiveson is a deep student of history, a masterful storyteller and one of the pioneers in the global cooperative effort to stop the spread of nuclear weapons," said Frank von Hippel, Professor of Public and International Affairs Emeritus, Princeton University. "This book provides a new, integrated overview of the remarkable technical achievements by the U.S. and British scientists who helped turn the tide of World War II."
Based on a freshman seminar that Feiveson gave several times at Princeton, the book examines the technologies that led to crucial World War II victories. A helpful timeline of the war is included, predating Pearl Harbor and tracking Hitler's occupation of Europe. Maps of Europe and Asia show Hitler's formidable domination and the Japanese empire's equally extensive reach. An introductory chapter provides a brief overview of war theaters, from the 1930s through to the Japanese surrender.
For more information about the book, visit the Amazon book link.
About the Author
H.A. Feiveson, a Senior Research Scientist Emeritus, who co-directed the Program on Science and Global Security at Princeton University for 30 years, draws upon the lessons he taught at several freshman seminars focusing on scientists World War II.
About GOLDTOUCH PRESS, LLC
GOLDTOUCH PRESS, LLC is an established and experienced group of various publishing houses who teamed up to bring their clients accessible and competitive author services.
Media Contact
Company Name: GOLDTOUCH PRESS, LLC
Contact Person: Harrold A. Feiveson
Email: Send Email
Phone: 888-404-1388
Address:420 Lexington Avenue, Suite 300
City: New York
State: NY 10170
Country: United States
Website: www.goldtouchpress.com/