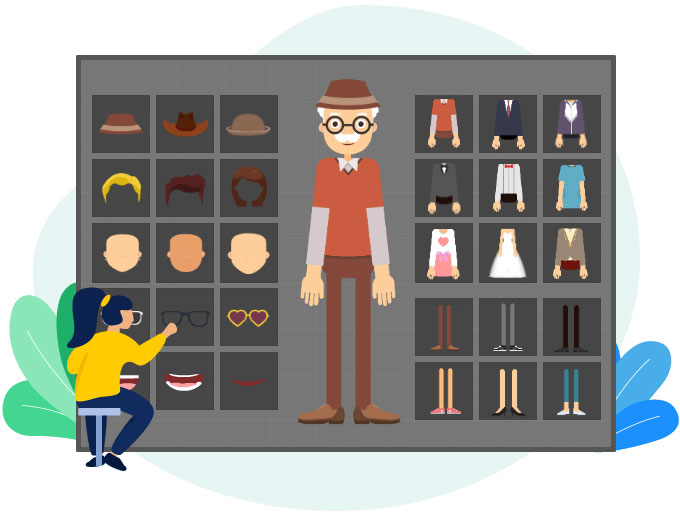 The cartoon character generator has plenty of resources that help to generate awe-inspiring cartoon characters.
Mango Animate has unveiled a cartoon character generator packed with resources for generating awe-inspiring cartoon characters. The software is multifunctional, simple, and straightforward to use. Its templates are professionally designed to meet the requirements of all users. Mango Animate enables users to produce their finished projects and present them to viewers in MOV, MP4, animated GIF, and PNG formats.
The innovative cartoon character generator can help build captivating characters for work projects using a variety of body features, outfits, and other decorative items that will make them pop up. It is the ideal software for building video characters for custom projects with different purposes. Cartoon character creation has no boundaries, and the characters made by Mango Animate CM can appeal to all people.
"Our cartoon character generator comes with advanced features, but it is very simple and intuitive, easy to maneuver and straightforward to create even the most complex projects," said Selena Lee, Chief Designer of Mango Animate. "The best part is that users don't have to start creating their projects from scratch. They can save plenty of time when designing their creations by utilizing the pre-built resources provided."
Mango Animate enables its users to build trust with viewers by creating cartoon animations that speak to their needs. Elegantly crafted, friendly, and professional characters can help win the audience's trust since they can resonate with them. With their charm and humor, character animations can liven any content. The cartoon character generator enables users to showcase their creativity with the resources provided, including the intuitive user interface and the Inverse Kinematic control.
Users with no knowledge of cartoon can undoubtedly make professional pieces with the cartoon character generator. It's only a matter of selecting or uploading the necessary features and functionalities from the endless possibilities available. They can craft expressive cartoon characters with customizable components that can be adjusted or modified at any time. The software allows for multiple image conversion, which is excellent when making multiple projects.
For more information, please visit Mango Animate.
About Mango Animate
Mango Animate uses the latest technology to design high-end software for animation. Packed with versatile tools, the software products serve a wide range of clients across the globe. They are among the most sought after animation software, since they produce remarkable results for those who use them.
Media Contact
Company Name: Mango Animate Software Co., Ltd.
Contact Person: Paul
Email: Send Email
Phone: +86 020-61972665
Address:Room 1003, 10/F, Tower 1, Lippo Centre, 89 Queensway, Admiralty
City: Hong Kong
Country: HongKong
Website: https://mangoanimate.com/