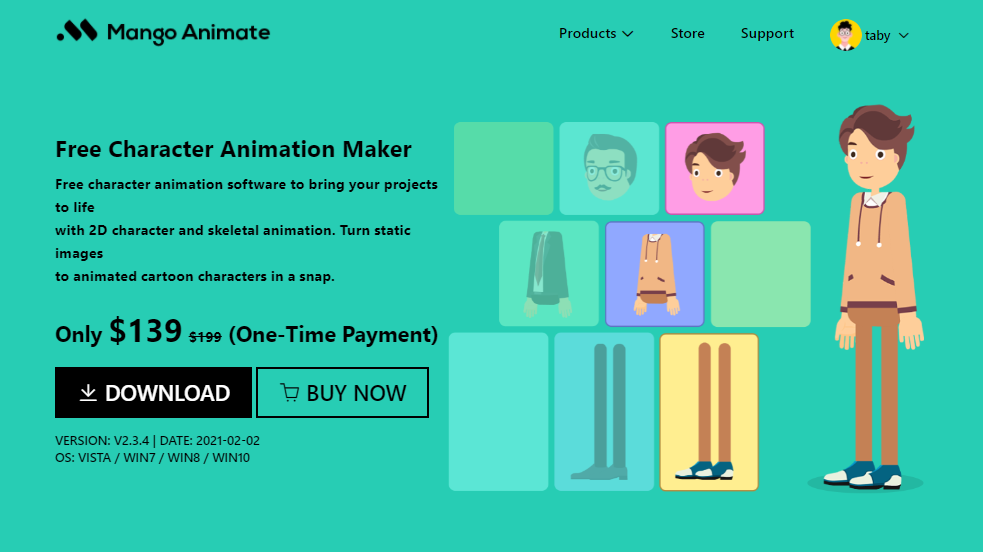 Mango Animate has released a completely free 3D character design software.
Mango Animate has come up with Mango Animate CM, a new character animation maker that people can use to express themselves creatively. This 3D character design software allows users to turn static characters into animated characters in just a few simple steps.
"Our new 3D character design software has extremely powerful functionality, enabling users to create stunning cartoon characters," said Winston Zhang, CEO of Mango Animate. "Despite the application's advanced capabilities, it is extremely easy to use. You can bring your characters to life simply by importing an existing PSD or PNG file, adding a skeletal structure, editing poses, and applying dynamic animations. Whether it is used for personal enjoyment or business use, our new software gives users unparalleled versatility."
The new 3D character design software includes a vast library of pre-designed characters. Unlike imported characters that require a skeletal framework, they can simply be selected and included in any animation. Making these characters move is an intuitive process where users can go to a huge motion library to select from a range of facial expressions and different types of movement. Motions can simply be dragged and dropped into the project's timeline to create amazing character animations.
Despite the fact that even beginners can use this 3D character design software, users are able to produce studio grade character animations. A vast array of customization options permit the creation of truly distinctive individual characters. Unique facial features and different outfits can be chosen, encouraging users to exercise their imagination and create truly compelling characters.
The 3D character design software comes with an Inverse Kinetic function that allows the character's poses and movements to be made in a natural and logical manner. The intuitive interface lets users combine the different elements with ease, enabling them to create compelling animations.
Once created, users can share their animations in various formats, including MP4, PNG, MOV, and animated GIF. The 3D character design software can also be used to distribute the animations on various social media such as Facebook, Twitter, and G+.
For more information, please visit Mango Animate.
About Mango Animate
Headquartered in Hong Kong, Mango Animate is a pioneering animation software company. It is committed to helping people and organizations achieve their goals through the state of the art communication.
Media Contact
Company Name: Mango Animate Software Co., Ltd.
Contact Person: Paul
Email: Send Email
Phone: +86 020-61972665
Address:Room 1003, 10/F, Tower 1, Lippo Centre, 89 Queensway, Admiralty
City: Hong Kong
Country: HongKong
Website: https://mangoanimate.com/